Bringing Digital Learning to NHS Workers During COVID-19
May 13, 2020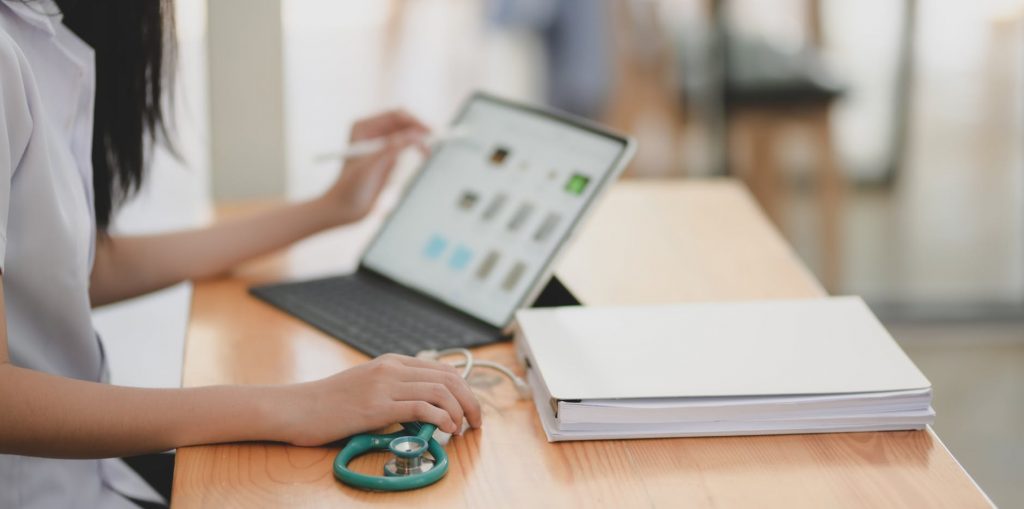 Few industries have escaped the immense challenges brought on by the COVID-19 Pandemic. However, one group of people have been impacted by these changes more than any other: the UK's hardworking healthcare workers.
We spoke to James Deller, Head of Training Academy and Talent at Essentia Workforce and Service Improvement part of Guy's and St Thomas' NHS Foundation Trust, about how he is using Bookboon Learning's corporate learning solution to help these tireless workers continue to hone the skills that make them the heroes they are.
The End of Face-to-Face Training
The UK government's announcement urging workers to practice social distancing resulted in an abrupt halt on all classroom-based training, something Essentia previously used as part of a blended learning strategy.
In response, James made the decision to shift learning online to ensure his staff's development wouldn't suffer. Replacing classroom training with Bookboon Learning allowed James and his team to take a more modern, digital approach to training NHS workers both in their homes and on the go.  
"With Bookboon, we have been able to present staff a viable alternative to maintain their own development at a time when we are offering less than normal delivery," he says.
Bite-Sized Training for Busy Learners
In addition to a sudden lack of learning location, the hospital workers were also met with far less time for development due to a heavy influx of patients requiring their care.
One of those patients being Prime Minister Boris Johnson who publicly commended the hospital's heroes on their tireless care for him during his recovery from the virus, explaining, "The NHS has saved my life, no question."
James has used Bookboon Learning's bite-sized, easy-to-use content to ensure his busy staff does not lose out on learning while working to keep the hospital running.  
"The feedback has been great. If anything, we've increased their opportunity to learn wherever they are, whenever they can," he says.
Relevant Content in an Unprecedented Time
James tells us that it is important to recognise that what is relevant to learners one week may not be the next. His commitment to continuously provide his staff with fresh content is one of the reasons James chose to add Bookboon Learning to his training strategy.  
"Bookboon allows us to keep it relevant, keep it real and keep it timely," James says. "We are actually able to present content that suits where we are at the moment." 
Over the last few weeks, James has encouraged learners to tune in to Bookboon Learning's short and timely weekly audio series about working through COVID-19.  
"The topics that are covered are very, very timely and relevant," James tells us. "It shows just because they're not in the classroom, doesn't mean that they can't continue learning." 
Free Podcast: Optimise Your Digital Learning from the CLO of Disney.
Investing in Learning: More Important than Ever
In today's world of constant change, James stresses that providing workers with the skills to manage these transitional times has never been more crucial. 
"We are all finding ourselves having to think about and do things that were never in our repertoire prior to the pandemic," he says.
James believes it is fundamental to provide workers with the tools to manage this change and navigate their role in this new world of work. 
Cost-effective Digital Learning
Although many companies have tightened up on budgets, social-distancing actually allow big savings on the many costs associated with classroom-based training. Essentia and many other organisations are now choosing to invest learning budgets in a cost-effective, high-quality digital learning solution like Bookboon Learning.
Going Digital for Good
Based on the success of launching Bookboon Learning in the NHS, James plans to maintain his digital learning strategy long after the pandemic.  
"We have been able to diversify through Bookboon to continue to provide an offering to all our staff," He says.
"I suspect like a lot of businesses, when the shops reopen, there will still be a lot of people who will quite happily want to shop online because of the convenience it offers."
Why Bookboon Learning?
For any L&D professional looking for a cost-effective, highly engaging and easy-to-use digital learning solution, James has a simple message:  
"Don't hesitate. Go for it. Bookboon is a really good way of providing great content at any time, any place, anywhere. And I think that's the key thing right now."
Maximise your learning strategy for future success with tips from McKinsey's Global Chief Learning Officer in this free eBook: 21st Century Corporate L&D.