How to bring the entrepreneurial spirit to your organisation
January 17, 2020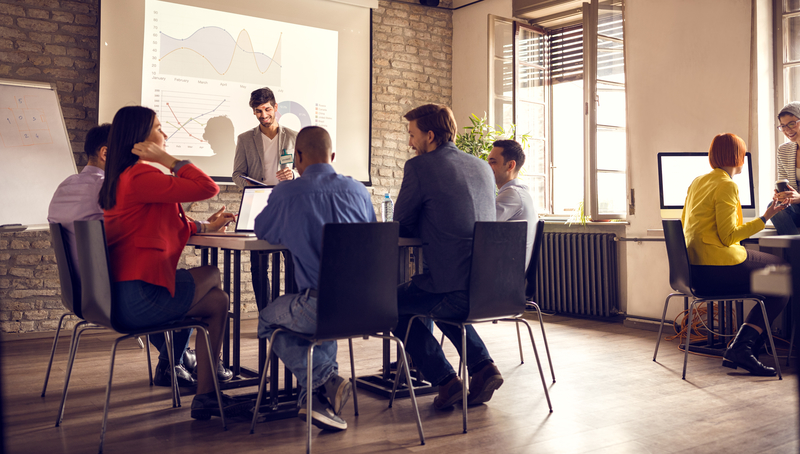 Initiative, innovation, and imagination. All these factors are what keep a company moving onward and upward and they are also all components of another essential part of a successful business: an entrepreneurial spirit. Often, big businesses, through their elaborate processes and systems, can lose their competitive edge by missing out the entrepreneurialism often associated with small companies and startups. However, entrepreneurial spirit does not depend on the size of your company and with a focus on developing the skills associated with entrepreneurialism, businesses large and small alike can reach new heights in terms of innovation and success.
Here are 7 entrepreneurial skills companies should encourage their employees to develop.
Creative thinking
Creative thinking is a way of looking at problems and situations from a fresh perspective and coming up with new ideas and strategies to apply to said situation. Often called 'thinking outside the box', creative thinking is absolutely essential to the successful implementation of an entrepreneurial mindset. Creative thinking is becoming an increasingly in-demand skill for businesses, spanning across industries and, contrary to popular belief, when harnessed and developed can be learned.
Innovation
Innovation and entrepreneurship are two closely related words used in the business world, yet they are not interchangeable. However, without innovation, there would be no entrepreneurship. Innovation requires using creative thinking to come up with new ideas and entrepreneurship relies on applying innovation to bring the ideas to life.
Leadership
Leadership skills are crucial to entrepreneurship in countless ways. At the end of the day, all entrepreneurs have the drive, vision, and determination to step out of their comfort zone which requires the mindset of a leader. On top of that, entrepreneurs must be able to not only clearly articulate their innovative ideas but also inspire, influence and lead others to get behind their goals and aspirations.
Coaching and mentoring
The entrepreneurial spirit is one that searches to pave new paths but one of the most essential assets to business success is experience, and the sharing of knowledge through mentorship is a great way to inspire innovative ideas. One great example of using one's wealth of knowledge to coach an entrepreneur is when Facebook's Mark Zuckerberg was mentored by Apple's Steve Jobs (1).
According to a study by Standford University, having a mentor is important to entrepreneurial success. In fact, 80 percent of CEOs said they relied on some form of coaching or mentorship to get them to where they are today (2) and another study reported that 93 percent of startups said that mentorship is instrumental to success (3).
Problem-solving
Whether for an individual or a company, those on the road to innovation and entrepreneurialism will be met with countless ups and downs. The entrepreneurial mindset is about looking at every problem as an opportunity for which to come up with innovative solutions.
Flexibility
Adaptability and an open-mind are two essential components to successful entrepreneurship. Sometimes a new idea does not work in practice and needs to be adjusted. Failure is part of every successful journey and the ability to acknowledge mistakes and adapt to circumstances is essential.
Resilience and dealing with stress
To build something from nothing is difficult and with resilience and stress-management skills, when the going gets tough, the entrepreneur perseveres. According to Entrepreneur.com, Resilience enables people to move through hardship and become better (4). The entrepreneurial spirit is all about learning from mistakes and continuously trying to achieve one's goals.
If an organisation does not promote innovation it doesn't happen
On top of providing employees with learning and development offerings to nurture their entrepreneurial skills, organisations must promote a culture of innovation and creativity by giving employees the freedom to follow their ambitions both inside and outside of their roles. Manufacturing company, 3M, has their entrepreneurial mindset to thank for the invention of the Post-it. The company is committed to encouraging the entrepreneurial spirit of every one of their employees through their unwritten but universally understood guideline that researchers can spend 15% of their time working on an idea of their choosing without approval from management (5).
Having an organisational structure that allows for this
There are many aspects to taking on an entrepreneurial spirit particularly in a large company. In order to become an organisation with entrepreneurialism at its core, businesses need to invest in developing their employees by providing them with the tools that will hone their entrepreneurial skills. However, without the correct procedures and requirements in place, this becomes impossible. Allowing new ideas to blossom can be particularly difficult for large organisations often focused on regulated processes. For larger companies, entrepreneurial spirit is not simply about investment and the concepts we have discussed in this article only scratch the surface.
Whether a company is a small startup or a massive conglomerate, when it comes to the entrepreneurial spirit, it is all about mindset and the soft skills that, when honed, will inspire employees to take that brave leap of faith into the unknown.