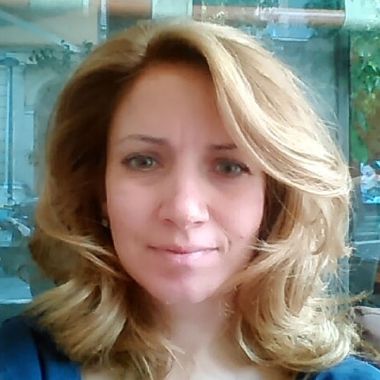 Dr. Anastasia-Natasha G. Piperopoulou
Título profissional: Ph.D
País: Greece
Number of Titles: 2
Dr Anastasia-Natasha Piperopoulou (co-author of this book) received a B.Sc. (Honours) in Psychology and a M.Sc. in Health Psychology from the University of Surrey in the UK and a Ph.D. in Psychology from Panteion University in Athens, Greece where she achieved the highest distinction score and was valedictorian of the class of post graduate degree recipients.
She has been employed on a full-time tenured basis for the last 6 years as psychologist in a public school for training adolescents with special needs and disabilities in the city of Piraeus, after having served for 4 years at a similar public school in the city of Chalkida, Island of Evia, Greece.
She served for 7 years as a member of the original team providing psychological support to Hellenic Army and Air Force personnel under the auspices of the Hellenic Ministry of National Defence, and was as a member of the 'crisis intervention team' providing support, as needed, to families of victims.
Dr Piperopoulou has taught courses in psychology as an adjunct lecturer at the School of Pedagogical and Technological Education, (ΑΣΠΑΙΤΕ), a Greek University specializing in training teachers, located in Athens, Greece. She also served as a lecturer at the Firemen Officers Academy of the Hellenic National Fire Department located in Athens.
Prior to her full time employment in special education schools operating under the auspices of the Hellenic Ministry of Education she had a private practice as a psychologist providing psychotherapy and counselling in the city of Piraeus.
She has volunteered her services to the drug addict rehabilitation program '18+' of the Athens Psychiatric Hospital; to the psychiatric wards of the Athens National University Psychiatric Hospital 'Eghinitio' and to the Nikaia Regional General Hospital 'Agios Panteleimon' of Piraeus.
She has contributed chapters in 2 books published in Greek under the titles 'Crisis intervention in Acute Psychological problems' and 'Psychological Support by Telephone'. She has published articles in the Hellenic Journal of Psychiatry and the Journal of the Hellenic Armed Forces. She has presented papers in National and International Congresses, and contributed short articles and editorials to Greek Newspapers, Magazines and Greek websites and blogs. She has been a guest in several Greek Television and Radio programs dealing with psychological themes.
She is a member of the British Psychological Society (graduate member – chartered psychologist MBPsS); of the Association of Special Education Personnel in Special Education of Attica, Greece (seepeaa.gr), and of the Panhellenic Psychological Association.
Pesquisar Dr. Anastasia-Natasha G. Piperopoulou em todos os livros
Sê um autor BookBoon
Tens uma ótima ideia que queres ver num livro de negócios ou num manual escolar? A tua experiência já te ensinou uma coisa ou outra sobre desenvolvimento pessoal que gostavas de partilhar com o mundo? Ou especializaste-te numa disciplina académica que precisa de melhores explicações? Textos de qualidade, claros e sucintos caracterizam os e-books da Bookboon. Fala com a nossa equipa editorial agora e publica o teu e-book!
Dúvidas