Creating an Entrepreneurial Mindset
Failure IS an Option!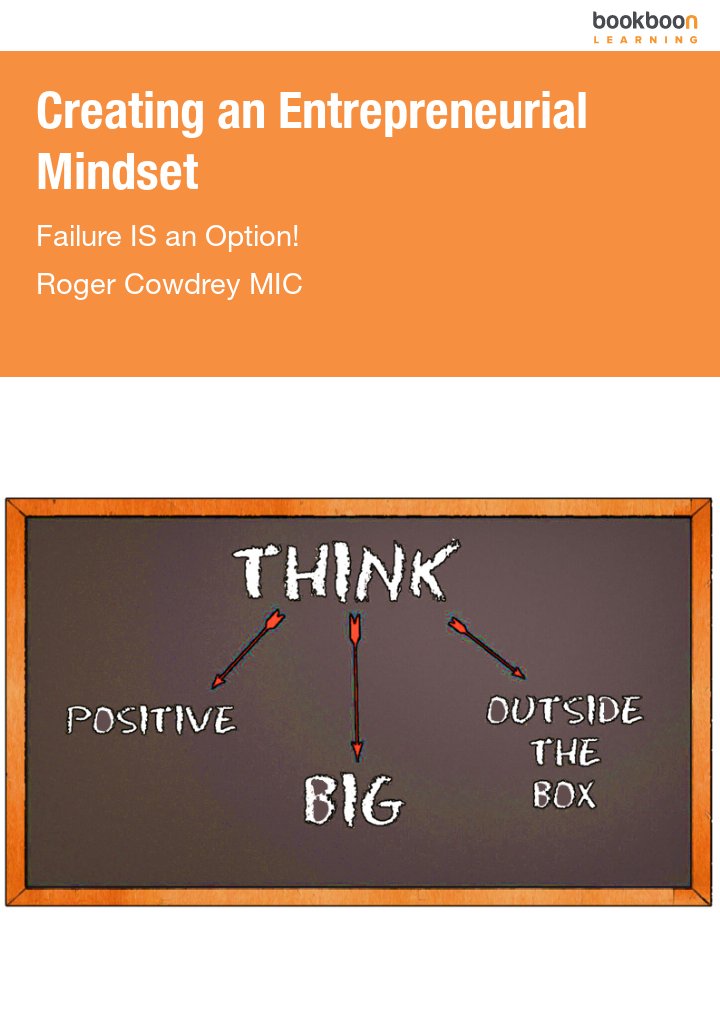 ISBN: 978-87-403-2313-9
2. Editie
Pagina's : 37
Prijs: 75,50 kr
Prijs: €8,99
Prijs: £8,99
Prijs: ₹150
Prijs: $8,99
Prijs: 75,50 kr
Prijs: 75,50 kr
Download GRATIS in 4 eenvoudige stappen…
Dit is een Premium e-book
Bookboon Premium- Krijg toegang tot meer dan 800 e-books - zonder advertenties
Je krijgt een maand gratis toegang tot dit e-book - en 800 extra titels met het Premium abonnement. Je kunt ook eenmalig het e-book kopen.
Probeer gratis voor dertig dagen. Daarna: 39,99 kr p/m
Probeer gratis voor dertig dagen. Daarna: €5,99 p/m
Probeer gratis voor dertig dagen. Daarna: £4,99 p/m
Probeer gratis voor dertig dagen. Daarna: ₹299 p/m
Probeer gratis voor dertig dagen. Daarna: $3,99 p/m
Probeer gratis voor dertig dagen. Daarna: 39,99 kr p/m
Probeer gratis voor dertig dagen. Daarna: 39,99 kr p/m
Over het boek
Recensies
Barnabas leong
★★★★☆
great and inspiring
Prof. Tareq Shareef Younus (PhD
★★★★★
Great updated and challenging topic. I recommend this book to be used as major textbook in business programs.
Akwaowo
★★★★★
It is an amazing book, I liked it word for word. The writing is so logical and impacting, I would recommend anyone to read it . Cheers.
sai visitor
★★★★★
May be best way to start small business of entrepreneurs !
Ligia Buzan., Ph.D.
★★★★★
"Creating an Entrepreneurial Mindset" is a little gem that offers numerous invaluable insights to those willing and eager to build a better life. The book is written in a language that is accessible to the everyday person-- mother, father, employee, or laid-off person-- who is bursting with the desire to create a small business, but who does not know where to start, is, perhaps, a little bit intimidated by the whole buzz that surrounds the concept of entrepreneurship, and is a bit frightened of failing at a new venture. There is a definite shift in the world, and even if we do not acknowledge it yet, we know that skills such as creative and integrative thinking, as well as the courage to embrace new opportunities that came our way, are what separate those who are stuck in the corporate life of the 20th century waiting to get directions from their bosses, from those who are developing integrated lives where work and leisure are aligned, as manifested in their glowing financial, physical and emotional wellbeing. No need to be fearful or overwhelmed. Roger Cowdrey shares analytical and creative tools developed over a lifetime of experience in numerous countries and on several continents, to support you to develop an entrepreneurial vision and a map around your deepest desires, talents, skills and values. TGF (Thank God It's Friday) will be forever deleted from your vocabulary and instead, you will celebrate every day, and every moment, if you dare to follow Roger on this exhilarating journey, and if you are courageous enough to shift your thinking to embrace fears and failures as great lessons so that you can bake these (necessary) ingredients into a recipe for success. In addition to offering easy-to-use creative tools detailed in chapters 3 and 4, Roger, who has assisted numerous successful entrepreneurs, shares some simple steps on how to start a business. With powerful examples, the author teaches you to ask hard questions and then, having created a visi
Beschrijving
This book is part one of a two-step process designed to allow the reader to evaluate their lives to date and to define a path going forwards that better satisfies their life aspirations.
This book identifies any possible need for change from the reader's present lifestyle by examining what we mean by being entrepreneurial, understanding what stops us from behaving in an entrepreneurial way when living our life and uses situational analysis and exercises to determine the present level of entrepreneurial thinking and action in the reader's life to date.
At the end of this book, if the reader has determined that there is a need for change then Preparing for Uniqueness will assist in the change process.
About the author
The author is an international business consultant, writer and motivational speaker. Following careers in teaching and IT he has spent over twenty years working with businesses and with business support organisations in various European and Middle Eastern countries. His media appearances and his lectures to business groups and universities help him to spread his positive and passionate message.
Author website: www.rogercowdrey.com/

https://www.linkedin.com/profile/view?id=2564174
Inhoud
Prologue

Introduction

What is an Entrepreneur?

What stops people behaving in an entrepreneurial way?

How entrepreneurial are you?

Conclusion

References