Uncovering Mindfulness
In Search Of A Life More Meaningful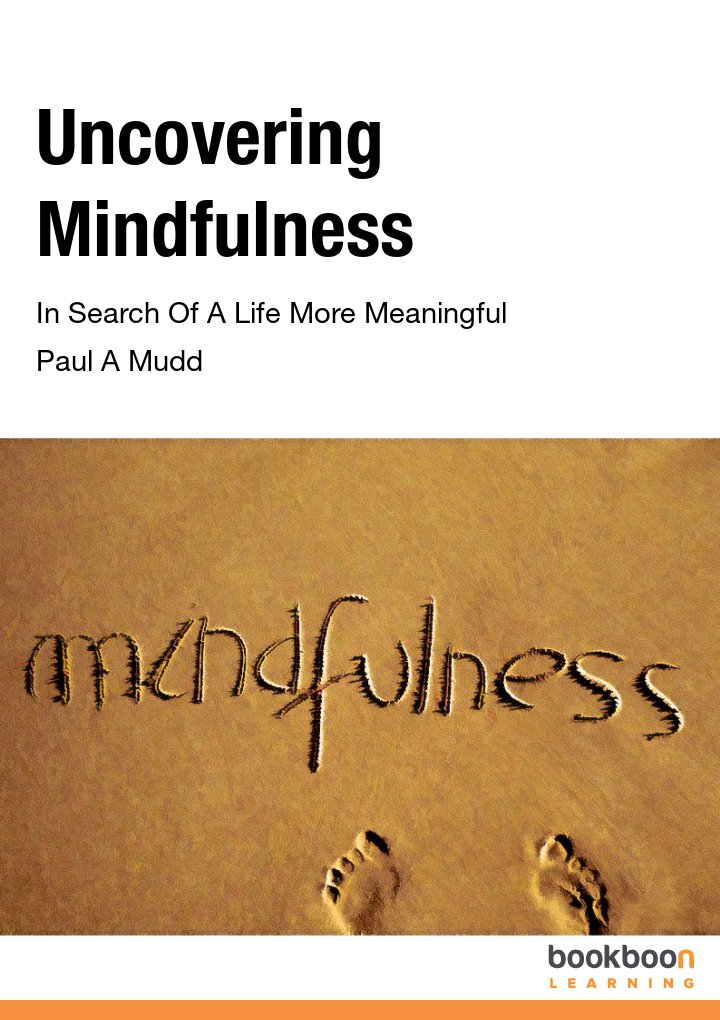 ISBN: 978-87-403-2710-6
2 painos
Sivua : 85
Price: 75,50 kr
Price: €8,99
Price: £8,99
Price: ₹150
Price: $8,99
Price: 75,50 kr
Price: 75,50 kr
4 helppoa askelta e-kirjan lataukseen
This is a Premium eBook
Bookboon Premium - Gain access to over 800 eBooks - without ads
You can get free access for a month to this - and 800 other books with the Premium Subscription. You can also buy the book below
Start a 30-day free trial. After trial: 39,99 kr p/m
Start a 30-day free trial. After trial: €5,99 p/m
Start a 30-day free trial. After trial: £4,99 p/m
Start a 30-day free trial. After trial: ₹299 p/m
Start a 30-day free trial. After trial: $3,99 p/m
Start a 30-day free trial. After trial: 39,99 kr p/m
Start a 30-day free trial. After trial: 39,99 kr p/m
Käyttäjät, jotka katsoivat tätä tuotetta, katsoivat myös
Tietoja kirjasta
Arvioinnit
Dr Billy Grierson
★★★★★
A good introduction to mindfulness. I've been put off in the past because of the "myth and legend" that has built up around it, but Paul manages to cut through this and presents a balanced discussion of the benefits of mindfulness.
CEDRIC MAMPURU
★★★★☆
I for one think it is about encouraging people who are already on their feet but lack vim and vigour as to how they can deal with their day to day challenges in their business.
Tram
★★★★★
It is very helpful for individuals to develop themselves!
Brian Cavanagh
★★★☆☆
Fascinating, thought-provoking and full of good examples on how to get the most from your life.
Kuvaus
This book looks at the personal and professional, the universal and the particular, and, the theory and the practice. Taking in Mindful Living and Mindful Leadership, Mindfulness for Business and in the workplace, Mindfulness in Education and in the classroom, and Mindful Coaching amongst other things. And it has one simple ambition, to help everyone live a richer and a more fulfilled life.
About the author
Hello, I'm Paul Mudd – A Leadership Advocate | Well Being, Well Living & Well Doing Influencer | Thinker | Disrupter | Mindfulness Author | Huff Post, Medium & Thrive Global Writer | & Co Founder of The Mudd Partnership Ltd.
We don't know what we don't know and that intrigues me. We live in a highly complex, interconnected, interdependent, interrelated world. By 2020 there will be 50 Billion connected devices globally!
Life is so complex that we will probably never completely understand it, yet I'm a great believer in elegantly simple solutions. I'm an advocate of open space technology and making the complex less complex, the tough stuff not so tough, &, putting the unreachable within the reach of everyone.
I'm also a great believer in getting the midfield right.
In addition, I'm author of 'Uncovering Mindfulness: In Search Of A Life More Meaningful' available on Amazon and from http://bookboon.com/en/uncovering-mindfulness-ebook; the 'Coffee & A Cup of Mindfulness' series, the 'Mindful Hacks For Mindful Living & Mindful Working', &, the 'From Mindfulness With Love' series which is also available on YouTube.
Through The Mudd Partnership I work with business leaders, organisations and individuals in support of change, leadership excellence, business growth, organistional and individual wellbeing and well doing, and introducing Mindfulness.
You can follow the continuing journey Uncovering Mindfulness on Twitter @TheMindfulBook and @Paul_Mudd
And you can connect with me on LinkedIn here: https://www.linkedin.com/in/paulmuddcharteredfcipdmioee/?trk=nav_responsive_tab_profile


Sisältö
Disclaimer

Acknowledgements and Thanks

About the Author

Introduction

"The Duvet Touching Your Toes"

"Roots and Shoots"

"The Brain Is Smarter Than You Think"

"The Compassionate You"

"Mindfulness in The Workplace and Every Other Place"

"How to Apply the Brakes? Tune the Instrument, Taste the Fruit!"

Bibliography, Resources and Other Stuff

Endnotes