Investments: An Introduction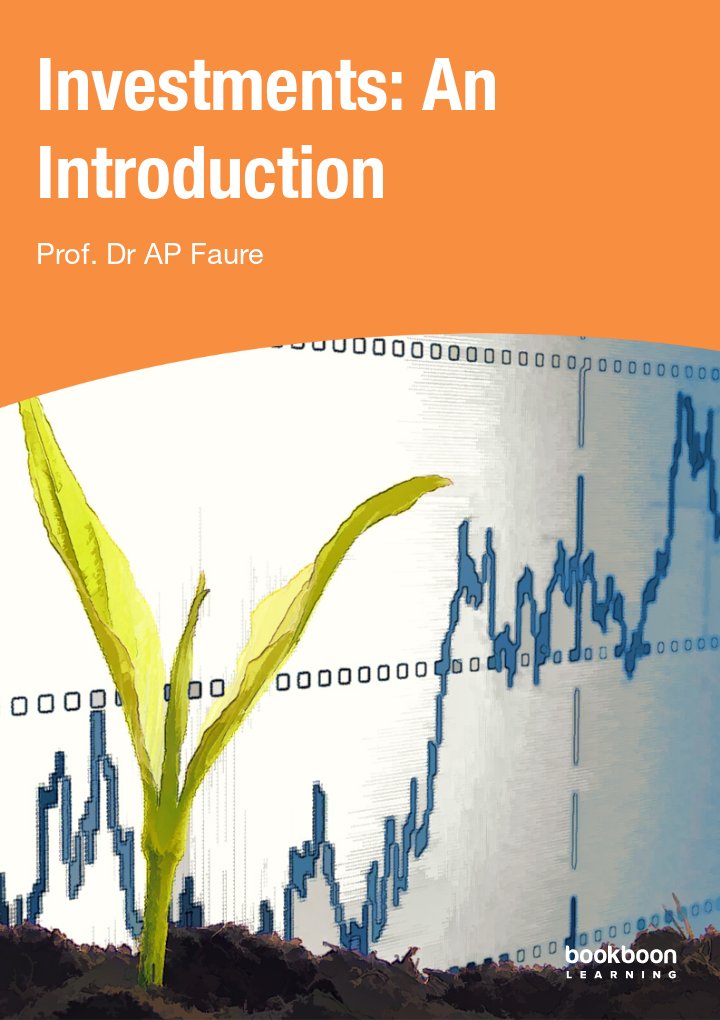 ISBN: 978-87-403-0604-0
1 painos
Sivua : 154
Price: 49,50 kr
Price: €5,99
Price: £5,99
Price: ₹110
Price: $5,99
Price: 49,50 kr
Price: 49,50 kr
4 helppoa askelta e-kirjan lataukseen
This is a Premium eBook
Bookboon Premium - Gain access to over 800 eBooks - without ads
You can get free access for a month to this - and 800 other books with the Premium Subscription. You can also buy the book below
Start a 30-day free trial. After trial: 39,99 kr p/m
Start a 30-day free trial. After trial: €5,99 p/m
Start a 30-day free trial. After trial: £4,99 p/m
Start a 30-day free trial. After trial: ₹299 p/m
Start a 30-day free trial. After trial: $3,99 p/m
Start a 30-day free trial. After trial: 39,99 kr p/m
Start a 30-day free trial. After trial: 39,99 kr p/m
Käyttäjät, jotka katsoivat tätä tuotetta, katsoivat myös
Tietoja kirjasta
Arvioinnit
Anthony
★★★★☆
A book that presents a great overview of the concept of investment.
George
★★★★★
Excellent introductory book for the novice investor that needs to establish a road map to accomplish their investment goals. Highly recommended for those individuals who want to take the path towards wealth creation.
Kuvaus
This introductory book covers the lifestyle choices faced by the individual over his/her life (the prudent conduct of which leads to early achievement of the elusive financial security goal - FSG), and the nuts and bolts and principles of investments. The individual has four distinct phases in his/her life. Each phase has its unique lifestyle choice-variables and therefore unique codes or rules that need to be recognised and adhered to in order to achieve the FSG as early as possible, and to preserve assets until exodus. Investing also has distinct codes, rules and principles. It is essential to have a good understanding of the financial system, which delivers the main asset classes: the financial asset classes (1) money market investments, (2) bonds and (3) shares. The other assets are real assets and the categories are (1) property, (2) commodities and (3) other real assets (art, antiques, rare stamps and the like).
Sisältö
Four phases of the life-cycle

Learning outcomes
Introduction
Phase 1: newborn to adulthood (0–20)
Phase 2: adulthood to maturity (20–40)
Phase 3: maturity to seniority (40–60)
Phase 4: seniority to exodus (60–80+)
Other rules which apply throughout or during part of your life-cycle
Life-cycle of happiness
The life-cycle and investing
Bibliography

The financial system

Learning outcomes
Introduction
Six elements of the financial system
Element 1: lenders and borrowers
Element 2: financial intermediaries
Element 3: financial instruments
Element 4: financial markets
Element 5: money creation
Element 6: price discovery
Allied participants in the financial system
Bibliography

Investment instruments

Learning outcomes
Introduction
Time value of money
Money market instruments
Bond market instruments
Share market instruments
Derivative market instruments: futures and options
Real investments
Investment vehicles
Foreign investments
Asset classes
Bibliography

Investment principles

Learning outcomes
Introduction
Definition and objective of investment
Risk-free rate
Investment environment
Risk and return
Investment theories and maxims
Lessons from the theories and maxims
Portfolio management
Asset allocation over the life-cycle
Bibliography
Endnotes