How to Excel at Interviews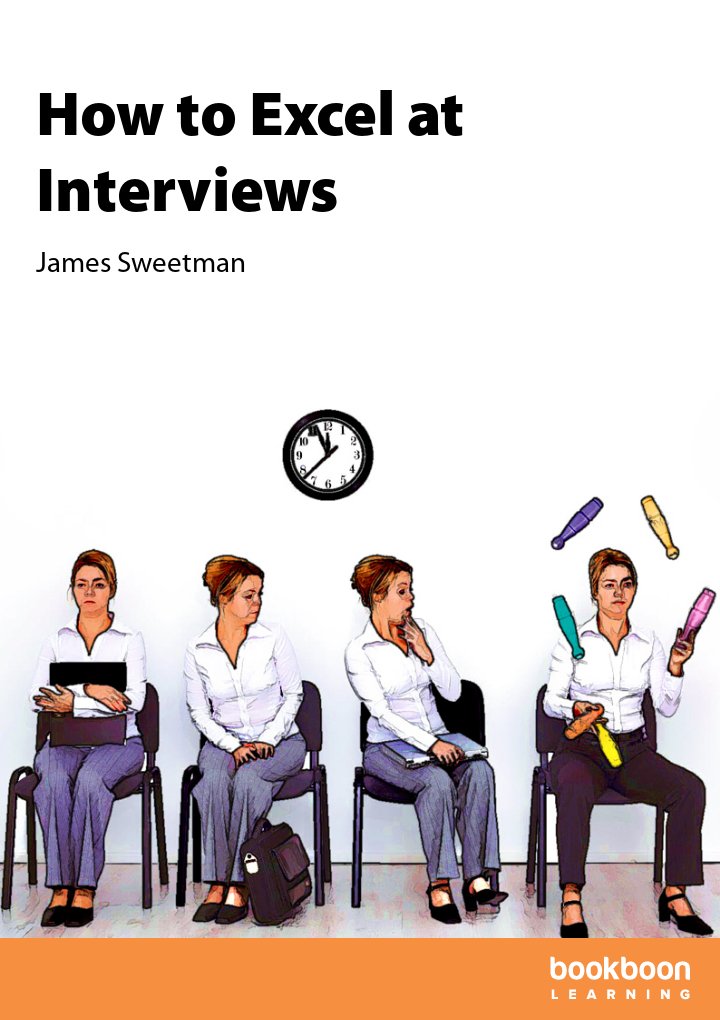 ISBN: 978-87-403-0408-4
1 painos
Sivua : 57
Price: 75,50 kr
Price: €8,99
Price: £8,99
Price: ₹150
Price: $8,99
Price: 75,50 kr
Price: 75,50 kr
4 helppoa askelta e-kirjan lataukseen
This is a Premium eBook
Bookboon Premium - Gain access to over 800 eBooks - without ads
You can get free access for a month to this - and 800 other books with the Premium Subscription. You can also buy the book below
Start a 30-day free trial. After trial: 39,99 kr p/m
Start a 30-day free trial. After trial: €5,99 p/m
Start a 30-day free trial. After trial: £4,99 p/m
Start a 30-day free trial. After trial: ₹299 p/m
Start a 30-day free trial. After trial: $3,99 p/m
Start a 30-day free trial. After trial: 39,99 kr p/m
Start a 30-day free trial. After trial: 39,99 kr p/m
Käyttäjät, jotka katsoivat tätä tuotetta, katsoivat myös
Tietoja kirjasta
Arvioinnit
Osas
★★★★★
Very useful. I love it.
Krysel Lou Arnoco
★★★★★
Interesting and useful
Rodrigo GM
★★★★★
Just want to say thank you for this book! I had an interview yesterday and it went thru most of the examples provided!! Dont know the result of the interview yet but I could practice a lot and prepare situations in advance. Thanks!
Sandra C. Burch
★★★★★
The interview questions were well chosen by the author. I can attest that they are being asked often with the number of interviews I have had. And great news, the tips are the ones that anyone who wants to get a job, NEED.
Maya
★★★★★
Excellent book with great career tips. Thanks.
Kuvaus
Whether you are going for your first interview or you want to refresh your interviewing skills, then this eBook is for you. Discover common interview questions and tips for answering them. Learn how to manage your nerves and portray confidence. Put your mind at ease about body language. Learn all about competencies and how to structure your answers at a competency-based interview. Discover simple techniques for keeping your answers punchy and effective. This book contains the fundamentals of interview preparation, ensuring you walk into your interview as prepared and as polished as you can be.
Esipuhe
The purpose of this book is to help you prepare thoroughly for an interview. If you have an important interview scheduled, or if recent interviews have not gone your way, or if you haven't attended an interview in years, in the chapters that follow you will discover tips, questions and insights that will support and challenge you to walk into your interview as prepared as you can be.
So let's get started.
Sisältö
Getting Started

Introduction
What's ahead?
Getting the most from this book
What is the purpose of an interview?
The Interview Scales

Knowing your strengths & shaping your answers

Your strengths – what you want interviewers to know about you
Questions interviewers ask to uncover your strengths
Uncovering your strengths
Packaging your strengths into an answer
More tips for shaping your answers

Competencies

What are competencies and why are they important?
How interviewers assess competencies
Eight common competencies & examples of questions used to assess them
The STAR Approach – How to structure your answers
Ten additional tips for demonstrating competencies

Questions you should be able to answer

What are your weaknesses?
Where do you see yourself in five years time?
What motivates you?
Why have you applied for this job?
What do you know about this company?
Do you have any other questions?
The Curveball Question

Congruent Communication & Your Personal Brand

Verbal Communication – The Components
The ways we can use our voice
Beware of verbal fillers
How to minimise verbal fillers
A quick note on listening
The do's and don'ts of Body Language
Some final body language tips
Determining your Personal Brand
Factors that influence your Personal Brand in an Interview

Managing nerves & portraying confidence

Why do we get nervous?
Why confidence is important
Strategies for managing nerves and boosting self-confidence

Final Tips
Appendix
Author Profile – James Sweetman