Regulatory Framework of Financial Institutions
A Zambian Perspective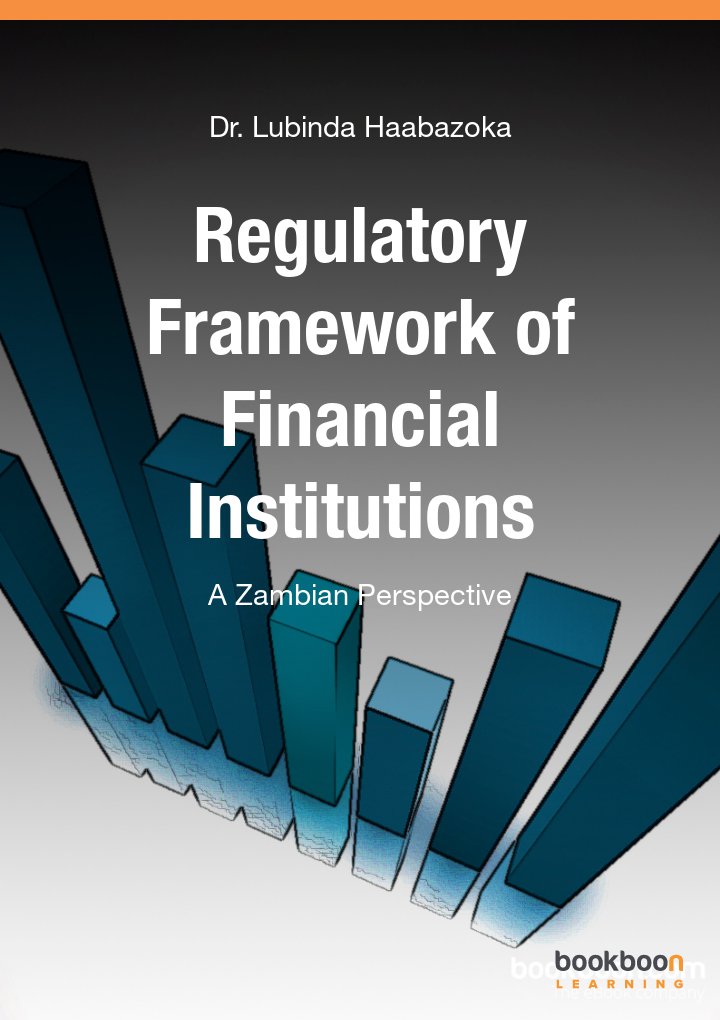 ISBN: 978-87-403-1431-1
1 edición
Páginas : 149
Price: 129,00 kr
Price: €13,99
Price: £13,99
Price: ₹250
Price: $13,99
Price: 129,00 kr
Price: 129,00 kr
Descarga GRATIS tus ebooks en 4 sencillos pasos
This is a Premium eBook
Bookboon Premium - Gain access to over 800 eBooks - without ads
You can get free access for a month to this - and 800 other books with the Premium Subscription. You can also buy the book below
Start a 30-day free trial. After trial: 39,99 kr p/m
Start a 30-day free trial. After trial: €5,99 p/m
Start a 30-day free trial. After trial: £4,99 p/m
Start a 30-day free trial. After trial: ₹299 p/m
Start a 30-day free trial. After trial: $3,99 p/m
Start a 30-day free trial. After trial: 39,99 kr p/m
Start a 30-day free trial. After trial: 39,99 kr p/m
Los usuarios que vieron este artículo también vieron
Acerca del libro
Opiniones
★★★★★
This is a very interesting book being that it really explains most of the things in the world of finance.
Himaamba Hachabwe
★★★★★
Powerful literature, worthy reading. If you want knowledge and valuable information about Financial institutions, why not go for this book!
Bright Chanda Junior
★★★★★
This is exceptional. This book just gave me more insights about FIs and has really brought about more clarity in my career path. Thank you Doc for your exceptional work.
Kauzhi Lee
★★★★★
It is such a good book in terms of Regulatory Frameworks for Financial Institutions in Zambia. This is encouraging and worthy emulating especially that it is coming from a Zambian. I wish to congratulate him and wish this noble Dr. well as he continues to spread such wonderful knowledge.
BILLY LOMBANYA
★★★★★
It is indeed overwhelming to see a Zambian produce such information of high standard... I call this a job well done. very inspiring.. looking forward to more books to be published.
Descripción
Regulatory Framework for Financial Institutions – a Zambian Perspective introduces, illustrates, and discusses the many aspects of financial institution regulation. The book is unique in that, it explains how the different segments of financial markets are regulated using Zambia as a case study. The book introduces theory on financial systems' regulation and explains the various boundaries that exist within the financial system for the purpose of enforcing regulation. The book also looks at how money laundering and financial crime are prevented around the world.
Contenido
Overview of the Financial System

Introduction
Structure of the Financial System
Financial System Boundaries
Revision Questions

Overview of Financial Institution Regulation

Introduction
The Priciples of Regulation
Regulatory Structure
Revision Questions

Central Bank Regulation

Introduction
Rationale ¢ Central Bank Regulation
Central Banking Around the World
Functions of Central Banks
The Bank ¢ Zambia Act
Revision Questions

Commercial Bank Regulation

Introduction
Overview of Commercial Banking
Objectives of Commercial Bank Regulation
Formation and Registration of Commercial Banks
Prudential Supervision of Commercial Banks
Taking Possession of Banks and Financial Institutions
Insolvency Dissolution and Liquidation of Banks And Financial Institutions
International Aspects of Commercial Bank Regulation
Revision Questions

Insurance Industry Regulation

Introduction
Overview of the Insurance Industry
The Legal Framework and Regulatory Body
Formation and Registration Insurers
Regulation of Management and Shareholding of Insurers
Transfer of Insurance Business
Winding Up of Insurers
Revision Questions

Pension Fund Regulation

Introduction
Role of Pension Funds in an Economy
Legal Framework for Pension Fund Regulation
Registration of Pension Funds
Prudential Regulation and Supervision of Pension Funds
The Role of the Pension And Insurance Authority in the Regulation of Pension Funds
Deregistration of Pension Funds
Revision Questions

Regulation of Building Societies

Introduction
Overview of Building Societies
Formation and Registration of Building Societies
Regulation of Building Society Management
Roles of the Registrar and Minister of Finance in the Regulation of Building Societies
Winding-Up and Dissolution of Building Societies
Revision Questions

Capital Market Regulation

Introduction
Overview of Capital Markets
Objectives And Principles of Capital Market Regulation
Legal Framework for Securities Markets Regulation
Improper Trading Practices and the Compensation Fund
The Roles of Institutions Involved in Securities Market Regulation
Revision Questions

Money Laundering and Financial Crime Prevention

Introduction
Overview of Money Laundering and Financial Crime
Prohibition and Prevention of Money Laundering Legislation
Revision Questions