Psychologically Safe Workplaces: Utopia Revisited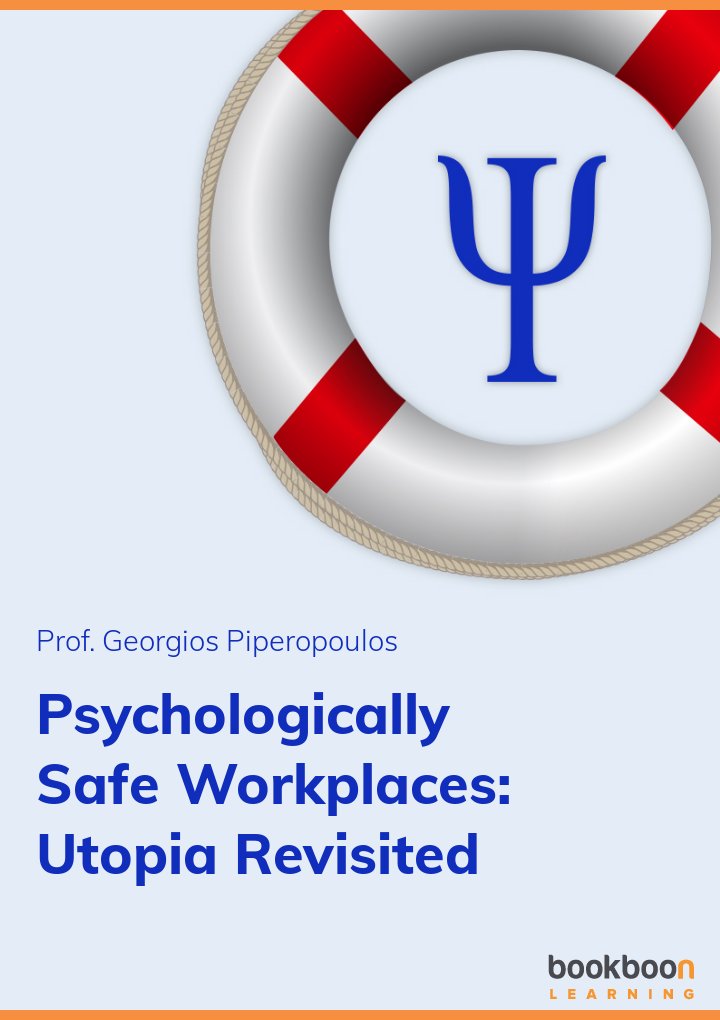 ISBN: 978-87-403-2421-1
1 edición
Páginas : 140
Price: 129,00 kr
Price: €13,99
Price: £13,99
Price: ₹250
Price: $13,99
Price: 129,00 kr
Price: 129,00 kr
Descarga GRATIS tus ebooks en 4 sencillos pasos
This is a Premium eBook
Bookboon Premium - Gain access to over 800 eBooks - without ads
You can get free access for a month to this - and 800 other books with the Premium Subscription. You can also buy the book below
Start a 30-day free trial. After trial: 39,99 kr p/m
Start a 30-day free trial. After trial: €5,99 p/m
Start a 30-day free trial. After trial: £4,99 p/m
Start a 30-day free trial. After trial: ₹299 p/m
Start a 30-day free trial. After trial: $3,99 p/m
Start a 30-day free trial. After trial: 39,99 kr p/m
Start a 30-day free trial. After trial: 39,99 kr p/m
Los usuarios que vieron este artículo también vieron
Acerca del libro
Opiniones
Katerina Petrova
★★★★★
As a realist, not negativist, by nature combined with work experience I would sat do not get lured by the utopian promise of psychologically safe workplaces. In a world wherever are longer persons but 'human resources' governed by "locust type" corporations and apathetic Unionists show me some examples and I will show you myriads of oases in Sahara.
Elif Yilmaz,BSc.(hons)
★★★★★
As a working woman I would strongly suggest to working women and working men to download and read this book. It delivers a powerful well supported message!
Pat Mcdermott
★★★★★
If you are an employee, a working man or woman, orva manager charged with the supervision of a group of employees do download and read this book! It will help you understand while it is futile to dream of PSW... If you are an employer or a corporate stakeholder reading this book may slightly...upset you as it reveals the profit motive masking itself under the dream of Psychologically Safe Workplaces...
Matt Gross
★★★★★
Reading through the lines I discern a romantic attitude in Professor Piperopoulos' narrative despite his half century experiences in Business Schools where management students learn tonaim for profit maximization techniques! Improved profits benefit corporation stakeholders and assure managers bonuses! It is a book worth reading.
Imran Kahn
★★★★★
In my humble opinion a truly remarkable book which comes to fill in many voids in the history of employer employees relations. Take a close look at the chapter on Unions and the review of Business Schools.
Descripción
The book is a journey through human progress focusing on the construct of psychologically safe workplaces which has re-emerged recently. It looks as far back as the Ancient Egyptians and Greeks, highlighting the construct of utopia as applied to the world of work. It explores where we are in the world of work and how humans are treated at work. It underlines how various advances through industrial, and much more recently technological, revolutions have changed the nature of work and society. It explores if a 'utopic' ideal of work has ever existed or can exist. As a monograph, it will engage the readers' interest with its story and intention.
About the author

Dr Georgios P. Piperopoulos studied sociology and psychology at American, German and Austrian Universities receiving his Bachelor's, Master's and Ph.D. degrees; taught at several American, European and Greek Universities at both undergraduate and postgraduate levels before retiring from his professorial chair at the Department of Business Administration, The University of Macedonia, Thessaloniki, Greece.
Dr Piperopoulos is currently Visiting Professor at Newcastle Business School, Faculty of Business and Law, Northumbria University, Newcastle, UK. He was Visiting Professor at Newcastle University Business School, U.K. from 8/2013 to 8/2016.
He has held a variety of managerial posts in private enterprises and public social services organizations in the USA and Europe.
He has developed and taught Leadership, Communication, Stress Management and Psychological Operations courses at the Supreme Joint War College of the Hellenic Armed Forces (Army, Navy, Air force), the Army staff training school, the Hellenic Police Continuing Education Centre and at the Greek branch of the United Nations Peace Serving Operations Training Centre.
Professor Piperopoulos has published several textbooks and many popular books in Greek and English and authored hundreds of articles and editorials in leading Greek Newspapers and magazines. He has been a frequent guest on Greek TV and radio programs as a commentator and, for several years, presented his own show titled 'I Communicate Therefore I am' in Greek National and Regional TV channels and Radio stations. He has delivered hundreds of public lectures to groups in Greece, Europe and the USA.
Bookboon.com has already published his books:
Fundamentals of Communication, PR and Leadership
http://bookboon.com/en/fundamentals-of-communication-p-r-and-leadership-ebook


Control Your Stress and Manage Your Time!

http://bookboon.com/en/control-your-stress-manage-your-time-ebook.


Managing primary and Secondary Schools – A Primer (co-authored with Dr A.N. Piperopoulou)

http://bookboon.com/en/managing-primary-secondary-schools-ebook


His daughter Dr Natasha (Anastasia) Piperopoulou lives with her son in Athens and is employed as psychologist in a public school for training and educating adolescents with special needs. His son Dr Panagiotis (Panos) Piperopoulos is Associate Professor at Royal Melbourne Institute of Technology (RMIT).

Contenido
Psychologically safe workplaces

The concept of 'Utopia' in literature

The concept of 'Utopia' in political economy

The Biblical 'Garden of Eden': 'Paradise' as a religious 'Utopia'

The Giza pyramids: History 'made' in Hollywood

Pericles and the Acropolis of Athens

The British Industrial Revolution

Unions and Unionism


Unionism in Britain

Unionism in the USA

Unionism in Germany

Unionism in France


Tsarist Russia and the Bolshevik Revolutions


Tsarist Russia

The Bolshevik Revolutions with Lenin, Trotsky, Stalin as the three protagonists


The Great Depression and the 'New Deal' Programs in America

Frederick Winslow Taylor's 'Scientific Management Theory' ('Taylorism')


The contributions of Frank and Lillian Gilbreth to 'time-motion' techniques

Taylorism, Lenin and industrialization in Bolshevik Russia


Henri Fayol's 'Administrative Management Approach' (Fayol-ism)

Henry Ford & his 'Assembly Line' production of the historic 'Model-T' cars

The contributions of Weber and Veblen


Max Weber's 'Bureaucratic Management' Approach

Thorstein Veblen's critique of the 'affluent' social class


The first Business Schools appear in 19th century Europe and the USA


A glimpse at some current critiques of Business Schools


The Hawthorne studies and the era of 'human relations' in industry

Human motivation and the theories of Maslow, Herzberg & Likert


Abraham Maslow's Humanistic Psychology and the pyramid of human needs

Frederick Herzberg and his 'hygiene-motivators' factors theory

Rensis Likert


McGregor's theories 'X and Y' & Quichy's theory 'Z'

William Edwards Deming and 'Total Quality Management'