Internet and Technology Law: A U.S. Perspective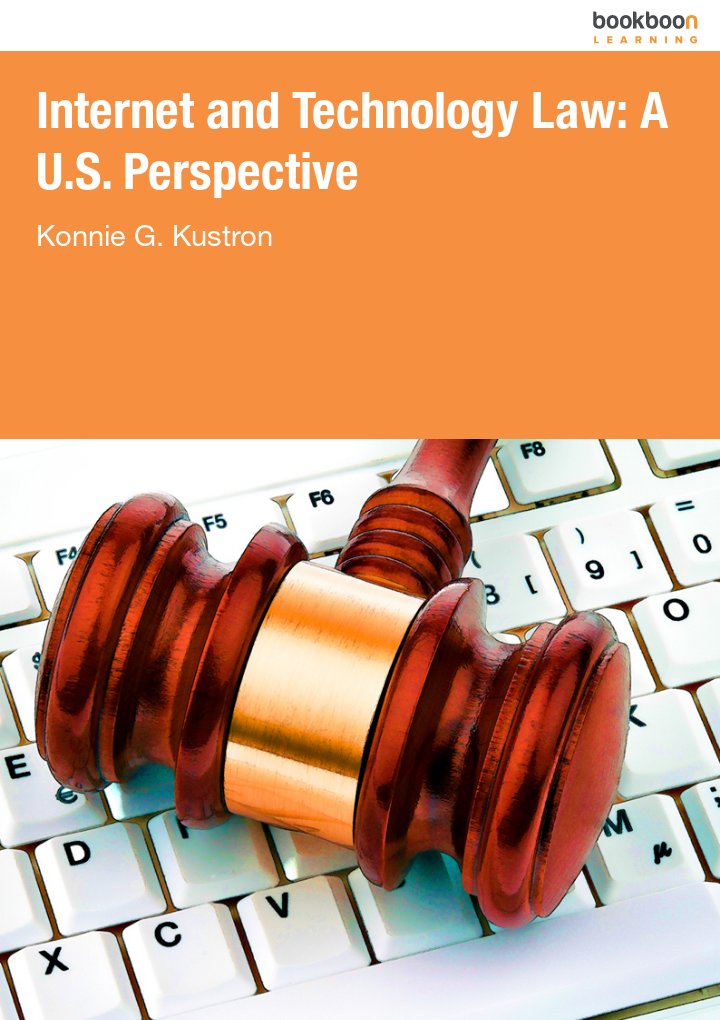 ISBN: 978-87-403-0845-7
1 edición
Páginas : 154
Price: 129,00 kr
Price: €13,99
Price: £13,99
Price: ₹250
Price: $13,99
Price: 129,00 kr
Price: 129,00 kr
Descarga GRATIS tus ebooks en 4 sencillos pasos
This is a Premium eBook
Bookboon Premium - Gain access to over 800 eBooks - without ads
You can get free access for a month to this - and 800 other books with the Premium Subscription. You can also buy the book below
Start a 30-day free trial. After trial: 39,99 kr p/m
Start a 30-day free trial. After trial: €5,99 p/m
Start a 30-day free trial. After trial: £4,99 p/m
Start a 30-day free trial. After trial: ₹299 p/m
Start a 30-day free trial. After trial: $3,99 p/m
Start a 30-day free trial. After trial: 39,99 kr p/m
Start a 30-day free trial. After trial: 39,99 kr p/m
Los usuarios que vieron este artículo también vieron
Acerca del libro
Opiniones
Allan
★★★★★
A keeper. Easy to read.
Margie H.
★★★★★
Tremendous. Very informative.
Eddie J.
★★★★★
Nice overview of Internet law. A keeper!
Descripción
The Internet and technology present continuing challenges to U.S. law as technology often changes faster than the law can be rewritten. The ability to access, store and the transmit information electronically challenges the law with many new and interesting paradigms. This book reviews many of the legal challenges created by these new technologies. Topics include jurisdiction; privacy; copyright and trademark law; trade secrets and patents; free speech, defamation, and obscenity; and cybercrime. Each chapter includes a sample quiz, end of chapter questions, and additional learning opportunities.
Contenido
Jurisdiction Defined

Overview
Subject Matter Jurisdiction
Personal Jurisdiction
Long Arm Statute
Minimum Contacts
Purposeful Availment
Summary
Key Terms
Chapter Discussion Questions
Additional Learning Opportunities
Test Your Learning

Privacy

Introduction
Threats to Privacy
Sources of Privacy Law
U.S. Constitution and Amendments
State Constitutions
Common Law Torts
Federal and State Laws
Administrative Agency Rules and Regulations
Summary
Key Terms
Chapter Discussion Questions
Additional Learning Opportunities
Test Your Learning

Copyright and Trademark Law

Introduction
What is a Copyright?
Registration
What Is A Trademark?
Federal Registration Benefits
Rights of Mark Ownership
Trademark Symbols
Additional Registration Steps
Reasons for Registration Refusal
Notice of Publication
Federal Trademark Dilution Act
Anti-Cybersquatting Consumer Protection Act
Summary
Key Terms
Chapter Discussion Questions
Additional Learning Opportunities
Test Your Learning

Trade Secrets and Patents

What is a Trade Secret?
Protecting the Trade Secret
Length of Protection
Legal History
Uniform Trade Secrets Act
Disputes
Remedies
Additional Federal Laws
What is a Patent?
America Invents Act
Patent Rights
Categories of Patentable Subject Matter
USPTO
Patentability
Types of Patents
Application Process
Infringement
International Considerations
Summary
Key Terms
Chapter Discussion Questions
Additional Learning Opportunities
Test Your Learning

Free Speech, Defamation & Obscenity

Introduction
Obscenity
Roth v. United States
Miller v. California
Communications Decency Act of 1996
Reno v. ACLU 1
Child Pornography Prevention Act of 1996
Child Online Protection Act of 1998
The Children's Internet Protection Act of 2000
Child Protection and Obscenity Enforcement Act of 1988
Defamation
Elements
Libel Per Se
Defenses
Free Speech and Social Media
Free Speech and Work
Summary
Key Terms
Chapter Discussion Questions
Additional Learning Opportunities
Test Your Knowledge

Cybercrime

Overview
Types of Crimes
Crimes Against a Person/Business
Crimes Against Property
Case Study One
Case Study Two
Case Study Three
Case Study Four
Federal Legislation
Summary
Key Terms
Chapter Discussion Questions
Additional Learning Opportunities
Test Your Learning