Talentmanagement in der Sportbranche
Eine Zusammenführung von Ansätzen und Positionen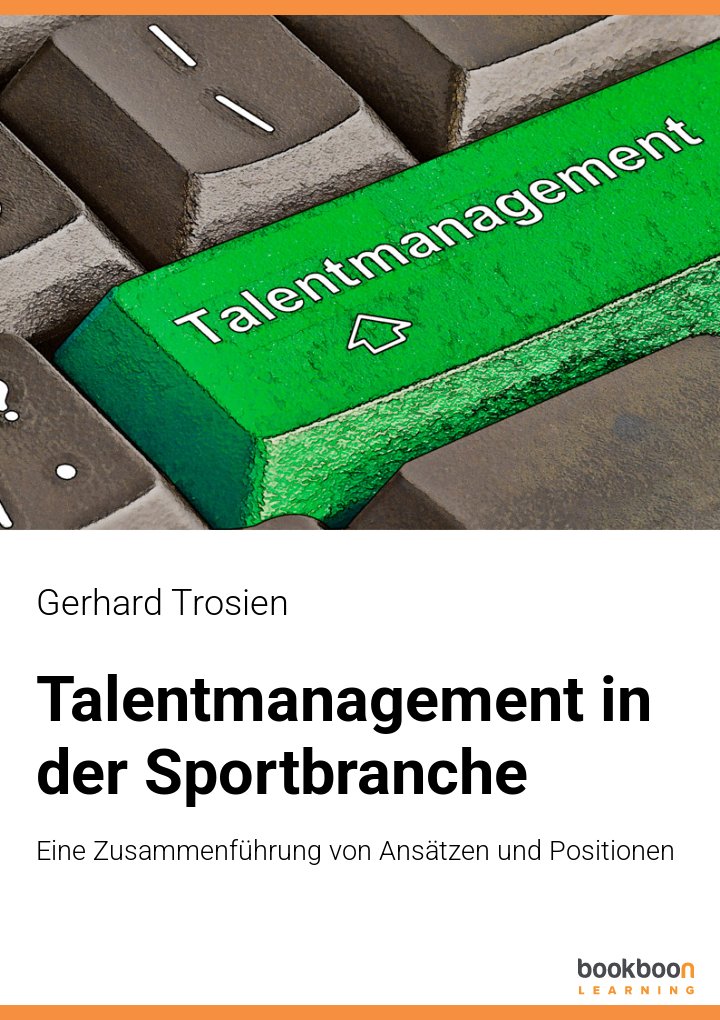 ISBN: 978-87-403-2001-5
1 edition
Pages : 81
Price: 75.50 kr
Price: €8.99
Price: £8.99
Price: ₹150
Price: $8.99
Price: 75.50 kr
Price: 75.50 kr
Download for FREE in 4 easy steps...
This is a Premium eBook
Bookboon Premium - Gain access to over 800 eBooks - without ads
You can get free access for a month to this - and 800 other books with the Premium Subscription. You can also buy the book below
Start a 30-day free trial. After trial: 39.99 kr p/m
Start a 30-day free trial. After trial: €5.99 p/m
Start a 30-day free trial. After trial: £4.99 p/m
Start a 30-day free trial. After trial: ₹299 p/m
Start a 30-day free trial. After trial: $3.99 p/m
Start a 30-day free trial. After trial: 39.99 kr p/m
Start a 30-day free trial. After trial: 39.99 kr p/m
About the book
Description
Sporttalente sind das primäre Gut von Sportorganisationen, denen eine spezifische Systematik bzw. spezielle Prinzipien eigen sind. Sportmanager sind hinter den Spitzensportlern und Spitzentrainern die dritte Säule des professionellen Branchen-Outputs. Diese wird jedoch nirgendwo für die Sportbranche diskutiert. Es werden Förder-, Belohnungs-, Mentoren- sowie Beratungssysteme angesprochen. Das Buch kann somit erstmals einen umfassenden Überblick über komplexe und komplizierte Zusammenhänge bieten.

Über den Autor

Gerhard Trosien hat Soziologie und Sportwissenschaft studiert und in Soziologie promoviert. Seine beruflich längste Zeit verbrachte er im Deutschen Sportbund e.V. und betreute dort Bildungs-, Gesundheits- und Wissenschaftsthemen. Von 2001 bis 2011 wurde er als Professor an die Fachhochschule Heidelberg berufen und etablierte dort einen neuen Arbeitsbereich Sportmanagement. Im Anschluss an den Diplom-Studienschwerpunkt Sportmanagement in der Fakultät Wirtschaft konnte er einen der ersten Master-Studiengänge für Sportmanagement in Deutschland erfolgreich akkreditieren. In einer einmaligen Kooperation mit der Universität Heidelberg, Fachbereich Sportwissenschaft, wurden über 10 Jahre die Heidelberger Sportbusiness Foren durchgeführt. Auslandsexkursionen mit Studierenden seiner Studienkurse nach New York City zu hochkarätigen Gesprächspartnern des amerikanischen Sportbusiness wurden jährlich durchgeführt – auch nach seinem Weggang sind diese von seinen Nachfolgern fortgesetzt worden.
Seit 2012 lehrt er an der accadis Hochschule Bad Homburg Sportmanagement; seit 2014 auch im Master-Studiengang General Management im Schwerpunkt "Global Sports Management". Erstmals lebten seine NYC-Exkursionen 2016 auch an der accadis Hochschule auf.
In seiner Publikationsliste befinden sich Artikel, Monografien und Sammelbände zum Sportmana-gement bzw. zu Einzelthemen daraus. Als Begründung der Sportbranchen-Diskussion gilt sein 1991 herausgegebener Band: "Die Sportbranche und ihre Geldströme". Sein seit 2016 laufendes Projekt zum "Arbeitsmarkt für Sportmanager" kann erneut zentrale Fragestellungen im Sportmanagement aufrufen und innovative Erkenntnisse präsentieren. Die Untersuchung wird von der Adecco-Stiftung gefördert.
Seine wissenschaftlichen Netzwerke führen regelmäßig zu Vorträgen im In- und Ausland. Insbesondere auf den Konferenzen der "European Association for Sport Management" (EASM) präsentierte er mehrfach und führte Kollegen sowie Studierende in diese community ein. Auch in Asien war er mehrfach guest speaker in Indonesien, im Iran und in Malaysia.
Content
Einleitung

Ist Deutschland eine "Sportnation"? Gesellschaft im Wandel

"War for Talent" in der Sportbranche?

Sport für alle


Sport treiben

Sport organisieren

Sport zuschauen

Sport (ver)kaufen


Die Sportbranche in ihren Angeboten und Nachfragen


Wettkampfsport

Sportpersonal im Wettkampfsport

Öffentlichkeit

Sportprodukte und -dienstleistungen


Nachwuchs- und Talentstrategien in der Sportbranche


Nachwuchs- und Talentstrategien für Medaillen

Nachwuchs- und Talentstrategien für Management


Nachwuchs- und Talentorganisationen und -Strukturen in der Sportbranche


Nachwuchs- und Talentmanagement

Managementnachwuchs und -talent

Kosten, Nutzen sowie Einblicke in die Gratifikationen


Aktuelle Befunde


Internationalität und Globalisierung des Talentmanagements

Innovationen und Talent Relationship Management

Prämien, Preise und Stipendien


Perspektiven des Talentmanagements in der Sportbranche


Quellen und Literaturangaben