Succesvol Projectmatig Werken: Deel 2
Projecten Ontwikkelen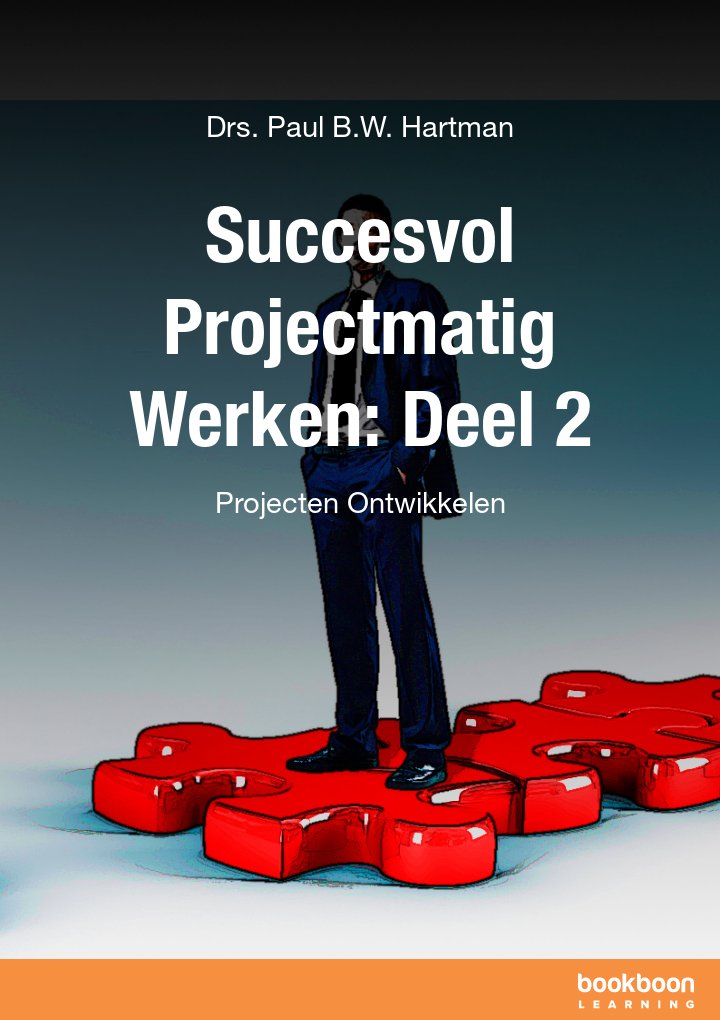 ISBN: 978-87-403-1861-6
1 edition
Pages : 93
Price: 75.50 kr
Price: €8.99
Price: £8.99
Price: ₹150
Price: $8.99
Price: 75.50 kr
Price: 75.50 kr
Download for FREE in 4 easy steps...
This is a Premium eBook
Bookboon Premium - Gain access to over 800 eBooks - without ads
You can get free access for a month to this - and 800 other books with the Premium Subscription. You can also buy the book below
Start a 30-day free trial. After trial: 39.99 kr p/m
Start a 30-day free trial. After trial: €5.99 p/m
Start a 30-day free trial. After trial: £4.99 p/m
Start a 30-day free trial. After trial: ₹299 p/m
Start a 30-day free trial. After trial: $3.99 p/m
Start a 30-day free trial. After trial: 39.99 kr p/m
Start a 30-day free trial. After trial: 39.99 kr p/m
Users who viewed this item also viewed
About the book
Description
Succesvol Projectmatig Werken bestaat uit 3 delen en maakt de complexe materie en dynamiek van projecten inzichtelijk en voorziet projectleiders en hun opdrachtgevers van praktische hulpmiddelen.
Deel 1 Aan de slag met projectmatig werken gaat over de condities die nodig zijn om Projectmatig werken in te voeren. We vergeljken Projectmatig werken met Agile en Scrum. Deel 2 Projecten Ontwikkelen gaat over de systematiek van projectmatig werken en de stappen om een weloverwogen Projectplan op te stellen. Daarna worden Projectontwikkeling, Besluitvorming en Risicoanalyse uitgewerkt. Deel 3 Projecten Sturen gaat over organisatie en leiderschap van projecten. De focus verschuift van systematiek naar rollen en vaardigheden om projecten op koers te houden en tot een goed einde te brengen. Projectorganisatie, Projectleider, Opdrachtgever en Projectteam staan hier centraal. De Toolbox bij elk deel geeft praktische hulpmiddelen zoals vragenlijsten, checklists en formats
.
Over de auteur
Paul Hartman (1952) studeerde Arbeids- en Organisatiepsychologie in Tilburg.
In 2007 startte Paul zijn eigen adviesbureau ph advies bv op het gebied van organisatie en leiderschapsvraagstukken.
Daarvoor werkte hij aan de Universiteit Utrecht en was bij TNO Hoofd Personeels- en Organisatieontwikkeling. Vervolgens was hij ruim 16 jaar trainer, adviseur, managing partner bij Leeuwendaal advies.
Paul treedt onder meer op als sparringpartner voor bestuurders, directies en managementteams, faciliteert organisaties bij innovatie en veranderingsprocessen zoals de implementatie van projectmatig werken. Hij traint projectleiders in projectmanagement en ondersteunt professionals bij hun persoonlijke ontwikkeling en leiderschap.
Vanuit zijn eigen praktijkervaring weet hij als geen ander welke winst te behalen is met een helder projectdoel, een goed doordacht projectplan en effectief projectmanagement. Die ervaring vertaalt hij naar dit boek "Succesvol Projectmatig Werken" en naar zijn activiteiten op het gebied van Strategieontwikkeling, Trainingen, Organisatieadvies, Leiderschaps- en Teamontwikkeling, Coaching, Interim- en Projectmanagement.
Over zijn inspiratie om dit boek te schrijven zegt hijzelf:
"Onlangs vertelde een kennis me dat het in zijn organisatie gebruikelijk is dat medewerkers elke vijf jaar van functie wisselen. Om toch de continuïteit te borgen, krijgt een medewerker bij zijn nieuwe aanstelling steevast de vraag wat hij in die positie wil realiseren en aan zijn opvolger en de organisatie zal nalaten: wat zijn 'Legacy' zal zijn".
"Die vraag past niet alleen prima bij het gedachtegoed van het resultaatgerichte projectmatig werken, maar inspireerde mij ook om mijn 35 jaar ervaring en 'Lessons Learned' als leidinggevende, opdrachtgever, projectleider, beleidsmedewerker, trainer en adviseur maar eens vast te leggen".
"Dit boek is in die afgelopen 35 jaar stap voor stap ontstaan, tijdens mijn adviesopdrachten en de talloze trainingen en invoeringstrajecten projectmatig werken. Daarbij ben ik intensief opgetrokken met mijn oud-collega Frank Kraak. Dit boek is door zijn inspirerende samenwerking en bijdragen daarom voor een belangrijk deel ook zijn 'Legacy'."
Paul Hartman, oktober 2015
ph advies bv, info@phadvies.nl, www.phadvies.nl
Content
Projectontwikkeling


Het projectproces

De projectstappen

Het projectinitiatief

De projectontwikkeling

De Projectuitvoering

De Projectafronding

Bijzondere vormen van ontwerpstappen


Projectbeheer


Planning & Control

De Beheervariabelen

Project Control


Besluitvorming in Projecten


Besluitvorming tijdens de projectontwikkeling

Besluitvorming tijdens de projectuitvoering

Soorten beslissingen


Risicomanagement in projecten


Risicomanagement: een noodzaak

Het Risicomanagementproces: 10 stappen


Verhoog uw projectrendement


Projectoverschrijdingen eerder regel dan uitzondering

Tien gouden regels voor lijnmanagers

Verbeteren in Tien Stappen