Solution Focused Mentoring
5 Steps to bring out the best in your Mentee and yourself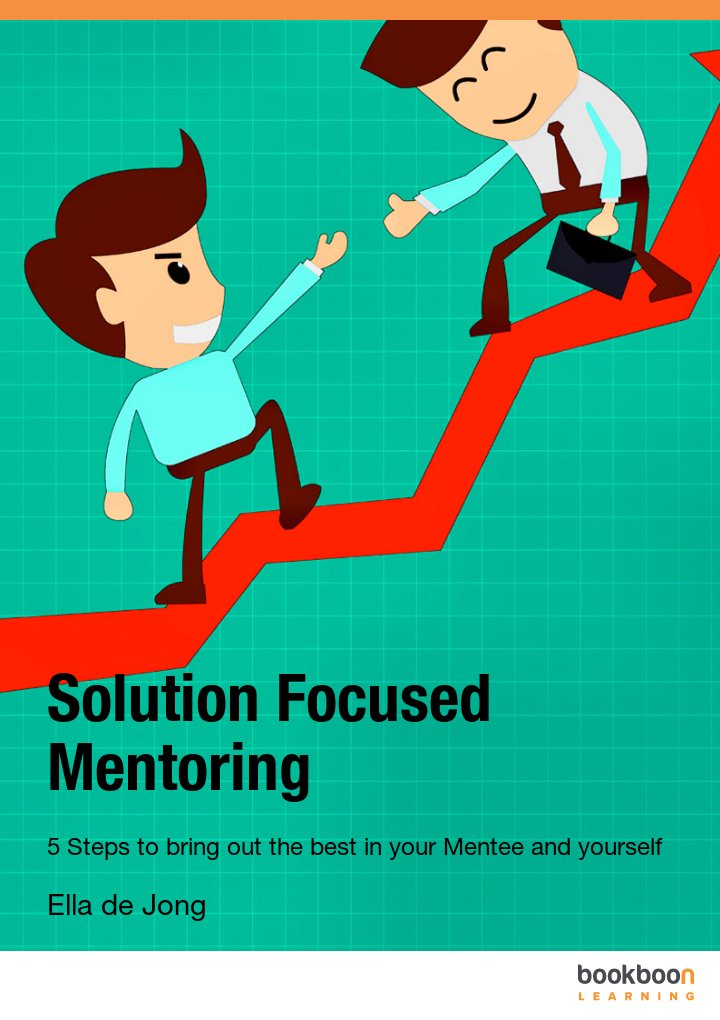 ISBN: 978-87-403-0838-9
1 edition
Pages : 35
Price: 75.50 kr
Price: €8.99
Price: £8.99
Price: ₹150
Price: $8.99
Price: 75.50 kr
Price: 75.50 kr
Download for FREE in 4 easy steps...
This is a Premium eBook
Bookboon Premium - Gain access to over 800 eBooks - without ads
You can get free access for a month to this - and 800 other books with the Premium Subscription. You can also buy the book below
Start a 30-day free trial. After trial: 39.99 kr p/m
Start a 30-day free trial. After trial: €5.99 p/m
Start a 30-day free trial. After trial: £4.99 p/m
Start a 30-day free trial. After trial: ₹299 p/m
Start a 30-day free trial. After trial: $3.99 p/m
Start a 30-day free trial. After trial: 39.99 kr p/m
Start a 30-day free trial. After trial: 39.99 kr p/m
Users who viewed this item also viewed
About the book
Reviews
Donncha Hughes, Business Trainer, Advisor and Ment
★★★★☆
This short eBook (35 pages) is well worth a read. I like books that provide a step by step structure for doing something with each step explaining why what is being advocated will work. This book also has a series of exercises to put the process into practice. The book is thought provoking. It uses the metaphor of making dinner when discussing mentoring. I didn't really like the metaphor as it is a bit simplistic but I got the points such as on page 10, the author says... 'When describing a lovely homemade dinner, one seldom tells you what is NOT to be found into that lovely dinner ...' This is to illustrate that negativity is often the starting point in mentoring when sessions focus on the Problem. This is probably unintended so identifying the issue is important. The book proceeds to outline how this can be rectified and certainly meets its aim as per the subtitle of the book 'to bring out the best in your mentor and yourself'. The concept of scaling is very good! While this book is very good and thought provoking I am not sure I am ready to embrace all elements, particularly Step 2 – Context as discussed in chapter 2. 'Besides wanting to know all about your Mentee's goal, you also want to hear her talk about the rest of her life. At least some part of it. What is the context of her goal?' I accept the value of this point. I also see why this step is so important in the 5 step process (after finishing the entire book). But I am not sure if I should adopt this approach. I have mentored lots of business promoters and like to keep the discussions at a 'professional' level. I certainly steer clear of the counselling arena. I was left a little disappointed when on page 13 the author talks about how traditional business mentoring had not worked for her. The point was not fully explained as in 'why' it didn't work. She does mention a reason (not going to give it away but I do understand the point) and it would be great to explore that further as it is discusse
Description
This book briefly and clearly describes how you, as a Mentor, can help your Mentees in the most beautiful way.
If you want your Mentee to "shine" and have the confidence to do this on his / her own, this book has exactly what you need./p>
It will help you understand the value of each step. It describes the attitude and skills you need. You will be able to know the level of your competence and how much you still need to work on. You'll learn it The Solution Focused Way: with hope and energy.
Due to its framework, it has become an excellent study book.
Enjoy!
Preface
As a young student, when I first heard about 'minus 1 and minus 2' in mathematics class, I instantly thought "I have to tell about this to everyone!" I felt so exited and was so amazed about the existence of those numbers. Wow, what difference that would make to all my future mathematics! Simply realizing there are possibilities in a whole new and different direction…Wow!!"
I hope to give you a taste of the possibilities of Solution Focused Mentoring. Perhaps for some of you, opening a possibility for a whole new perspective and direction…
As a colleague I've mentored new teachers.
As a coach I've heard about the need for mentoring in the business world.
As an uncertain person in a new working environment I've needed mentoring for myself.
As a friend I've noticed the need of mentoring in the creative, artistic world.
As a mother of two teenagers I've heard a lot about the mentors they've met during their school years.
As far as I know this is the first book about Solution Focused Mentoring.
I'd like to make you familiar with the idea in a brief way. Therefore it's necessary to leave some important issues about the Solution Focused insights on a shelf. I really wanted it to be as brief and clear as possible for you. Brief enough to read it over and over again, clear enough to understand it instantly.
Meanwhile you can contact me for any question about Solution Focused Mentoring, The Solution Focused Approach, Solution Focused Coaching & Counselling and Helpful Communication Skills. My workshops and training are tailored to your learning desires. There will always be personal elements in it, like in this e-book. There will be a lot of original and creative assignments in it.
In the end you will be smiling, I assure you!
Smile,
Ella de Jong
elladejong@elladejong.com
Content
Step 1: Goal

Main point
Value, attitude & skills
True story & task

Step 2: Context

Main point.
Value, attitude & skills
True story & task

Step 3: Predictors

Main point
Value, attitude & skills
True story & task

Step 4: Progress

Main point
Value, attitude & skills
True story & task

Step 5: Successes

Main point
Value, attitude & sklills
True story & task

Conclusion
References & Resources