Psychologically Safe Workplaces: Utopia Revisited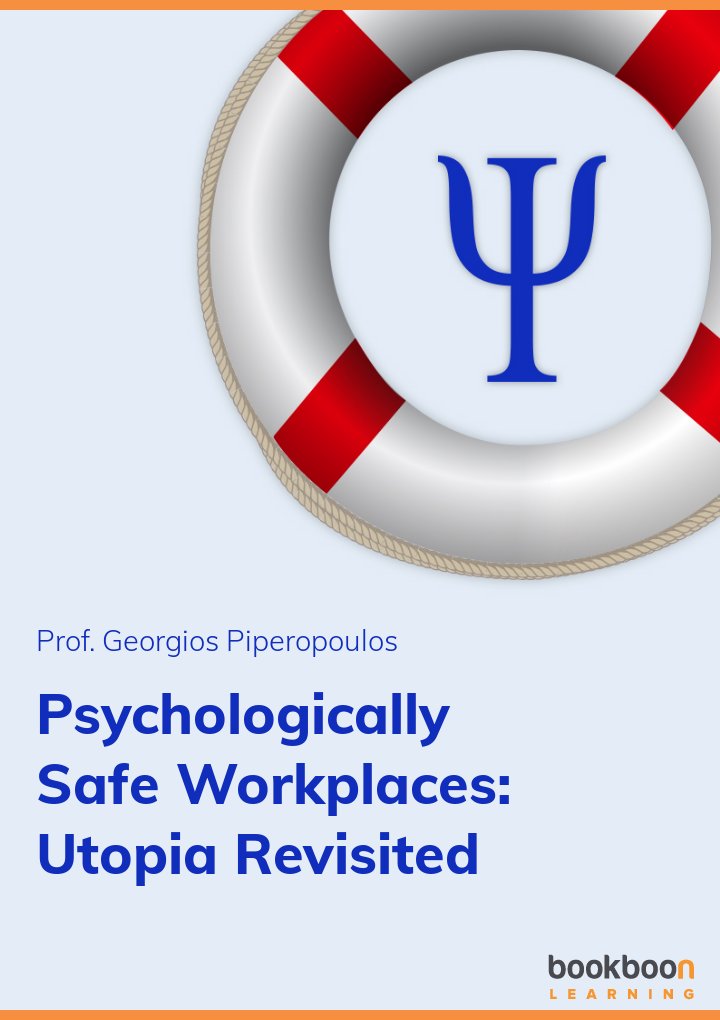 ISBN: 978-87-403-2421-1
1 edition
Pages : 140
Price: 129.00 kr
Price: €13.99
Price: £13.99
Price: ₹250
Price: $13.99
Price: 129.00 kr
Price: 129.00 kr
Download for FREE in 4 easy steps...
This is a Premium eBook
Bookboon Premium - Gain access to over 800 eBooks - without ads
You can get free access for a month to this - and 800 other books with the Premium Subscription. You can also buy the book below
Start a 30-day free trial. After trial: 39.99 kr p/m
Start a 30-day free trial. After trial: €5.99 p/m
Start a 30-day free trial. After trial: £4.99 p/m
Start a 30-day free trial. After trial: ₹299 p/m
Start a 30-day free trial. After trial: $3.99 p/m
Start a 30-day free trial. After trial: 39.99 kr p/m
Start a 30-day free trial. After trial: 39.99 kr p/m
Users who viewed this item also viewed
About the book
Reviews
Odysseas Syrmos, B.A., M.A.
★★★★★
Professor Piperopoulos has produced an indeed iconoclastic monograph which comes to express the agonies of myriads of employees across the globe who feel unsafe and insecure in their jobs. Undeniably creating a psychologically safe culture in corporations and organizations will bring forth great benefits as employees will give their best, loyalty and productivity will increase and so will the profits of corporations and the social esteem of organizations along with the various forms of 'bonus' to management 'golden boys'. But the classic question remains intact: to what extent do employees who give their best share in corporate profits? The agonies relating to job security have not gone away but have been intensified as employees who used to be 'persons' overseen by 'personnel managers and directors' are now 'human resources' overseen by 'human resources managers and directors' and they are nowadays not 'fired' but become 'redundant'… The reality seems to become even harder on job security as IT, AI and robots enter in masses the production and services sectors of global economies. Written by a practitioner/academic this book should be carefully read and indeed should serve as the epitome of a much needed, honest and humane dialogue between employers and employees; it should be part of many modules in the 13,000 Business Schools operating across the Globe.
Gregory C. Lazos, MBA
★★★★★
This new book by Dr. G. Piperopoulos is a valuable resource for management practitioners interested in the various aspects of a psychologically healthy workplace. It offers practical guidance for teams and organizations who are serious about success in the modern economy. With so much riding on innovation and creativity it is essential to attract and retain quality talent—but what good is talent if employees are afraid to express their opinion in an open way without worrying about unpleasant consequences? The book clearly states that the traditional corporate culture of just "fitting in" can spell disaster in today's modern economies. Corporate success requires a continuous influx of new ideas, new challenges, and critical thought. The interpersonal business and organization climate must not suppress and silence employees but it must create a culture that fosters creativity and autonomy of employees and encourages involvement in organizational decision-making which is so important for creative thinking and new ideas. Many informative examples of effective project management spanning from the Pharaohs and the ancient Greeks all the way to the current and near future AI development and its effects on future human employment and labor markets are given throughout the book. Explanations and ideas provide a clear path to constant learning and healthy corporate innovation which is necessary in today's business environment. The link between psychological safety and high performance is clearly stated as well as the need to nurture and create a culture where it is "psychologically safe" to express new ideas openly. This book provides a framework for establishing psychological safety in today's business, teams and organizations. Excellent work and highly recommended!
Alice Rogers, M.A.
★★★★★
Obviously no ifs and buts but honest challenges to well entrenched misconceptions of the antagonistic relations between employers and employees. Indeed psychologically safe work culture is desirable and will ensure a plethora of benefits but the hatrsh question posed by the author us simply "for who". If employees will shatre the benefits go on and create such places and such work culture. If not why bother?
Sonya Davidson,MSc
★★★★★
Simply a fascinating contemporary monograph. Psychologically safe workplaces for the benefit of employees and not solely the employers has been a Utopia since the dawn of history. Obviously an optimistic statement from professor Piperopoulos who dedicates his book to a Eutopia where employers and employees thrive together. Should we be preparing for a future Dystopia where humans will be massively replaced by robots? Are out politicians, financiers and academics ready for such a prospect or will modern forms of psychologically safe workplaces serve as...placebos? Provocative book!
Angeliki Kontopoulou BSc.(HONS)
★★★★★
As a small entrepreneur in the education field, located in Germany and providing remedial support services to high school students as well as foreign language classes with my small staff I confess that I was impressed by this book written by professor Piperopoulos an academic with rich practitioner experiences in upper management as well as in consulting to national and multinational corporations and organizations. Some of the book's theses are indeed bold and provocative but the author substantiates them properly. His historic overview of the wonders of the Industrial revolution in 19th century England and of the roaring 20's in America is refreshing and, considering Unionism and Unions, should serve as an authenticated basis in assessing the conditions of working people across the globe then and now. Certainly things will become challenging for the average employees in many Nations as the massive introduction of robots endowed with superior IT and AI skills in productions will end up displaying immense numbers of people and thus necessitating their re-training in modern skills. In my small company I have discovered after 3 decades of operation that people appreciate a psychologically safe environment and work culture but I cannot hurriedly overlook what the author describes as 'locust' - Anglo/US types of corporations who simply aim to gain as much profits in as little time as possible overlooking their operations' impact on human and environmental resources. It is a notable addition to relevant bibliography and should be read by university students and employers as owners and managers of corporations and organizations.
Description
The book is a journey through human progress focusing on the construct of psychologically safe workplaces which has re-emerged recently. It looks as far back as the Ancient Egyptians and Greeks, highlighting the construct of utopia as applied to the world of work. It explores where we are in the world of work and how humans are treated at work. It underlines how various advances through industrial, and much more recently technological, revolutions have changed the nature of work and society. It explores if a 'utopic' ideal of work has ever existed or can exist. As a monograph, it will engage the readers' interest with its story and intention.
About the author

Dr Georgios P. Piperopoulos studied sociology and psychology at American, German and Austrian Universities receiving his Bachelor's, Master's and Ph.D. degrees; taught at several American, European and Greek Universities at both undergraduate and postgraduate levels before retiring from his professorial chair at the Department of Business Administration, The University of Macedonia, Thessaloniki, Greece.
Dr Piperopoulos is currently Visiting Professor at Newcastle Business School, Faculty of Business and Law, Northumbria University, Newcastle, UK. He was Visiting Professor at Newcastle University Business School, U.K. from 8/2013 to 8/2016.
He has held a variety of managerial posts in private enterprises and public social services organizations in the USA and Europe.
He has developed and taught Leadership, Communication, Stress Management and Psychological Operations courses at the Supreme Joint War College of the Hellenic Armed Forces (Army, Navy, Air force), the Army staff training school, the Hellenic Police Continuing Education Centre and at the Greek branch of the United Nations Peace Serving Operations Training Centre.
Professor Piperopoulos has published several textbooks and many popular books in Greek and English and authored hundreds of articles and editorials in leading Greek Newspapers and magazines. He has been a frequent guest on Greek TV and radio programs as a commentator and, for several years, presented his own show titled 'I Communicate Therefore I am' in Greek National and Regional TV channels and Radio stations. He has delivered hundreds of public lectures to groups in Greece, Europe and the USA.
Bookboon.com has already published his books:
Fundamentals of Communication, PR and Leadership
http://bookboon.com/en/fundamentals-of-communication-p-r-and-leadership-ebook


Control Your Stress and Manage Your Time!

http://bookboon.com/en/control-your-stress-manage-your-time-ebook.


Managing primary and Secondary Schools – A Primer (co-authored with Dr A.N. Piperopoulou)

http://bookboon.com/en/managing-primary-secondary-schools-ebook


His daughter Dr Natasha (Anastasia) Piperopoulou lives with her son in Athens and is employed as psychologist in a public school for training and educating adolescents with special needs. His son Dr Panagiotis (Panos) Piperopoulos is Associate Professor at Royal Melbourne Institute of Technology (RMIT).

Content
Psychologically safe workplaces

The concept of 'Utopia' in literature

The concept of 'Utopia' in political economy

The Biblical 'Garden of Eden': 'Paradise' as a religious 'Utopia'

The Giza pyramids: History 'made' in Hollywood

Pericles and the Acropolis of Athens

The British Industrial Revolution

Unions and Unionism


Unionism in Britain

Unionism in the USA

Unionism in Germany

Unionism in France


Tsarist Russia and the Bolshevik Revolutions


Tsarist Russia

The Bolshevik Revolutions with Lenin, Trotsky, Stalin as the three protagonists


The Great Depression and the 'New Deal' Programs in America

Frederick Winslow Taylor's 'Scientific Management Theory' ('Taylorism')


The contributions of Frank and Lillian Gilbreth to 'time-motion' techniques

Taylorism, Lenin and industrialization in Bolshevik Russia


Henri Fayol's 'Administrative Management Approach' (Fayol-ism)

Henry Ford & his 'Assembly Line' production of the historic 'Model-T' cars

The contributions of Weber and Veblen


Max Weber's 'Bureaucratic Management' Approach

Thorstein Veblen's critique of the 'affluent' social class


The first Business Schools appear in 19th century Europe and the USA


A glimpse at some current critiques of Business Schools


The Hawthorne studies and the era of 'human relations' in industry

Human motivation and the theories of Maslow, Herzberg & Likert


Abraham Maslow's Humanistic Psychology and the pyramid of human needs

Frederick Herzberg and his 'hygiene-motivators' factors theory

Rensis Likert


McGregor's theories 'X and Y' & Quichy's theory 'Z'

William Edwards Deming and 'Total Quality Management'