Mastering the Power of Assertive Dialogue
A Guide to Unshakeable Self-Esteem & Influential Interaction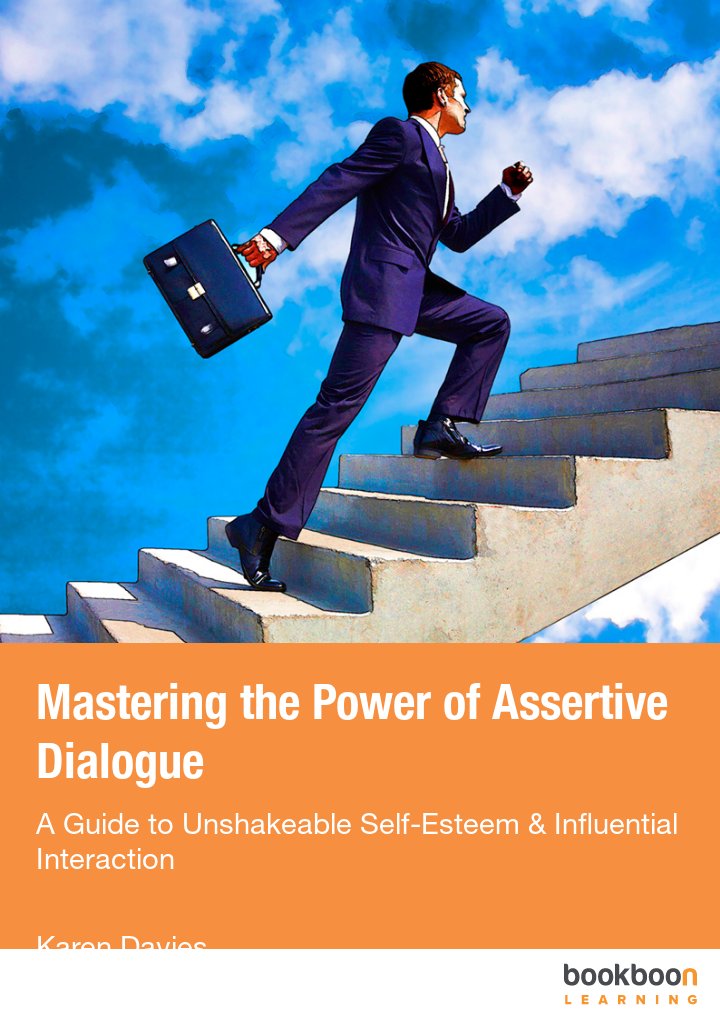 ISBN: 978-87-403-0481-7
1 edition
Pages : 68
Price: 75.50 kr
Price: €8.99
Price: £8.99
Price: ₹150
Price: $8.99
Price: 75.50 kr
Price: 75.50 kr
Download for FREE in 4 easy steps...
This is a Premium eBook
Bookboon Premium - Gain access to over 800 eBooks - without ads
You can get free access for a month to this - and 800 other books with the Premium Subscription. You can also buy the book below
Start a 30-day free trial. After trial: 39.99 kr p/m
Start a 30-day free trial. After trial: €5.99 p/m
Start a 30-day free trial. After trial: £4.99 p/m
Start a 30-day free trial. After trial: ₹299 p/m
Start a 30-day free trial. After trial: $3.99 p/m
Start a 30-day free trial. After trial: 39.99 kr p/m
Start a 30-day free trial. After trial: 39.99 kr p/m
Users who viewed this item also viewed
About the book
Reviews
Eric L. Rose
★★★★★
The book had a very effective approach that I found myself realizing what are those things that I am fearful of, and how to deal with them.
Description
The truth behind authentic assertion finally revealed! This second book of the Assertive Development Trilogy, explores how to galvanize your internal beliefs and enrich your leadership interactions to create outstanding results. If you choose to engage with this powerful book, be prepared to strip away fears, self-doubts and negative conditioning and liberate the self-assured and natural leader within you. Combine these with a sophisticated set of transformational communication tools and you have the formula for assertive success at your finger-tips.
Preface
It is widely recognised that Assertive behaviour has a role in our leadership success and personal development. Without honing this essential skill, we become ineffective, lose respect and risk the physical and mental effects of stress. Yet Assertive Development too often focuses on the simplicity of just applying new behaviours, rather than exploring the source of our lack of assertion.
In her first, thought-provoking book of this Assertive Trilogy, Karen explored the profound drivers that influence how we think, feel and act, gaining an insight into the impact these factors have on our performance and our behaviour.
This second book builds on that essential foundation by tackling yet another crucial assertive challenge – our poor-quality communication. This is not just simply about interacting with our colleagues and customers more effectively. It uncovers the deep-rooted influence that our internal dialogue and self-esteem have on those interactions. More intriguingly, it shows how to expel these mental demons in a practical and powerful way, leaving us in no doubt about our capability and our route to success and fulfilment.
This internal dialogue neatly collaborates with external interactions to reveal some highly relevant and tangible strategies that promote a more authentic assertion – in an instant. At the heart of this second book is how we see ourselves, our self-worth and how self-belief ruins or rewards our efforts.
Bringing us this fascinating topic is Karen Davies, who is passionate about her work in developing the art of authentic assertion and unshakeable self-confidence.
Whilst Karen has been in the personal development and coaching fields for twenty-five years, it has been in the last fifteen that her work has had the greatest impact, thanks to her own self-discovery journey. After suffering from stress-related depression in 1997, Karen had a unique opportunity to explore herself profoundly and uncover the fundamental triggers that created her health situation. After some cathartic self-development, she worked through her challenges, many of them triggered by self-destructive thought patterns and her learning has become the source of her own healing, her inspirational teachings and powerful coaching.
Through her Consultancy, Karen inspired changes in hundreds of executives, leaders and aspiring employees across the globe, achieving success for over thirteen years. Today Karen is role modelling her 'optimise your potential' teachings by shifting her focus from business to personal transformation, inspiring the fulfilment of individuals, through her new vocation – My Well-being.
Karen's refreshing approach to development is far beyond the concept of the traditional training course. She uses her coaching philosophy to guide us on our own path of self-discovery, building on the notion that teaching is a passive activity; learning is active. You will not just read this eBook, you will take a journey and, engaged by her coaching exercises, have the opportunity to alter the way you think, how you feel and behave in all walks of your life. Your transformation is just around the corner.
karendavies@iom.com
Content
Preface and Biography
Introduction – Assertive Trilogy Part 2

Setting the Context – The Two Faces of Dialogue
Why the Interaction/Assertiveness Partnership?
Personal Expectations

Internal Dialogue

Evolving Science of the Brain and the Mind
Self-esteem versus Confidence
Impact of Inner Belief and Dialogue
Self-esteem and Assertion
Fear's Role in our Non-assertion
SID – Self-imposed Doubts

Reprogramming our Mind

Power of Mind over Matter
Re-calibrating our Negative Thoughts
Science of Affirmations

Interactive Dialogue

Self-esteem and Interactive Dialogue
A New Model of Communication
Transformational Interactions – The Way Forward
Interaction Nuances
Presence and Projection

Action Planning

Six Steps to Making Change Happen
References