Kraftekonomi®
Räkna med mer energi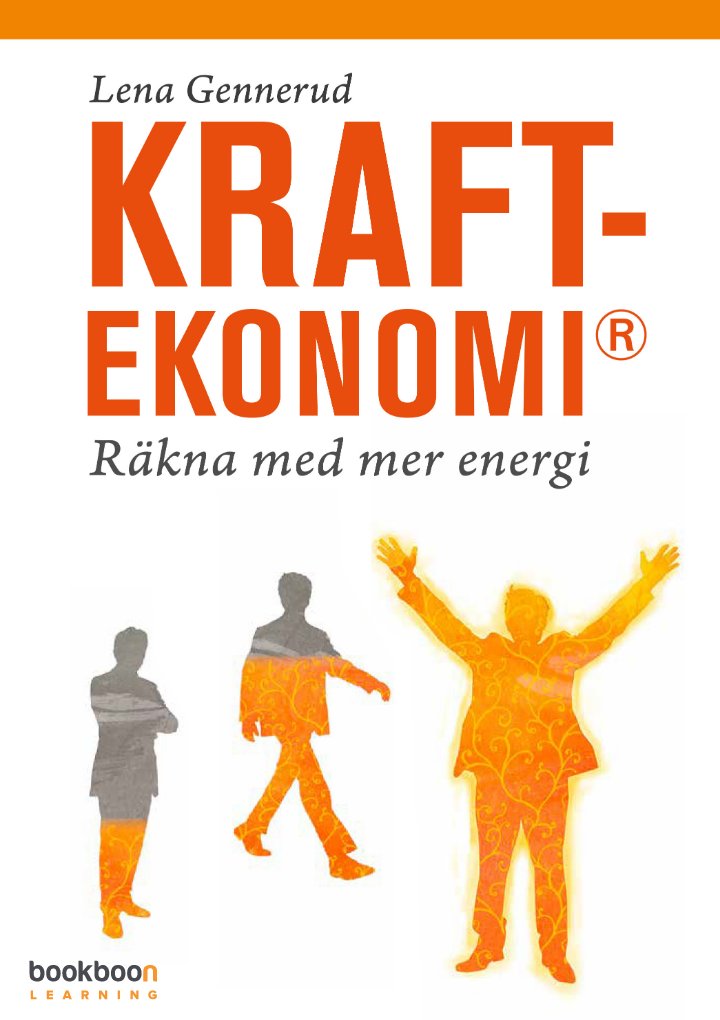 ISBN: 978-87-403-1990-3
1 edition
Pages : 71
Price: 75.50 kr
Price: €8.99
Price: £8.99
Price: ₹150
Price: $8.99
Price: 75.50 kr
Price: 75.50 kr
Download for FREE in 4 easy steps...
This is a Premium eBook
Bookboon Premium - Gain access to over 800 eBooks - without ads
You can get free access for a month to this - and 800 other books with the Premium Subscription. You can also buy the book below
Start a 30-day free trial. After trial: 39.99 kr p/m
Start a 30-day free trial. After trial: €5.99 p/m
Start a 30-day free trial. After trial: £4.99 p/m
Start a 30-day free trial. After trial: ₹299 p/m
Start a 30-day free trial. After trial: $3.99 p/m
Start a 30-day free trial. After trial: 39.99 kr p/m
Start a 30-day free trial. After trial: 39.99 kr p/m
Users who viewed this item also viewed
About the book
Reviews
Marina
★★★★☆
Lättläst, trevlig, inspirerande läsning. Många bra exempel, t.ex. "kvinnan och flyttkillen" och "ja gärna, men inte förrän i januari". Livet och arbetslivet kan beskrivas som "Det handlar inte om hur man har det utan hur man tar det", d.v.s. vikten av att göra medvetna individuella och grupporienterade val, med hänsyn till vad som "ger" respektive "tar" kraft och energi. Det tycker jag att texter, illustrationer och verktyg i boken tydligt förmedlar.
Stefan
★★★★★
Inspirerande bok om hur vi kan påverka hur vi mår samt hur vi samverkar med andra individer, både i team på jobbet och privat med vänner och familj.
karin
★★★★★
Många tänkvärdheter i den här managementboken. Man kan läsa den framåt och bakåt, hoppa lite hit och dit. Återkomma till reflektioner. Stanna upp och se var man ska lägga krutet – just nu. Finurliga exempel och scenarier.
Description
Vaccination mot utbrändhet och språngbräda för utveckling. Kraftekonomi är metoden som stärker människor och lyfter team.
Hur väl du och ditt team lyckas avgörs till stor del av hur mycket energi och kraft ni skapar. Kraften är bränslet som tar er framåt. Är ni slitna och vill må bättre? Hur ska ni fortsätta hålla er på topp? Kraftekonomi hanterar mänsklig energi med en ny valuta. Framgångar, gemenskap och trivsel skapar intäkter. Motgångar och tristess blir kostnader. I den här boken lär du dig enkelt mäta hur du själv och teamet både mår och fungerar. Visar ni svarta eller röda siffror? Hur kan ni öka saldot på kraftkontot? Med Kraftekonomi skapar ni utvecklingskraft – tillsammans.
Om forfatteren
Lena Gennerud är kemist från Stockholms universitet och informatör DRMI Berghs.
Med Kraftekonomi vill hon stärka människor och lyfta team. Hon kombinerar struktur och metod med kreativitet och kommunikation. Precis som i vanlig ekonomi handlar det om att öka sina intäkter och minska sina kostnader för att öka saldot på kontot. Men denna gång handlar det om oss själva.
Sedan 2009 är Lena konsult och författare i sitt företag Hejdadig Grupp & Affärsutveckling. Tidigare har hon jobbat som säljare 7 år, och reklamchef med personalansvar 7 år. Med Kraftekonomi vill hon bidra till att skapa både hälsa och utveckling i våra liv och på våra arbetsplatser.
Hennes affärsidé är: "Skapa utvecklingskraft tillsammans".
Lena har tidigare skrivit två böcker för att popularisera och väcka barns intresse för naturvetenskap. Hennes första bok, Trolleri och magi – allt är kemi, är utgiven på fem språk. Del två handlar om Kemidetektiven Gilbert som löser mysterier med barnen. Böckerna vill först göra kunskaper i kemi meningsfulla och spännande, och sedan få elever och lärare att utforska tillsammans.
Denna första bok om Kraftekonomi är uppbyggd på samma sätt. Lena kopplar storytelling och egna erfarenheter till övningar du som läsare kan göra, själv och med ditt arbetslag på jobbet. Pedagogiken är utformad i nära samarbete med chefer, team och personer som gått i individuell coachning. Målet är att få mer energi, hålla sig stark och skapa den utveckling du och ni vill ha!
Lenas drivkraft, både för sitt företagande och författarskap, är glädjen och fascinationen av att skapa nytt och lära av varandra. Tillsammans kan vi skapa livet vi vill leva, arbetsplatser vi längtar efter och en värld vi vill vakna upp i varje dag.
Content
Välkommen Till Kraftrike


Räkna med dig

När tankar du din bil?

Lär från dataspelens värld


Din inre mätare


Leta på tre sätt

Sagan om det oönskade läget


Min forskningsresa


På spaning i mig

Jag upptäckte kraftskalan

En mänsklig valuta


Nyckelbegrepp


Möt en KP-höjare

Möt en KP-sänkare

Och en tvekan…


Tre steg till nya möjligheter


Medvetenhet

Självacceptans

Valmöjlighet


Lyssna, när du knackar på


Den luriga självbilden

Styr vårt beteende

Konsten att gå till sig själv


Räkna med Kraftekonomi


Påverka din kraftnivå

Ett sätt att tänka

Kalkylen stärker beslutet


Så funkar det!


Kraftekonomi på jobbet

Kraftekonomi i livet

Konsten att hålla sig stark


Fortsättning följer…


Strategier och menyer

Var med och skapa nästa bok

Jobbkraft nu!


Tack!