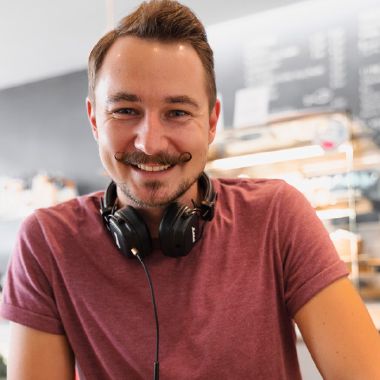 Luca Beutel
Country: Germany
Number of Titles: 12
Ich bin Luca Beutel von Bakuba - The Voice of Companies (www.bakuba.eu / 0174/6526248).
Mit meiner Firma verhelfe ich Unternehmen mit ihrer Stimme zur Sichtbarkeit. Denn mit einem Podcast sticht dein Unternehmen aus der Masse heraus, und bringt dir auch neue Kunden, Partner und Mitarbeiter.
Vom Redaktionsplan über die Aufnahme zur Veröffentlichung, alles aus einer Hand und professionell!
--
I am Luca Beutel from Bakuba - The Voice of Companies (www.bakuba.eu / 0174/6526248).
With my company, I help companies gain visibility with their voice. Because with a podcast, your company stands out from the crowd and also brings you new customers, partners and employees.
From the editorial plan to the recording to the publication, everything from one source and professionally!
Become a Bookboon author
Do you have a great idea that you would like to see turned into a business book or student textbook? Has your experience taught you a thing or two about personal development that you'd like to share with the world? Or do you specialise in an academic subject that could do with some better explaining? Quality, clarity and succinctness are what characterise Bookboon's eBooks. Talk to our editorial team now, and get published!
Enquiry