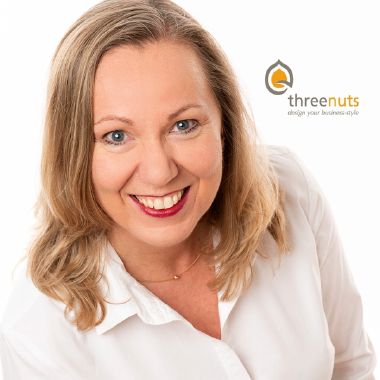 Ilona Diesner
Country: Germany
Number of Books: 4
Contact the Author:
Im Zusammenwirken von Organisationen sind es Menschen, die eine Vision entwickeln und umsetzen. Daher ist das Herzstück von Ilona Diesners Arbeit die optimale Verbindung von Mensch und Organisation im Hinblick auf ein gemeinsames Ziel. Auf dieser Mission begleitet threenuts seit 2009 Führungskräfte national wie auch international.
Nicht selten beeinflusst die gelebte Unternehmenskultur den nachhaltigen Erfolg eines Unternehmens entscheidend. In immer komplexer werdenden Strukturen mit neuen Anforderungen wird dieser Zusammenhang schnell undurchsichtig. Das hat Konsequenzen für den Einzelnen gleichermaßen wie für das gesamte Unternehmen.
Mit Schwung und einem frischen Blick für transformative Veränderungsprozesse, verhilft Ilona Diesner mit fundierter Expertise zur Stärkung Ihres Erfolgs. Dabei finden wissenschaftliche Erkenntnisse, wirtschaftliche Zusammenhänge, praxiserprobtes Vorgehen sowie ein gesundes Gespür für Menschliches Anwendung in gemeinsamen Lösungsprozessen.
Browse all by Ilona Diesner
Become a Bookboon author
Do you have a great idea that you would like to see turned into a business book or student textbook? Has your experience taught you a thing or two about personal development that you'd like to share with the world? Or do you specialise in an academic subject that could do with some better explaining? Quality, clarity and succinctness are what characterise Bookboon's eBooks. Talk to our editorial team now, and get published!
Enquiry