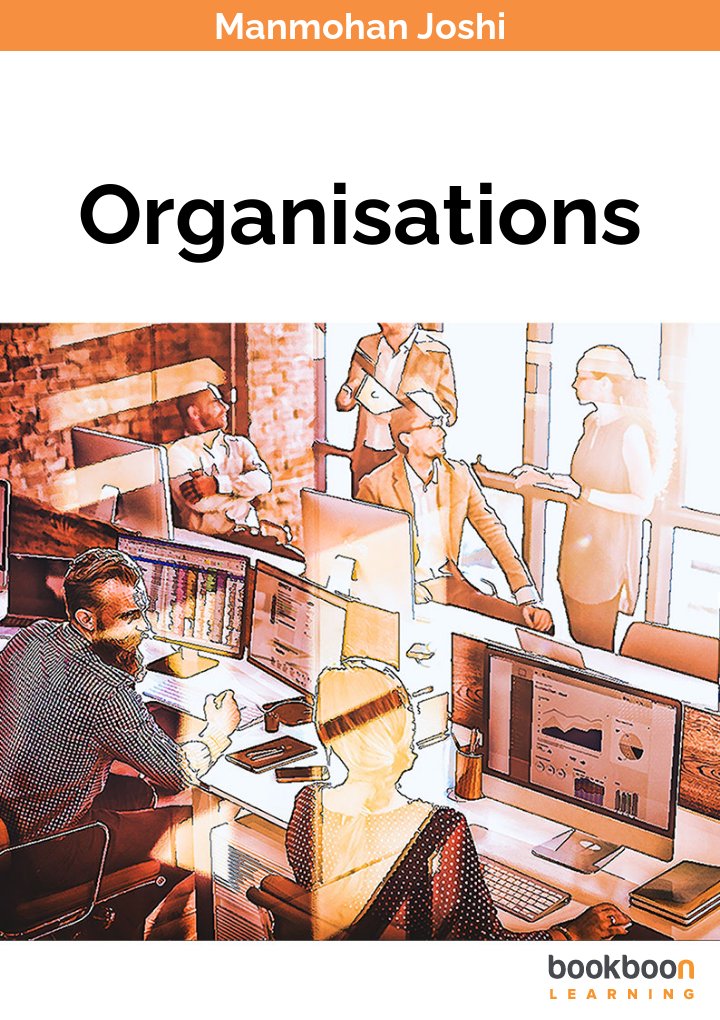 ISBN: 978-87-403-2180-7
1. Auflage
Seiten : 99
Preis: 129,00 kr
Preis: €13,99
Preis: £13,99
Preis: ₹250
Preis: $13,99
Preis: 129,00 kr
Preis: 129,00 kr
KOSTENLOS downloaden in 4 einfachen Schritten...
Das ist ein Premium eBook
Bookboon Premium - Erhalten Sie Zugang zu über 800 eBooks - ohne Werbeanzeigen
Erhalten Sie kostenlosen Zugang für einen Monat - und 800 andere Bücher mit dem Premium Abo. Sie können das Buch auch einzeln kaufen
Kostenloses 30-Tage Probeabo. Dann 39,99 kr p. M.
Kostenloses 30-Tage Probeabo. Dann €5,99 p. M.
Kostenloses 30-Tage Probeabo. Dann £4,99 p. M.
Kostenloses 30-Tage Probeabo. Dann ₹299 p. M.
Kostenloses 30-Tage Probeabo. Dann $3,99 p. M.
Kostenloses 30-Tage Probeabo. Dann 39,99 kr p. M.
Kostenloses 30-Tage Probeabo. Dann 39,99 kr p. M.
User, die diesen Artikel angesehen haben, sahen auch
Über das Buch
Inhalt
Meaning and Objectives


Introduction

Meaning

Need For Organisations

Principles of Organisation

Characteristics of Organisations

Features of Modern Organisations

Advantages of Organisation

Basic Principles of Effective Organisations


Types of Organisations


Introduction

Change of Status

The Co-Existence of Formal and Informal Organisations

Objectives of Organisations

Categories of Organisations

The Interdependence of Organisations


Ownership of Organisations


The Sole-Proprietor Business

Business Partnership Firms

Limited Liability Companies

Cooperative Organisations

Other Types of Organisations


The Organisation and Its Environment


Introduction

Systems Theory

The Organisation As A System

Equilibrium

Feedback And Control

Standards In Management/Administration

An Organisation's Interaction With Its Environment


Structures of Organisations


Introduction

Importance of Organisational Structure

Requirements of Organisational Structure

Designing Organisational Structure

Elements of Organisational Structure

Delegation

Organisational Restructuring For Growth

Organisation Charts


Styles of Organisational Structure


Line Organisational Structure

Functional Organisational Structure

Line And Staff Organisational Structure

Divisional Organisational Structure

Importance of Organisation Charts

Systems Diagrams

Organisation of A Typical Limited Company


Departments


The Purchasing Department

The Finance Or Accounts Department

The Production Department

The Sales And Marketing Department

The Stores/Warehouse Department

The Human Resource Department

The Office – Centralization And Decentralization

Inter-Departmental Cooperation And Coordination

Internal Communication

Structures of Non-Manufacturing Organisations

Committees


References

About the Author

Beschreibung
Organisations – both formal and informal – are an integral part of our life. They provide us opportunities for a wide variety of engagement e.g. employment, business, social service, entertainment etc. Unless these organisations are set up in a professional manner, they are likely not only to hamper the progress and development both of the organisation and their personnel but will also defeat the very purpose for which they are set up. This book provides a clear insight into the way organisations function – and must function – in order to achieve their long-term objectives.

Dr. Manmohan Joshi, M.A., M.Ed., Cert. EA, Dip. HRD, Dip. Mgmt. (UK), MBA, Ph.D. (Mgmt.), has over 45 years' teaching, training and administrative experience. He has worked as Principal of large and reputed educational institutions in India, Kuwait and the Sultanate of Oman. For his work on Innovative Practices in Value Education he was awarded by the National Council of Educational Research and Training, India.
He is also the recipient of the Best Teacher Award from the Govt. of Tamilnadu (India) as well as the Central Board of Secondary Education, India.
He has presented papers at various national and international conferences under the auspices of UNESCO. He has also conducted various workshops for teachers, students, parents and administrators. The topics covered a wide area viz., Leadership and Team Building, Value Education, Administration Skills, Career Guidance, Effective Decision Making in Administration, Effective Communication Skills, Interpersonal Relationships, Continuous Comprehensive Evaluation, Skills in Dealing with Managers, Secretarial Skills. He has also authored several books on different subjects.
He has also worked as Acting Chief Executive & Consultant for a reputed Training Institute in the Sultanate of Oman. He is now Head-Content Development at Acharya Education Services, Bangalore, India, and conducts workshops and training programmes for college professors, teachers and teacher educators. He is actively involved in teaching students of MBA, Education and Law.
He can be contacted through e-mail: manmohan.joshi@gmail.com