Making the Most of Big Data
Manager's Guide to Business Intelligence Success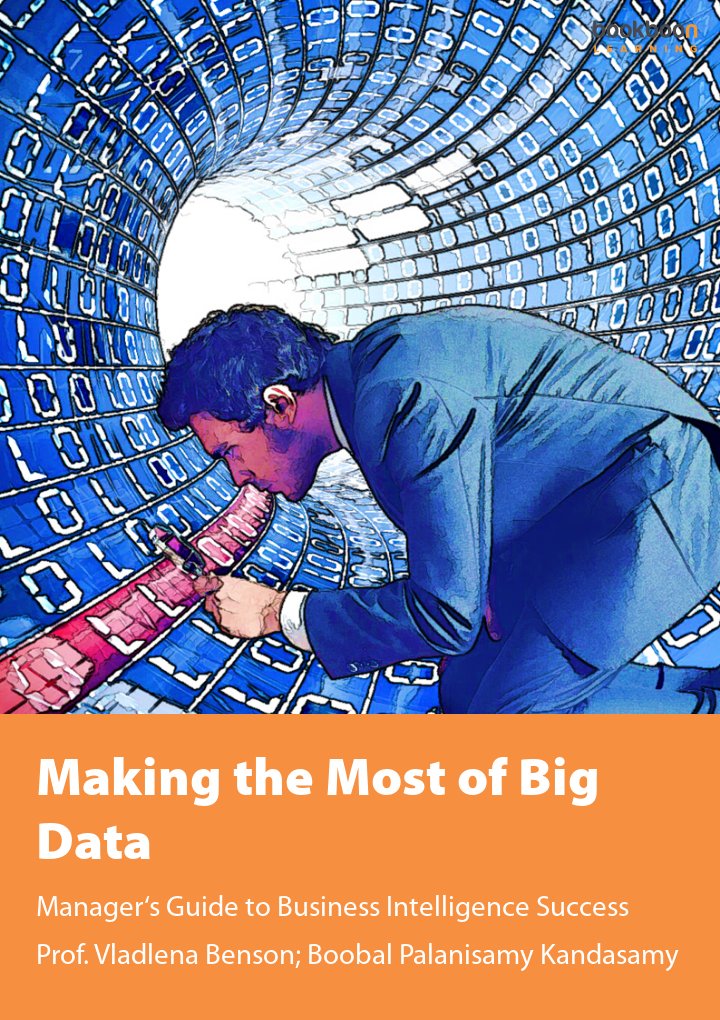 ISBN: 978-87-403-0520-3
1. Auflage
Seiten : 61
Preis: 75,50 kr
Preis: €8,99
Preis: £8,99
Preis: ₹150
Preis: $8,99
Preis: 75,50 kr
Preis: 75,50 kr
KOSTENLOS downloaden in 4 einfachen Schritten...
Das ist ein Premium eBook
Bookboon Premium - Erhalten Sie Zugang zu über 800 eBooks - ohne Werbeanzeigen
Erhalten Sie kostenlosen Zugang für einen Monat - und 800 andere Bücher mit dem Premium Abo. Sie können das Buch auch einzeln kaufen
Kostenloses 30-Tage Probeabo. Dann 39,99 kr p. M.
Kostenloses 30-Tage Probeabo. Dann €5,99 p. M.
Kostenloses 30-Tage Probeabo. Dann £4,99 p. M.
Kostenloses 30-Tage Probeabo. Dann ₹299 p. M.
Kostenloses 30-Tage Probeabo. Dann $3,99 p. M.
Kostenloses 30-Tage Probeabo. Dann 39,99 kr p. M.
Kostenloses 30-Tage Probeabo. Dann 39,99 kr p. M.
User, die diesen Artikel angesehen haben, sahen auch
Über das Buch
Beschreibung
Big Data, or the large data sets captured by enterprises, is set to change the pace of competition, innovation and productivity in the near future. The challenge for companies of putting the Big Data to work effectively is rising with the increasing volume and detail of information captured by their information systems. Drawing on an extensive analysis of literature this guide provides an introduction to Business Intelligence(BI) initiatives from the practitioner's perspective. Key critical success factors identified in BI projects are then analysed by senior BI experts and in context of their rich experience. According to MGI research to capture the full potential of Big Data companies will be facing a skill shortage gap of people with BI skills. Making the Most of Big Data: Manager's Guide to Business Intelligence Success may be the first step for many management professionals in gaining an understanding of how to make Business Intelligence initiatives successful.
Einleitung
In today's globalised economy, particularly under the pressure of economic challenges, the uncertainty that organisations face when making decisions has a significant impact on financial stability and business growth of organisations. Firms rely on its information processing capabilities to deal effectively with this uncertainty (Daft & Lengel, 1986). Increased global competition, the need for increasing profits and demanding customers, all require organisations to take better decisions as fast as possible (Vitt, Luckevich, & Misner, 2002). Hence the ability to effectively take advantage of the growing amount of information, continuously accumulated by firms, has become an extremely critical factor for the success of any organisation (Barlow & Burke, 1999). Preparing and acquiring relevant business information takes time, while the urging need of real-time information, which is ready for decision making, creates what is referred to as the information gap. Business analysts spend significant amounts of time gathering data, preparing reports and hardly enough time is devoted to analysis. Business analysts become human data warehouses due to the inadequate state of data in many organisations. The Data Warehousing Institute estimates that business analysts spend an average of two days every week gathering and formatting data instead of analysing it, costing organisations an average of $780,000 per year (Eckerson, 2009). Business Intelligence (BI) is implemented in order to bridge this information gap.
Inhalt
Who is this text for?
Introduction
Business Intelligence: What is it about?
Importance of BI Initiatives
Evolution of Business Intelligence
Managerial and Technical Perspectives on Business Intelligence
Development Process in BI Initiatives
Business Intelligence Architecture
Critical Success Factors of BI Initiatives
Expert Views
Strategic View and BI
Recommendations
Conclusions
References and Further Reading
Endnotes