The 25-Hour Day
Discover an additional hour in your day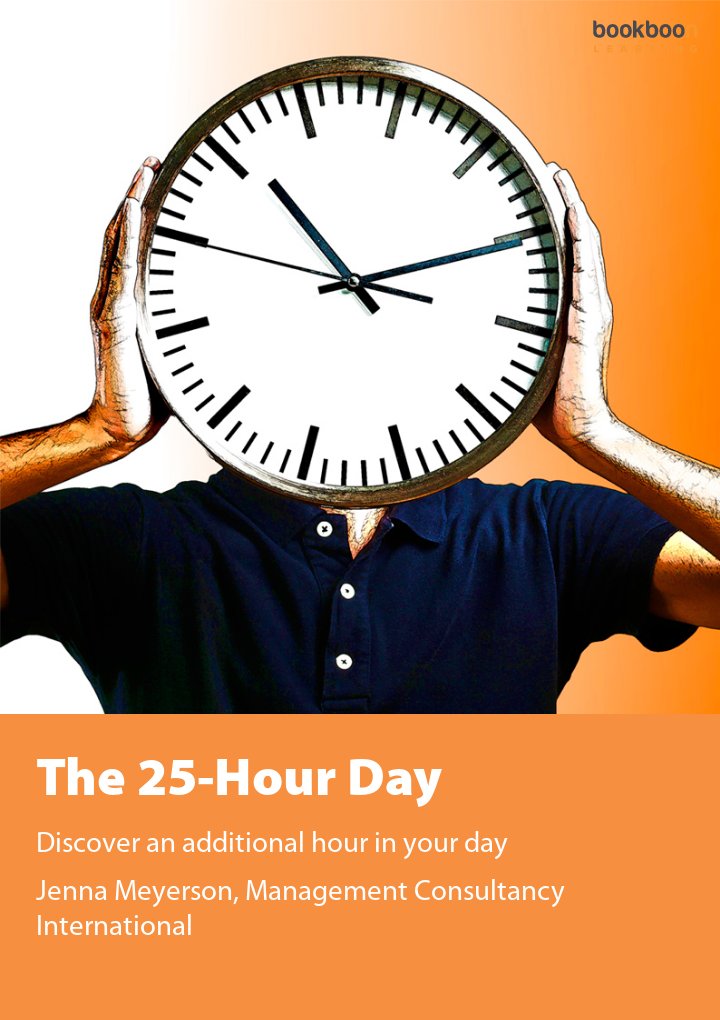 ISBN: 978-87-403-0463-3
1 edice
Počet stran : 67
Price: 75,50 kr
Price: €8,99
Price: £8,99
Price: ₹150
Price: $8,99
Price: 75,50 kr
Price: 75,50 kr
4 snadné kroky k získání vaší e-knihy
This is a Premium eBook
Bookboon Premium - Gain access to over 800 eBooks - without ads
You can get free access for a month to this - and 800 other books with the Premium Subscription. You can also buy the book below
Start a 30-day free trial. After trial: 39,99 kr p/m
Start a 30-day free trial. After trial: €5,99 p/m
Start a 30-day free trial. After trial: £4,99 p/m
Start a 30-day free trial. After trial: ₹299 p/m
Start a 30-day free trial. After trial: $3,99 p/m
Start a 30-day free trial. After trial: 39,99 kr p/m
Start a 30-day free trial. After trial: 39,99 kr p/m
Uživatelé, kteří si prohlédli tuto položku, shlédli také
O knize
Recenze
Lori O. Young
★★★★★
Learned a lot of new things from this ebook. I admire the author as on how the presentation has been done. There's assessments and solutions.
Popis
This e-book has been written to enable you to find an additional hour in your day. By providing you with the skills and techniques to manage your time more efficiently and effectively, you can easily discover an additional hour in your day for spending with your family, or just sleeping in that bit later!
Throughout this manual, you will find practical tips and instructions to help you understand time management. You will discover how to utilise the technology available to you, how to make the most of your own productive cycles, and how to make your life more efficient by understanding how you spend your time, and you will understand what tasks you actually need to spend your time completing.
Předmluva
Obsah
Welcome
About Management Consultancy International
Introduction
The 25-Hour Day
Know Yourself

Introduction
Getting to Know You
Be Respectful but Honest
Thinking Further
Chapter 1: Know Yourself

Follow Your Productivity Cycle

Introduction
Know Your Energy Cycle
Mr Example's Energy Cycle
Your Productive Cycle
Chapter 2: Follow Your Productivity Cycle

Technology & Time Management

Introduction
The Internet
Determine Your Priorities
The Urgent/Important Matrix
Urgent but Unimportant
Urgent and Important
Important but Not Urgent
Neither Urgent nor Important
Further Notes on Your Priorities
Begin with a To-Do List
Chapter 3: Technology and Time Wasters

Time Saving Tips with Outlook

Introduction
The Outlook Site Map
Time & Activities
People
Other Folders
A Closer Look at the Task Function
Create a New Task
Change the Task Folder View
Customise the View of Daily Tasks
Customise the Inbox
Convert an Email to a Task
Use Task Request for Delegation
Making the Most of the Calendar
Block Out the Calendar
Schedule a Meeting
Sharing Calendars
Colour Code the Calendar
Chapter 4: Time Saving Tips with Outlook

Organise Outlook

Introduction
Set Up Folders & Subfolders
Create a Rule
Colour Code Emails
Set Up a New Contact (from an email)
Follow Up on a Contact Note
Change the Default Opening Window
Convert Email to an Appointment
Disable Default Reminders
Plan to be Organised
A Simple Aid to Outlook
Chapter 5: Organise with Outlook

Increase Productivity with Focus

Introduction
Identifying Goals
Short Term Goals
Medium Term Goals
Long Term Goals
Create a Time Management Plan
Exercise 3: Do You Kno-w Your Goals?
Thinking More on Your Goals
Establish Your Priorities
The ABC System of Prioritisation
The Prioritisation Matrix
The Pareto Principle
Increase Productivity with Focus

How Do You Really Spend Your Time?

Introduction
The Time Audit
Mr Example's Time-Audit
Conduct Your Time-Audit
Tricks to Increase Your Time
Deal with Interruptions
Handling Phone Calls
Saying No
Review Your Desk Set Up
Good Communication Equals Efficiency
Improve Your Personal Skills
Streamline Email Communications
How Do You Really Spend Your Time

25 Hour Day Conclusion

Discovered Your Extra Hour?
Where can I find further help?
E-book Evaluation