Practical Guide To Contemporary Economics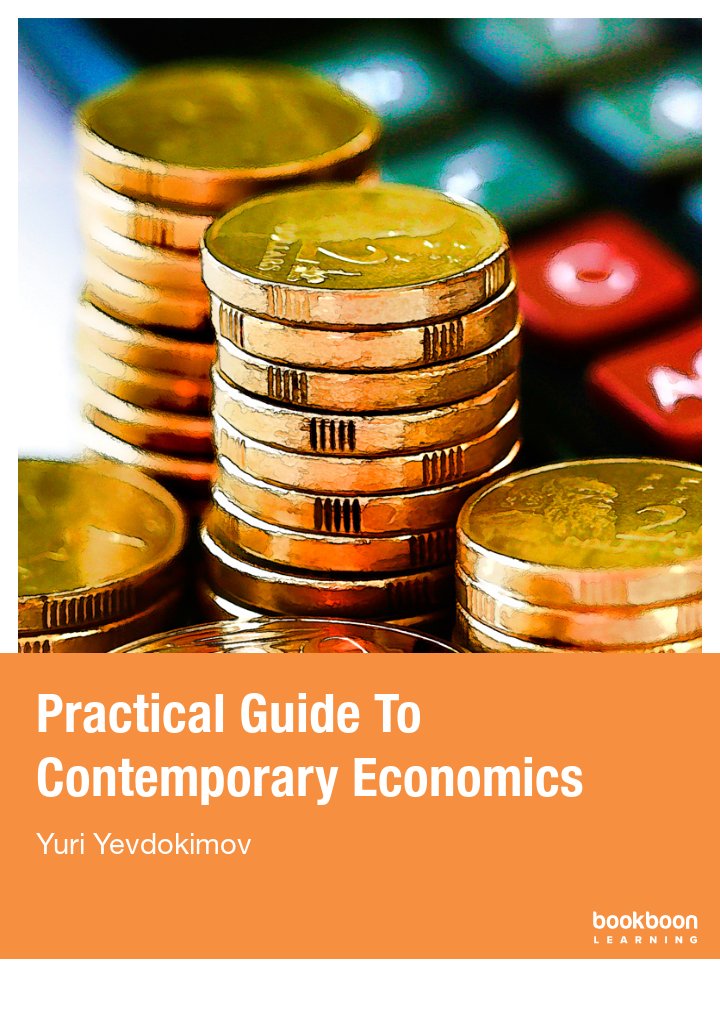 ISBN: 978-87-403-0238-7
1 edice
Počet stran : 210
Price: 129,00 kr
Price: €13,99
Price: £13,99
Price: ₹250
Price: $13,99
Price: 129,00 kr
Price: 129,00 kr
4 snadné kroky k získání vaší e-knihy
This is a Premium eBook
Bookboon Premium - Gain access to over 800 eBooks - without ads
You can get free access for a month to this - and 800 other books with the Premium Subscription. You can also buy the book below
Start a 30-day free trial. After trial: 39,99 kr p/m
Start a 30-day free trial. After trial: €5,99 p/m
Start a 30-day free trial. After trial: £4,99 p/m
Start a 30-day free trial. After trial: ₹299 p/m
Start a 30-day free trial. After trial: $3,99 p/m
Start a 30-day free trial. After trial: 39,99 kr p/m
Start a 30-day free trial. After trial: 39,99 kr p/m
Uživatelé, kteří si prohlédli tuto položku, shlédli také
O knize
Recenze
Albert A. Gray
★★★★★
The author put very convincing thoughts together in order to widen students', policy makers', etc horizon on contemporary economics. It is very helpful material to academic sojourn. Thanks Dr. Yevdokimav.
Popis
This book is aimed at readers who - are not economists but want to understand fundamental economic concepts in an easy and straight-forward way;
- are not majoring in economics but want to take economics as a part of their degree requirements;
- are economists who want to refresh their understanding of fundamental economic concepts quickly without going into complicated details.
The book is organized in 13 chapters of which 7 are dedicated to microeconomics and 6 are dedicated to macroeconomics. Each chapter starts with the list of concepts discussed.
Obsah
The Issues and Methods of Economics

Economics as a science
Modeling in economics
Economic way of thinking
Production possibilities frontier (PPF)
PPF and opportunity costs
Economic efficiency
Specialization, absolute and comparative advantage

Demand and Supply

Demand as a function
Individual demand versus market demand
Determinants of demand
Supply as a function
Individual supply and market supply
Determinants of supply
Market equilibrium
Price elasticity of demand
Total revenue and price elasticity of demand
Price elasticity of supply
Other types of elasticity

Consumer Choice and Demand

Consumption and rationality
Budget constraint and budget line
Utility
Maximizing total utility
Deriving the demand curve
Consumer surplus

Production and Costs

A firm in economics
Accounting versus economic costs and profits
The short-run and long-run
Short-run production 55
Short-run costs
Simple algebra of the short-run costs
Long-run production and costs

Perfect competition and efficiency of markets

Market structures
Profit-maximizing choices of a perfectly competitive firm
Profit-maximizing output of a perfectly competitive firm in the short-run
Short-run supply curve of a perfectly competitive firm
Output, price and profit of a perfectly competitive firm in the short-run
Output, price and profit of a perfectly competitive firm in the long-run
Efficiency of markets
Fairness of markets

Monopoly and Market Power

Reasons for monopoly
Single-price monopoly: Price and marginal revenue
Single-price monopoly: Output and price decision
Single-price monopoly and perfect competition compared
Price-discriminating monopoly
Natural monopoly
Market power

Market Failures And Government Intervention

Market failures versus market imperfections
Externalities
Private costs versus social costs
Private benefits versus social benefits
Public goods
Asymmetric information
Government intervention

National Accounting, Unemplyment and Inflation

Macroeconomics and national accounting
Total production, national income and aggregate expenditures
Nominal GDP versus real GDP
Employment
Inflation and the cost of living
Nominal versus real values

Real Economy

Real economy and classical dichotomy
Aggregate Supply
Aggregate Demand
Macroeconomic equilibrium
Macroeconomic shocks and business cycles
Self-Correction Mechanism

Money and Monetary System

Money and its functions
Monetary system: Central bank
Monetary system: Commercial banks
How money is created by the monetary system

Fundamentals of Fiscal and Monetary Policy

Fundamentals of fiscal policy
Discretionary fiscal policy and the multiplier process
Discretionary fiscal stabilization
Automatic fiscal policy
Fundamentals of monetary policy
Monetary stabilization

International Finance and Open Economy

Balance of payments
Current account balance and the twin deficits hypothesis
Small open economy
Fiscal Policy in a small open economy with flexible exchange rate
Fiscal Policy in a small open economy with fixed exchange rate
Monetary policy in a small open economy with fixed exchange rate
Monetary policy in a small open economy with flexible exchange rate
Large open economy
Exchange rate expectations

Economic Growth and Development

Economic growth, growth rate and economic development
Sources of economic growth
The productivity curve
Theories of economic growth
Preconditions and policies for economic growth
Sustainable Development

References