Business writing made easy
What effective writers really do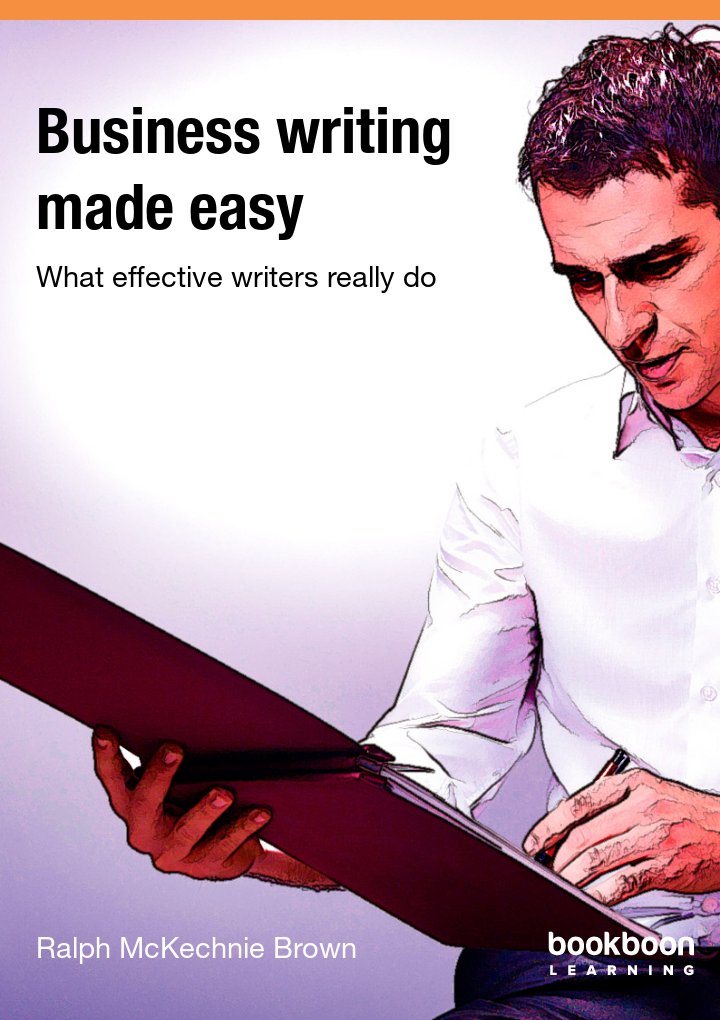 ISBN: 978-87-403-1723-7
1 edice
Počet stran : 106
Price: 75,50 kr
Price: €8,99
Price: £8,99
Price: ₹150
Price: $8,99
Price: 75,50 kr
Price: 75,50 kr
4 snadné kroky k získání vaší e-knihy
This is a Premium eBook
Bookboon Premium - Gain access to over 800 eBooks - without ads
You can get free access for a month to this - and 800 other books with the Premium Subscription. You can also buy the book below
Start a 30-day free trial. After trial: 39,99 kr p/m
Start a 30-day free trial. After trial: €5,99 p/m
Start a 30-day free trial. After trial: £4,99 p/m
Start a 30-day free trial. After trial: ₹299 p/m
Start a 30-day free trial. After trial: $3,99 p/m
Start a 30-day free trial. After trial: 39,99 kr p/m
Start a 30-day free trial. After trial: 39,99 kr p/m
Uživatelé, kteří si prohlédli tuto položku, shlédli také
O knize
Recenze
Pieter Enslin
★★★★★
This book is a must for every business. It is very well researched with many excellent examples. It gives you many relevant samples from which you can choose. The way in which the writer suggests you should state your points will attract the attention of the receiver and how to communicate clearly and concisely. The receiver will feel very good and sometimes very bad that he did not do his part in the relationship with this business. Thanks. I would be able to use this to improve my business' professionality and excellence.
Uzoma Ukairo
★★★★★
Interesting, quite elucidating.
Popis
Business writing made easy sums up what modern professional writers do in just six simple ideas. Those six ideas will give you a writing and editing method and a new focus. You will write with more clarity in less time. The days of cutting and pasting until your text seems a little better will be over. You will also be able to use the writing and editing method to build a cooperative relationship with your readers where that's appropriate. The author has taught the writing and editing method in Business writing made easy to thousands of business writers in four countries.
You can use the method for all your writing, from a simple email to a major technical report.
Business writing made easy will also help you organise complex ideas quickly and to be more persuasive.
You will find many examples you can use or adapt.

About the author
Ralph speaks to conferences and leads workshops throughout New Zealand and in Asia and Australia. He specialises in the psychology of success.
His series 'What successful people really do' and 'The village that could' are in Bookboon's Premium collection. He has written three other books, academic papers on psychology and more than a hundred blogs and articles.
Ralph has a background in psychology, business and journalism. (His career includes more than 12 years as a journalist for Television New Zealand and on secondment to the BBC.)
In 2011, Professional Speakers Australia awarded him the CSP – the highest international accreditation for professional speakers.
Ralph founded what is now Skillset New Zealand more than 30 years ago and remains its managing director. Skillset's clients are amongst New Zealand's largest organisations.
Obsah
Making it easy

Who's it for anyway?

The five keys to effective writing

Using the keys

A simple editing system

Organise your report or presentation

Sample letters and emails

Be more persuasive

The last word