Your ultimate guide to questioning & listening
Key skills to become a phenomenal communicator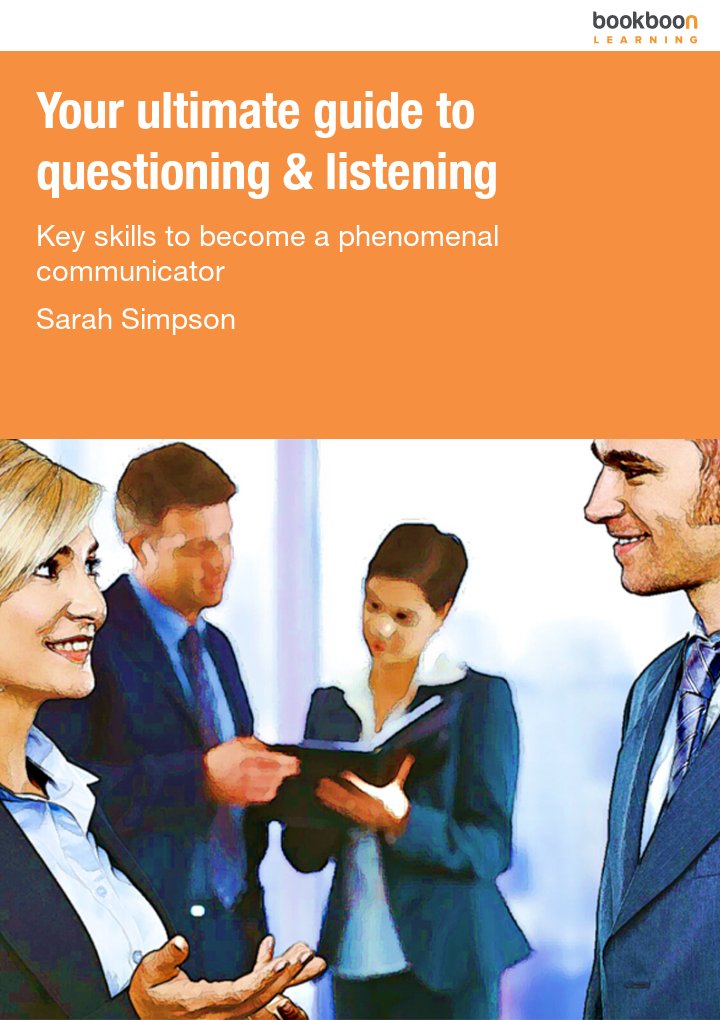 ISBN: 978-87-403-0865-5
1 edition
Pages : 67
Price: 75.50 kr
Price: €8.99
Price: £8.99
Price: ₹150
Price: $8.99
Price: 75.50 kr
Price: 75.50 kr
Download for FREE in 4 easy steps...
This is a Premium eBook
Bookboon Premium - Gain access to over 800 eBooks - without ads
You can get free access for a month to this - and 800 other books with the Premium Subscription. You can also buy the book below
Start a 30-day free trial. After trial: 39.99 kr p/m
Start a 30-day free trial. After trial: €5.99 p/m
Start a 30-day free trial. After trial: £4.99 p/m
Start a 30-day free trial. After trial: ₹299 p/m
Start a 30-day free trial. After trial: $3.99 p/m
Start a 30-day free trial. After trial: 39.99 kr p/m
Start a 30-day free trial. After trial: 39.99 kr p/m
Users who viewed this item also viewed
About the book
Description
How many questions do you ask each day & what could you do if those questions were more productive, better constructed & response driven?
This ultimate guide to questioning & listening will give you all the skills, tools & techniques you need to become a phenomenal interpersonal communicator today!
We will examine; what questions are, what they can do, why we ask them, as well as the role of active listening & body language.
This will enable you to understand verbal & non-verbal dialogue at a higher level, improve your interactions & become an outstanding interpersonal communicator.
Preface
Hi and welcome to this book on questioning. I have spent over 20 years teaching and writing books on a variety of; presentation, management, leadership and team building topics. I have also managed staff in both the public and private sector and as such have perfected my communication skills. In particular how to ask questions, respond to what is and isn't said and understand body language and verbal cues. It is this experience that I will be sharing with you.
It sounds easy right? you ask a question and it gets answered with useful information you can use…oh, if only it were that easy!
The skill in being a great communicator and questioner is in asking; the right type of question to the right person, at the right time, in the right environment. But, even this is not enough.
I often ask my students do they listen? and of course, usually without exception they say "yes". But, I have tested this in a variety of ways to a huge range of people from a whole host of organisations and seniorities and without exception I can conclude that active listening in a universally underdeveloped skill.
The thing is, in order to become a phenomenal questioner you must also be a phenomenal active listener. You also need to be able to read what is being said non-verbally i.e. through a persons body language. We will look at some of the common body language cues and signs during section 6.
So, what will this book cover?
What is questioning?
What can questions do?
Why do we ask them?
Active listening
Body language
12 different types of questions – that you can ask or indeed be asked
Responses to questions
In order to get the most out of this book I have added some supplementary information, which will support the main topics and further advance your knowledge.
I really hope you enjoy the course and please do not hesitate to contact me with any questions you may have.
Content
Introduction
What is questioning?
What can questions do?

Gain knowledge
Promote and expand thinking
Clarify
Probe
Guide
Intimidate
Attack

Why do we ask questions?
Active listening

Why don't we hear what is being said?
Active listening exercise

Body language

Head
The face
Hands
Eyes
Mouth
Arms
General posture

Introduction to question types
Closed questions
Tag questions (sometime known as tail questions)
Open questions
Imaginative questions
Funnel questions
Probing questions
Recall & process questions
Socratic Questions

Conceptual clarification questions
Probing assumptions
Probing rationale, reason and evidence
Probing implications and consequences
Questioning viewpoints and perspectives
Questions about the question

Leading questions
Loaded questions
Rhetorical questions
Empathetic or emotional questions
Common Responses to questions

direct & honest
a lie
out of context
partial answer
avoidance
stalling
distortion
refusal

Summary
Supplementary information

Emotional intelligence
Top ten ways to establish rapport
Top ten most asked interview questions
Top ten questions to change your life
About the Author
Sarah Simpson MBA, FIntLM, BSc, Dip Man, Cert Man, DCR
Sarah Simpson is a freelance trainer, lecturer, writer and the owner of Dragontooth Training and Consultancy. She is passionate about designing and delivering bespoke courses covering the public, private and third sector. She utilises the latest technology to produce creative and innovative deliveries that are set 'in the real world' that challenge and enable change in working practices.
She draws on extensive public and private sector experience to ensure individuals, teams and organisations gain optimal return on investment and see tangible workplace results.
Her clients include; Universities, The Fire and Rescue Service, The Police Force and County Councils. She has lectured at National and International conferences and has published several peer reviewed papers.
Author websites:
http://uk.linkedin.com/in/dragontoothtraining/en
http://www.dragontoothtraining.org.uk
twitter: @training_dragon