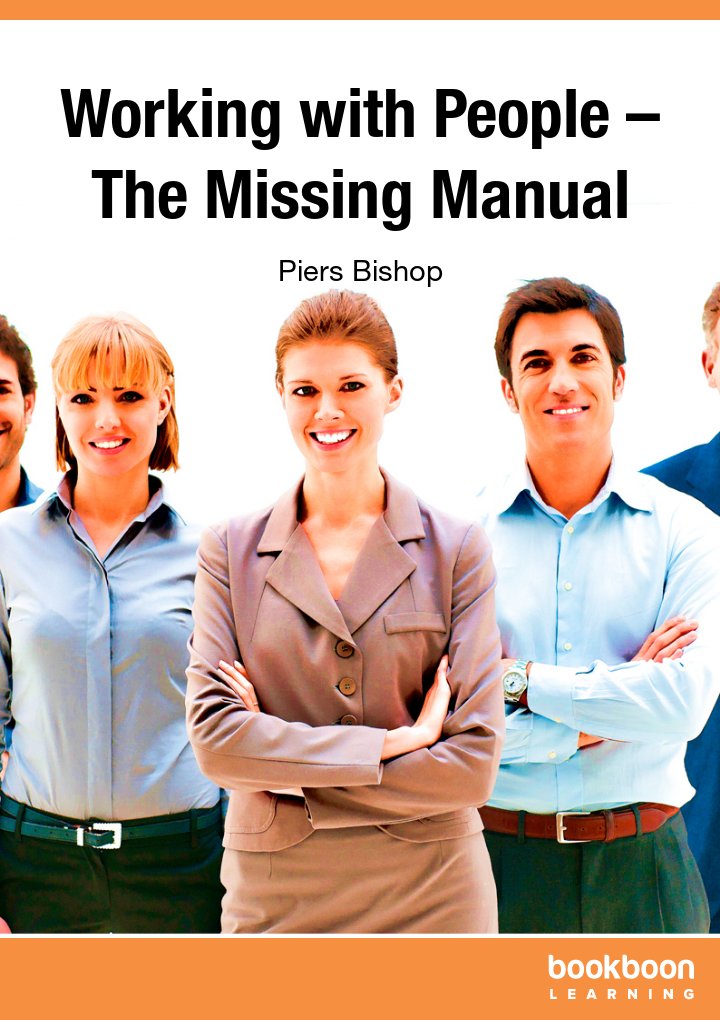 ISBN: 978-87-403-0682-8
1 edition
Pages : 45
Price: 75.50 kr
Price: €8.99
Price: £8.99
Price: ₹150
Price: $8.99
Price: 75.50 kr
Price: 75.50 kr
Download for FREE in 4 easy steps...
This is a Premium eBook
Bookboon Premium - Gain access to over 800 eBooks - without ads
You can get free access for a month to this - and 800 other books with the Premium Subscription. You can also buy the book below
Start a 30-day free trial. After trial: 39.99 kr p/m
Start a 30-day free trial. After trial: €5.99 p/m
Start a 30-day free trial. After trial: £4.99 p/m
Start a 30-day free trial. After trial: ₹299 p/m
Start a 30-day free trial. After trial: $3.99 p/m
Start a 30-day free trial. After trial: 39.99 kr p/m
Start a 30-day free trial. After trial: 39.99 kr p/m
Users who viewed this item also viewed
About the book
Description
Almost everything a business does depends on people. Every decision, every customer gained or lost, every employee helped to perform better - or not - involves a human hand at some point, even in the internet age.
Yet no-one teaches us how humans work, so managers have to deduce from scratch the complex rules of human behaviour, and must work out for themselves how to intervene in ways that make situations better rather than worse.
Written by Piers Bishop of Performance Review Pro, Working with Humans helps fill that gap.
Part 1, The Missing Manual for the Human Being, explains what motivates us and sets out a framework in which people will get on with each other, engage, perform well and be loyal to the company. Part 2, The Leadership Toolkit, contains essential practical tools for managers to help make that a reality.
Used stand-alone or with performancereviewpro.com this eBook will change the way you understand - and work with - your people.
Preface
What is this ebook about?
Across the globe there are millions of businesses doing many different things – making stuff, designing things, charging huge fees for talking about this and that… Despite their differences one thing unites them: at some level, whether they have one employee or tens of thousands, human beings work there in teams and groups – collaborating (or not) to deliver the products and services for the end clients.
Every single thing that is designed, made, done, said or handled – well or badly – is done by people. Every piece of communication – in most businesses every sale – depends on a working connection between two human beings. So, if we are the constants in the world of commerce – wouldn't it be handy to have a manual for how to work effectively with us/them? Because let's face it we can be a tricky bunch to handle!
We humans vary in size, shape, eye colour etc. But we are all the same inside, give or take the odd dictator or serial killer. We come from the same source, and under the hood we are wired to function the same way. So here's the challenge: how do you get a bunch of humans to work together effectively to deliver whatever task is at hand? Common approaches to this problem include talent management, employee engagement or satisfaction surveys, training in management or leadership skills – all of which can help. However, there is a key understanding that makes any of these much more useful.
We tend to approach people from the outside, observing their behaviour and then trying to coach, train, nudge, cajole or bribe them to do something else. What a difference it could make if we understood people from the inside, from knowing what they need to work well. And that is what this manual is for. It falls roughly in two parts: the first is a guide to understanding people in the workplace, and then part two, the Leadership Toolkit, is a practical guide to working with these human beings to help them develop new behaviour that will work better.
This guide comes from the makers of Performance Review Pro, which does the hard work of diagnosing and prioritising the problems caused when human nature and workplace routines and culture collide. Combine the outputs from Performance Review Pro with the leadership and management tools contained in this book and you have everything you need to support your team to deliver great results.
So, to understanding the human being. Who are we?
Content
The modern human – and its inheritance
The implications for our behaviour
Making the team a team
What would good look like?
The multiple effects of fixing the workplace
I want one of those…
Beginning the process of change
Setting them up to succeed
The ABC of conversations
Talking about change so it happens
The language of understanding
I blame the scapegoats
That didn't work, then…
Next steps
Insomnia?
About the Author
I was very lucky in my first job: it provided endless learning opportunities, regular tests of knowledge and skills, constant necessity to improvise and create, and endless contact with an 'interesting' bunch of highly-skilled characters. I didn't realise it at the time, but it was set up as near-perfectly as any job could be to provide motivation and satisfaction to the employees (in every respect except the salary – I was working for BBC radio – and one other thing which I'll come to in a moment).
Now that developments in psychology and neuroscience have started to elucidate the connections between human needs, experience, hormones, brain cells, emotions and behaviour, we can begin to see how the unusual working environment of a radio studio fitted the diverse needs of the staff at a fundamental level. This explains why that job was so satisfying – and why you could have worked in those studios with a broken leg and felt no pain.
One thing was painful, though – the staff felt, almost without exception, that they were doing their work despite the management structures that should have been supporting them. Perhaps the 'creative' types would not have enjoyed any kind of management approach, but there was a chasm between the studio teams and the Personnel Department, as it was then called.
For the last 20 years I have been working with individuals, groups and companies that need to change. As a consultant in human behaviour and director of Performance Review Pro, working in businesses of all sizes on problems with communication and motivation, I want to help managers understand what is upsetting their staff and getting in the way of intelligence and performance. Information is the key to this – the right kind of information, used in the right way.
That's what we aim to provide with Performance Review Pro, an online system which unpacks the multiple ways in which the culture and environment of the workplace interact with the intricacies of human nature, and then shows managers how to help make things work better.
Aside from Performance Review Pro I am also a member of the Engage for Success 'guru' group, though I am not yet able to levitate unaided; I have an MA in psychotherapy and was part of the working party that defined the National Occupational Standards for cognitive–behavioural therapy; and I founded the mental health charity Resolution, which provides specialist psychological trauma services for veterans who cannot get satisfactory symptom relief elsewhere.