Values Analysis for Moral Leadership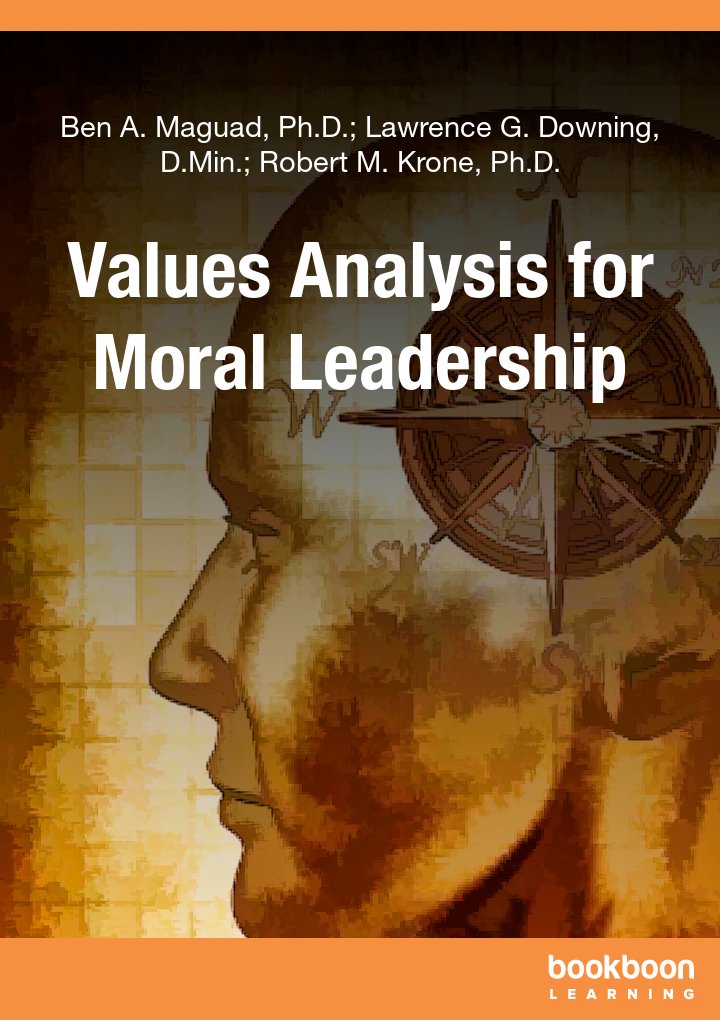 ISBN: 978-87-403-1397-0
1 edition
Pages : 70
Price: 129.00 kr
Price: €13.99
Price: £13.99
Price: ₹250
Price: $13.99
Price: 129.00 kr
Price: 129.00 kr
Download for FREE in 4 easy steps...
This is a Premium eBook
Bookboon Premium - Gain access to over 800 eBooks - without ads
You can get free access for a month to this - and 800 other books with the Premium Subscription. You can also buy the book below
Start a 30-day free trial. After trial: 39.99 kr p/m
Start a 30-day free trial. After trial: €5.99 p/m
Start a 30-day free trial. After trial: £4.99 p/m
Start a 30-day free trial. After trial: ₹299 p/m
Start a 30-day free trial. After trial: $3.99 p/m
Start a 30-day free trial. After trial: 39.99 kr p/m
Start a 30-day free trial. After trial: 39.99 kr p/m
Users who viewed this item also viewed
About the book
Description
This book affirms the global need for moral leadership in the 21st century at a time when the risks to human survival have been increasing. What is particularly needed is leadership with ethical or moral behavior ingrained in its values system. People know that when they are not treated ethically and morally, bad things happen. They recognize that when crime or unethical acts are chosen, stable and productive lives are damaged and environments become destructive. They, therefore, prefer an environment where their lives proceed in constructive ways to improve the quality of life for themselves and others. In view of this, intentional immoral and unethical behavior for short-term gains should be identified and prevented from sowing seeds of destruction.
The authors believe that the purpose of moral leadership is to increase the quality of life for humanity by eliminating the huge tragic costs and wastes that inevitably results from immoral or unethical leadership. To evaluate and compare existing moral leadership with desired standards, they proposed the use of Values Analysis as the methodological tool powered by the Ideas Unlimited Group Survey Method which is able to penetrate the complexities Values Analysis presents.
Ethical and moral leadership is still the most critical variable that leaders must have to influence organizational behavior and performance. Quality cannot be achieved or sustained in an immoral, corrupt or dishonest system. The need for moral leadership will continue to increase with the ever increasing human and material costs of its failure. Hence, the onus is on leaders to take an active role in promoting positive values and practices in their organizations and communities.
A good way to teach moral leadership is via the Benefit-Cost Method by providing some examples of all the good that can occur when individuals or groups have high moral and ethical standards and contrast these with the destructiveness and misery which result from opposite cases. There may be no more important subject for teachers and students than the pursuit of the vision to achieve universal moral leadership.
Content
Theory and Purpose for Moral Leadership
Moral Leadership through the Ages
Values Analysis for Moral Leadership
When Moral Leadership Fails
Building Your Personal Foundation for Moral Leadership
Humankind's Future and Moral Leadership
Guidelines for Teachers
About the Author
LAWRENCE G. DOWNING, D.Min. Dr. Downing is a retired pastor who spent more than 40 years as a senior pastor in the Seventh-day Adventist Church. He also served for more than 15 years as an adjunct professor at La Sierra University Zapara School of Business and the H.M.S. Divinity School. He has written numerous articles for various Adventist journals and has served in churches on both Coasts. His B.A. degree is from Pacific Union College. He has an M.A. and B.D. from Andrews University and a D.Min. from Lancaster Theological Seminary. Over the years he was appointed to the executive boards of five not-for-profit hospitals and the boards of numerous educational institutions.
ROBERT M. "BOB" KRONE, Ph.D. Dr. Krone is President of Kepler Space Institute (www.keplerspaceinstitute.com); an Emeritus Professor of Systems Management at the University of Southern California; was a Distinguished Visiting Professor for Strategic Management in the School of Business and Management at La Sierra University (1992–2007); and Adjunct Professor for Doctoral Programs (PhD and DBA), with the International Graduate School of Management at the University of South Australia (1995–2007). His Ph.D. from the University of California at Los Angeles (1972) was in Political Science and Policy Sciences. His first career was as a Fighter Pilot, Commander and International Staff Officer in the United States Air Force (1952–1975, retiring in the rank of Colonel). In 1966 He was the first USAF Squadron Commander to complete 100 combat missions over North Vietnam, and received the Silver Star, four Distinguished Flying Crosses, The Bronze Star and eleven Air Medal decorations. These pictures of Dr. Krone and Mrs. Salena Gregory-Krone were taken in front of the new building and the History Wall at the Zapara School of Business, La Sierra University, January 18, 2016.
BEN A. MAGUAD, Ph.D. Dr. Maguad is tenured Professor of Management and Program Coordinator of Management, Marketing & Information Systems at Andrews University in Berrien Springs, Michigan. He has been a recipient of the Daniel Augsburger Award in Teaching Excellence at Andrews University in 2013. His A.B. Economics degree (graduated Cum Laude) is from the University of Santo Tomas in the Philippines. He has an M.A. Economics degree from Thammasat University in Thailand and an M.B.A. degree from Andrews University in the United States. He received his Ph.D. in Business and Management from the University of South Australia. He is a Senior Member of the American Society for Quality (ASQ). His area of research and publication is in the application of total quality principles to higher education. He has published a number of quality-related articles in a number of journals and presented papers in many conferences. He has co-written with Bob Krone a 2012 book entitled "Managing for Quality in Higher Education: A Systems Perspective". He has taught in a number of countries like the Philippines, Thailand, Hong Kong, Trinidad & Tobago, Taiwan, Singapore, and the United States of America.