What else do Managers do?
Understanding Organisations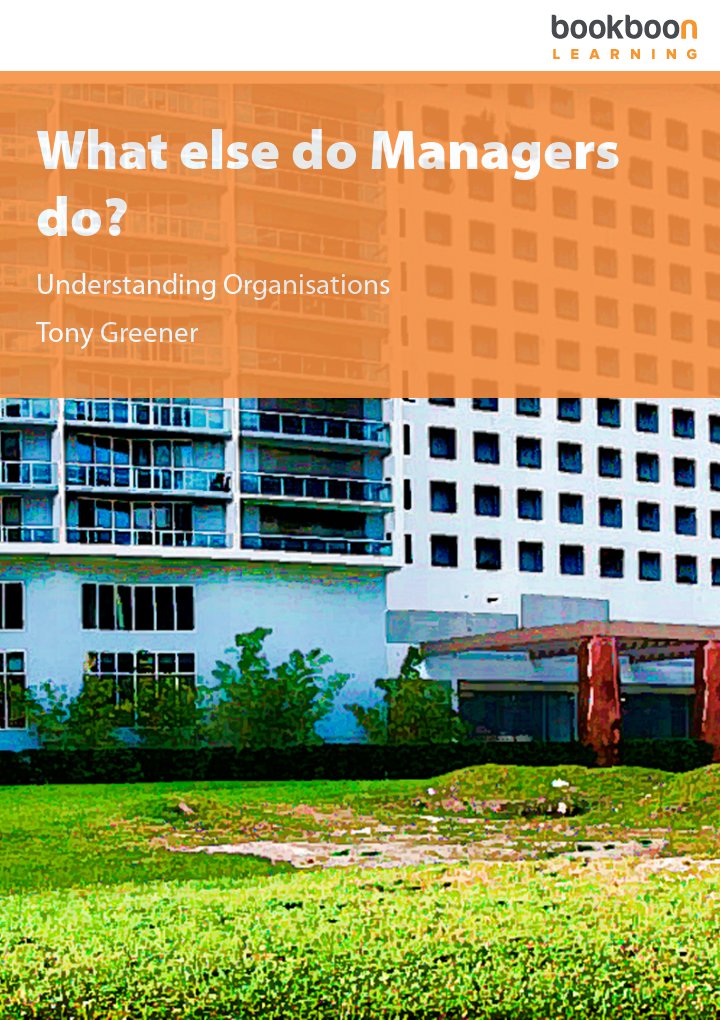 ISBN: 978-87-7681-562-2
1 edition
Pages : 57
Price: 75.50 kr
Price: €8.99
Price: £8.99
Price: ₹150
Price: $8.99
Price: 75.50 kr
Price: 75.50 kr
Download for FREE in 4 easy steps...
This is a Premium eBook
Bookboon Premium - Gain access to over 800 eBooks - without ads
You can get free access for a month to this - and 800 other books with the Premium Subscription. You can also buy the book below
Start a 30-day free trial. After trial: 39.99 kr p/m
Start a 30-day free trial. After trial: €5.99 p/m
Start a 30-day free trial. After trial: £4.99 p/m
Start a 30-day free trial. After trial: ₹299 p/m
Start a 30-day free trial. After trial: $3.99 p/m
Start a 30-day free trial. After trial: 39.99 kr p/m
Start a 30-day free trial. After trial: 39.99 kr p/m
Users who viewed this item also viewed
About the book
Description
In simple terms, the main goal of performance management is to motivate the staff of an organization to efficiently and effectively work towards larger corporate objectives. While this may sound like an easy task, however, performance management is remarkably complex, particularly in increasingly diverse workplaces where employees with different cultural and ethnic backgrounds, religions, sexual orientations, and identities all need to work together. What Else Do Managers Do? is a detailed but humorous management e-book which aims to demystify performance management and provide effective and practical strategies for today's managers. It is available as a free download here.
What Else Do Managers Do? simplifies performance management into three fundamental managerial responsibilities: performance appraisal, behavior management, and management of employee stress. In addressing these responsibilities, a variety of practical topics are discussed, including evaluation methods and productivity measures, sickness absence, staff turnover, Honey and Mumford's learning styles, motivational theories, identifying employee stress factors, and the manager's role in employee stress management.
Useful assessment quizzes and review questions are used throughout the text. A detailed bibliography for further reading is also included. Interested readers should also refer to the first management text in this series,What Do Managers Do?, which is also available as a free download on bookboon.com.
Preface
Much is made in management text books about performance management – but what exactly does it mean and how does it work? How do we judge performance and how do we ensure that acceptable standards are maintained?
On top of this, in a related issue, the UK – and many European states - has been fixated for some years now about managing equality and diversity. How do we ensure that people of other ethnic groups, religions, age, gender and sexuality are not discriminated against at work? How do we allow for cultural differences when, for example, considering applicants for a job? And, is this all a knee-jerk reaction which will gradually find its own level in society in years to come?
Finally, in this chapter, what are the bases for current disciplinary procedures? What can we do at work and what can we not expect to get away with? Is the law – and the vast raft of new legislation and European directives in particular - helping or hindering common sense in the workplace?
We will explore these areas in this chapter and try to form a logical conclusion whole finding some answers to these and other questions.
Content
1. Performance Management
1.1 Introduction
1.2 Performance Management
1.3 Absence management
1.4 The return to work interview
1.5 What kinds of sickness absence are there?
1.6 Managing short term sickness absence
1.7 Serious sickness absence
1.8 Staff turnover
1.9 Putting it into practice
1.10 Performance Appraisal
1.11 Other types of performance management
1.12 Employee Assistance Programmes (EAPs)
2. Managing Behaviour
2.1 Introduction
2.2 How do we receive information and learn?
2.3 Learning styles – General descriptions
2.4 Motivational Theorists
2.5 Motivational theories
2.6 Problems
2.7 Summary
3. Managing Employee Stress
3.1 Introduction
3.2 Recognising stress
3.3 The organisational cost of stress
3.4 Causes of stress
3.5 Symptoms
3.6 Detection of symptoms
3.7 Remedies for stress
3.8 The Asian Approach to managing stress
3.9 Work Stress
3.10 The role of the manager
Bibliography
About the Author
Tony worked as a journalist before going into management, PR, communications and marketing. He has been a board director of Land Rover, BL Cars Europe, Dunlop Slazenger International, the Saudi Arabian National Guard Medical Service and Saatchi & Saatchi where he was Deputy Managing Director of the UK PR agency.
He and his wife formed their own management training, marketing and communications business, Positive Images, in 1988 and they have since worked for a wide variety of clients in the UK and overseas. One of his specialities is presentation and media interview training. He is a Visiting Lecturer at Brighton University Business School and at Thames Valley University where he is Course Leader on the CIPR's post-experience Diploma.