The Seven Deadly Sins of Employment
How to Avoid the Most Common Mistakes Made By Employers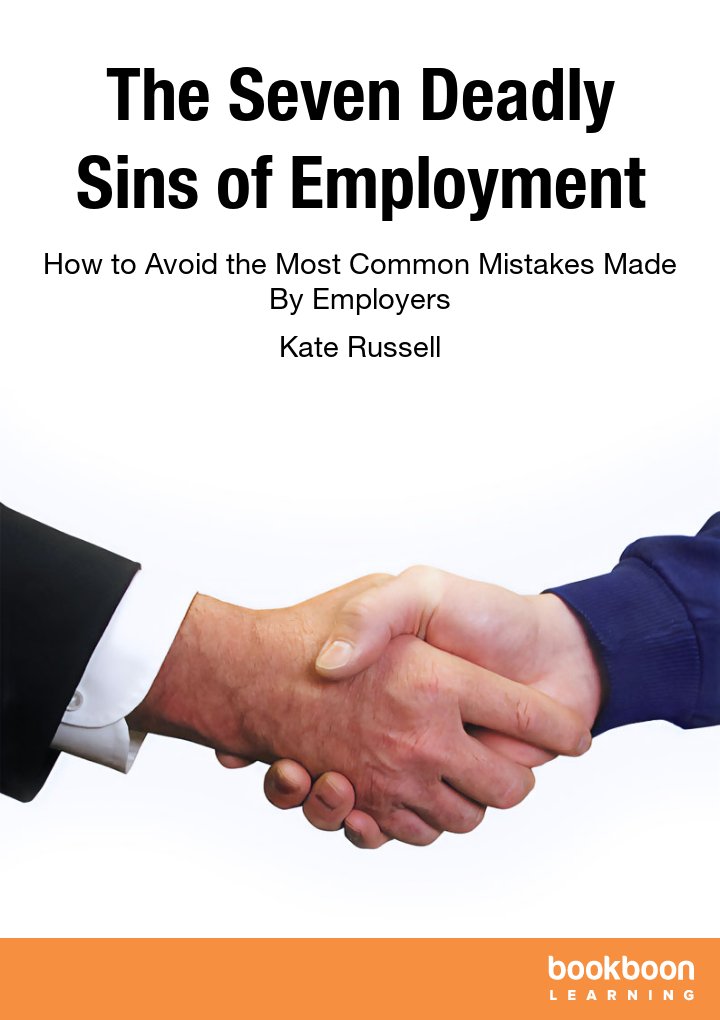 ISBN: 978-87-7681-874-6
1 edition
Pages : 58
Price: 75.50 kr
Price: €8.99
Price: £8.99
Price: ₹150
Price: $8.99
Price: 75.50 kr
Price: 75.50 kr
Download for FREE in 4 easy steps...
This is a Premium eBook
Bookboon Premium - Gain access to over 800 eBooks - without ads
You can get free access for a month to this - and 800 other books with the Premium Subscription. You can also buy the book below
Start a 30-day free trial. After trial: 39.99 kr p/m
Start a 30-day free trial. After trial: €5.99 p/m
Start a 30-day free trial. After trial: £4.99 p/m
Start a 30-day free trial. After trial: ₹299 p/m
Start a 30-day free trial. After trial: $3.99 p/m
Start a 30-day free trial. After trial: 39.99 kr p/m
Start a 30-day free trial. After trial: 39.99 kr p/m
Users who viewed this item also viewed
About the book
Reviews
Nadine R. Cable
★★★★★
Can be easily understood, has a direct approach and was able to cover all essentials.
Description
This book is a useful guide for those who are new to HR or managing teams. The Seven Deadly Sins of Employment takes the reader through the employment life cycle from recruitment to termination of employment. It sets out the main processes and risks and provides practical guidance and help. Written in an easy-to-read style by an HR practitioner of considerable experience, the reader will understand what has to be done to achieve compliance, guidance on best practice as well as some robust no nonsense advice. Illustrative case studies add an amusing human dimension to the topic.
Preface
Being an employer these days is somewhat akin to going into battle. Not only do employees have more rights than they've ever had (and therefore cost employers more than ever before), there's considerable economic pressure on employers to ensure that the business survives.
Common complaints from employers include:
"I can't seem to recruit the right people."
"Why does he keep making mistakes?"
"I've told her a hundred times – and she still arrives late!"
"It takes so long to manage someone through the disciplinary process properly!"
"It's quicker to do it myself …."
Getting it wrong and not managing employees so that they perform to their optimum is frustrating, time consuming and expensive.……so what can employers do? Making just a few changes will reduce your risk and help the work flow more easily. Use the information and tips provided in this book will help you manage employees correctly, lawfully and in such a manner that it reduces the risk of being taken to tribunal.
Content
Chapter 1 Overview of the Ebook

Introduction
Recruiting the right person
Contracts of employment
Prevention is better than cure
Keeping records
Enforcement
Sanctions
Following procedure

Chapter 2 Recruiting the right person

Introduction
Define your recruitment requirement
Job description and person specifications
Avoiding unlawful discrimination
Advertising
Health screening
The selection process
Face to face for the first time
Common mistakes at interview
Testing
After the interview
References

Chapter 3 Contracts of Employment

Introduction
What are the benefits of having a properly drafted statement?
Who should have a set of terms of employment?
What must be included in the written statement?
Terms of the agreement
Implied terms
Incorporated terms
Variation of contract

Chapter 4 Prevention is better than cure

Introduction
Standards
Your requirements have to be clear
Rules
Timing and recording

Chapter 5 Keeping Records

Introduction
Benefits of keeping good records
What sort of thing should be noted?
How long should I keep records?
Data protection

Chapter 6 Enforcement

Introduction
Dealing with problems informally
Taking formal action
Conduct or capability?
Witnesses
Burden of proof
Suspension
Right to be accompanied
Preparing for a disciplinary hearing – investigating officer
Preparing for a disciplinary hearing – discipline officer
Handling discipline hearings

Chapter 7 Sanctions

Introduction
Let the punishment fit the crime
Exercise caution if in doubt
Deciding on a sanction
Totting up
Expired warnings should be disregarded
What to include in a formal warnings

Chapter 8 Following Procedure

Introduction
The most common mistakes
The importance of following procedure
Small procedural errors may be allowed
The reasonable employer
About the Author
Kate Russell, BA, barrister, MA is the Managing Director of Russell HR Consulting and the author of this publication. As Metro's HR columnist, she became known to thousands, with her down-to-earth and tactical approach to HR. Kate is a regular guest on Five Live and her articles and opinions have been sought by publications as diverse as The Sunday Times, Real Business and The Washington Post, as well as every major British HR magazine. Her HR blog has been rated third best in the UK. She is the author of several practical employment handbooks and e-books, the highly acclaimed audio update service Law on the Move, as well as a monthly e-newsletter, the latter document neatly combining the useful, topical and the frivolous.
Russell HR Consulting Ltd delivers HR solutions and practical employment law training to a wide variety of industries across the UK. Our team of skilled and experienced HR professionals has developed a reputation for being knowledgeable, robust and commercially aware. We are especially well-versed in the tackling and resolving of tough discipline and grievance matters.
We also specialise in delivering practical employment law training to line managers, business owners and HR professionals, both as in-house, tailor made workshops or open courses. We provide a wide range of practical employment training, enabling new and experienced managers to work in a compliant and ethical fashion, and gain optimum employee output.
At Russell HR consulting we will design and deliver a solution that suits your particular needs, identifying and addressing the issues in the way that best fits your workplace.