The Engaging Presenter Part II
How to connect with any audience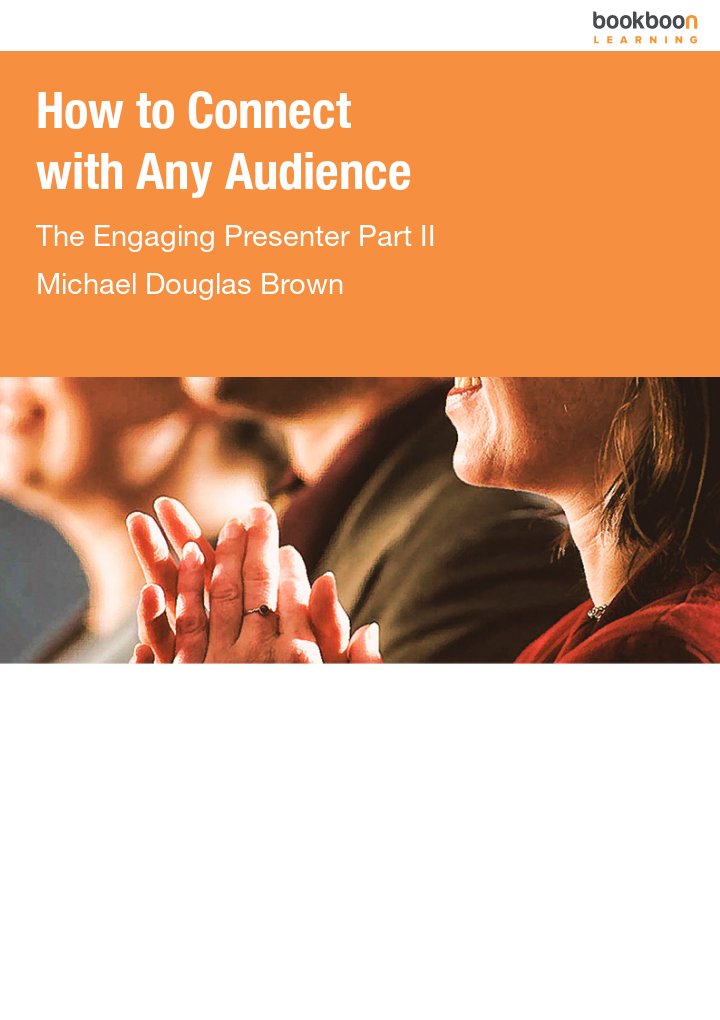 ISBN: 978-87-403-0409-1
1 edition
Pages : 84
Price: 75.50 kr
Price: €8.99
Price: £8.99
Price: ₹150
Price: $8.99
Price: 75.50 kr
Price: 75.50 kr
Download for FREE in 4 easy steps...
This is a Premium eBook
Bookboon Premium - Gain access to over 800 eBooks - without ads
You can get free access for a month to this - and 800 other books with the Premium Subscription. You can also buy the book below
Start a 30-day free trial. After trial: 39.99 kr p/m
Start a 30-day free trial. After trial: €5.99 p/m
Start a 30-day free trial. After trial: £4.99 p/m
Start a 30-day free trial. After trial: ₹299 p/m
Start a 30-day free trial. After trial: $3.99 p/m
Start a 30-day free trial. After trial: 39.99 kr p/m
Start a 30-day free trial. After trial: 39.99 kr p/m
Users who viewed this item also viewed
About the book
Reviews
Ankit Gadge
★★★★★
It's really useful..I am very much thankful to this site which provides free e-books to students like me.
Description
This guide is the result of hundreds of intensive training workshops, for thousands of people from many nations. The methods are universal, and suitable for meetings, presentations and formal speeches.
It includes: How to enter 'flow' - that state of mind and body when you are fluent, time flies and speaking is a pleasure. How to overcome nervousness by engaging your audience. How to make your audience listen to every word you utter. How to use visual aids so that audience eyes never glaze over. How to be significantly more persuasive. How to significantly boost your personal authority.
Preface
It's about you and your audience
I once co-presented with a dynamic visiting speaker from California. I warmed up in the wings by standing in silence, eyes closed. He warmed up right beside me by jogging on the spot, throwing punches at the air.
I went on first, made my speech, and finished to satisfying applause. Then my co-presenter came on.
He strode to the centre of the stage, projecting his voice magnificently all the way. Many people sat up straight, wide-eyed. They liked it. What a performance. What a showman. High energy, fluent, and utterly confident. They looked at each other and you could almost see them thinking, Wow, this is going to be great.
That approval lasted less than a minute. Then the audience started, once again, to look sideways at each other, but this time the thinking was clearly, What's this guy on? But he charged ahead, oblivious to the rising negative signals – disconcerted looks, frowns, shaking heads.
Why did the audience change their minds?
Because it was so obviously all about him. Look what a wonderful presenter I am. They knew it and they didn't like it. He was about as connected with them as with an audience of concrete posts.
Yes, this guide does show you how to be competent and confident. But it also offers you the other half of the story: how to speak with the audience, not at them. How to speak so that they warm to you and your message. The principles are universal. The methods apply to almost any kind of speaking context: meetings, presentations and formal speeches.
Discover the pleasures of engaging with your audience. Be a person who connects with people.
This guide is the result of hundreds of training workshops with thousands of people. It works.
Have fun.
Content
Heads up!
Foreword
How do I turn this guide into real skills?

Fear, flying, and what really persuades your audience
Gain personal authority by giving 'fundamental' respect
The fast track to promotion
Which part of your speech carries the greatest impact?
Making fear work for you
Two life choices
How to programme your subconscious in advance

How do I discover my personal performance key?
How do I speak when I'm using visual aids?

The bad news
The good news
Turning the screen off
You first, then the screen
The core visual-aids principle
How to stand and move when you use a large screen
Don't engage with your own computer screen
Do jump directly to any slide, forward or back
Avoid 'this is a cow'
Electronic smartboards
Other sophisticated presentation software

How do I become more persuasive and convincing?

Build rapport right at the beginning
Give them variety
Improve your persuasiveness by blirting
How to handle embarrassing mistakes
Keep your body language open
Be open, but not an open book
When your personal views conflict with your message
Look at people with your whole body
The power of deliberate silence
Bigger audiences want you to be bigger
Your notes and the lectern
Tell stories to make your message memorable
Make humour work for you
How to apologize or admit a mistake
Speak in a conversational language and tone
Signals to journalists

How do I handle formal or special occasions?

Formal salutations
Introducing a speaker
Thanking a speaker
Farewelling a staff member or colleague
Presenting and receiving awards
Opening functions
Funerals
Other speeches to family and friends

Bibliography
Endnotes
About the Author
Michael is a leading authority on training in media and presentation skills. His methods work for people of all cultures – the result of hundreds of intensive training workshops with thousands of people.
He has special expertise in how to handle difficult issues and difficult audiences, including how to manage a media crisis. He was a television reporter, director and presenter of news and current affairs programmes.
His most recent publication is the critically acclaimed novel Finding the Field: an adventure of body, mind and spirit.
Academic: B.Sc. (Hons) Physics (Canterbury), Dip. Journ. (Canterbury), Dip. Teach., Coastal Yachtmaster, Ocean Yachtmaster (Nav).