The Elite MBA CV
Executive Impact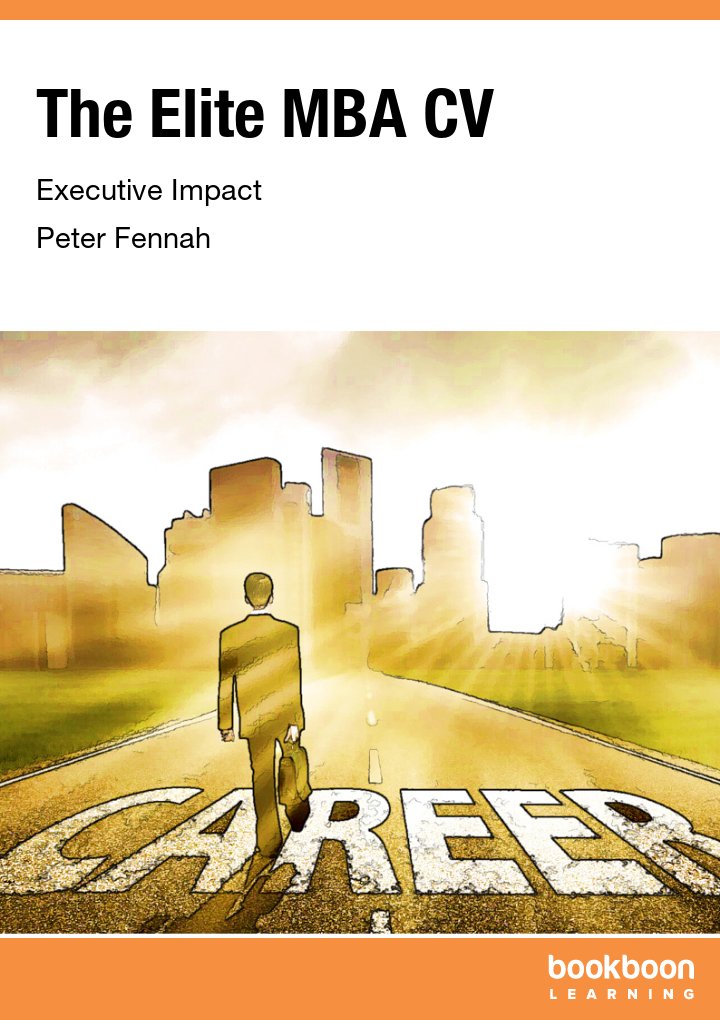 ISBN: 978-87-403-0727-6
1 edition
Pages : 80
Price: 75.50 kr
Price: €8.99
Price: £8.99
Price: ₹150
Price: $8.99
Price: 75.50 kr
Price: 75.50 kr
Download for FREE in 4 easy steps...
This is a Premium eBook
Bookboon Premium - Gain access to over 800 eBooks - without ads
You can get free access for a month to this - and 800 other books with the Premium Subscription. You can also buy the book below
Start a 30-day free trial. After trial: 39.99 kr p/m
Start a 30-day free trial. After trial: €5.99 p/m
Start a 30-day free trial. After trial: £4.99 p/m
Start a 30-day free trial. After trial: ₹299 p/m
Start a 30-day free trial. After trial: $3.99 p/m
Start a 30-day free trial. After trial: 39.99 kr p/m
Start a 30-day free trial. After trial: 39.99 kr p/m
Users who viewed this item also viewed
About the book
Reviews
Edi Herman
★★★★★
This title works well for MBAs in the US.
David Dean
★★★★★
This is the "go to" reference for a great and compelling CV/resume. The best summary you will find of the evidence needed to focus upon your career brand, purpose and marketing yourself & career effectively.
SONWABISO
★★★★★
Crucial in explaining what you need to do when creating your CV. Excellent tool towards creating a marketable CV.
Isabel
★★★★★
Excelent book. I´ll recomend it.
Israel Enyakoit Odiit
★★★★★
I think it is a copy any graduate should own.
Description
This e-book received 6,500 downloads in its first launch month in 2014. It fundamentally realigns your approach to job hunting and differentiating yourself through the managerial CV to create executive impact.
You will create a compelling case for why you are the right person for the right role at the right time for the business. Additionally, you will be clear how you can create a multiplying value add benefit for your line manager, team and organisation.
Content
Aims of the e-book

Key questions asked

Introduction: When good isn't good enough

Accelerated Learning
Online CV templates
The confidence paradox & how to build it

Breaking CV myths
Who to trust? Perceptions of CV advice

Questions to ask mentors & advisors

How to hunt

Onboarding (your first 100 days in the job)
A predictable crisis
Career switching: multiple changes?
Recruitment consultants
Become attractive to recruitment consultants by
Common errors

Market intelligence

Reading job descriptions
Competency categories

MindSet: Is yours?

Something is missing
Doing and being

Executive impact: Exercise

Part 1: Getting to the core of the job
Part 2: How much poison is in the chalice?
Part 3: What kind of hero is expected?
Part 4: What does a super hero look like?

Achievements: The components

What are competencies? And, how do you make use of them?
Too long?
Are competencies enough of a match to create a winning CV?

Competent and capable?

What are capabilities?
Capabilities & sector/function change cover letters
How to discover & express capabilities

Achievements: Interlocking components

Questions to consider when reviewing past achievements
The RHO model: Role, How & Outcome
Familiar models: STAR & CAR
Variations to RHO

Profile: The short story

What if my new profile feels odd?

Switching careers

Meeting the expected offer
Meeting the additional offer
Change, choice and principles

When not to use a CV

The painkiller introduction
When not to use your CV
Five common cover letter traps

Cover letter structure

Compelling?
Examples
Content of a cover letter
Motivation & network
'How can you meet my needs?'
Aligned: A match made in heaven?
Instant credibility loss

Impact checklist

Application considerations
CV impact checklist: What messages are you giving out?

More questions?
Conclusion
Appendix examples
About the Author
Career background: I first worked as an occupational psychologist in the public sector before working as a management consultant and coach with FTSE 100 companies engaged in organisational change. I became Director of Careers at a top business school before the age of 30, transformed the delivery model achieving the highest and fastest MBA employment rate of any top one-year MBA programme, reaching 7th in the world for MBA placement success (FT) and assisting in creating the No 1 EMBA for 'aims achieved' (Economist). In leaving a legacy of integrated personal, career and leadership development, commonly cited as a best practice benchmark, I continue to work with global business schools, companies and individuals as founding Director of Career Synergy Ltd, a consultancy providing career and leadership transition training and executive coaching services.
Professional background: Chartered and Registered Occupational Psychologist holding two Masters in Psychology. Accredited executive coach with the Association of Executive Coaches & Supervisors (APECS). Former Co Chairman and Fellow of the Association of Career Professionals International UK; Founding Board Member and Legacy Fellow of the Career Development Institute; Founding Member of the Association of Business Psychologists; Associate Fellow of the British Psychological Society; Founding Member of the Special Group in Coaching Psychology (SGCP) and former Co-Chair of the Cambridge SGCP.