The 25-Hour Day
Discover an additional hour in your day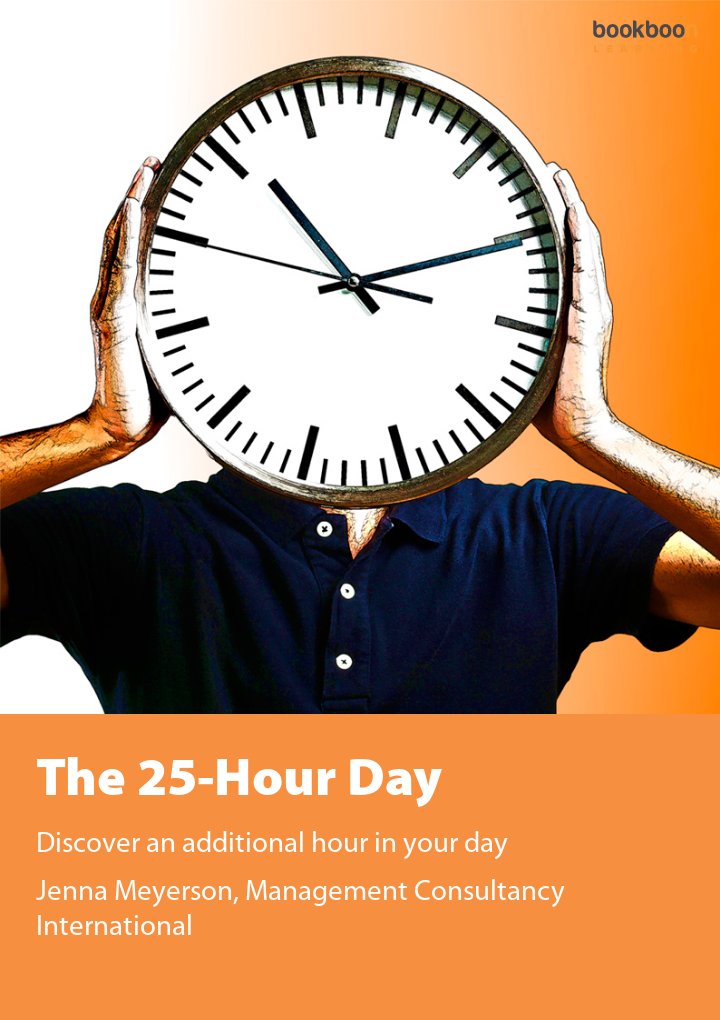 ISBN: 978-87-403-0463-3
1 edition
Pages : 67
Price: 75.50 kr
Price: €8.99
Price: £8.99
Price: ₹150
Price: $8.99
Price: 75.50 kr
Price: 75.50 kr
Download for FREE in 4 easy steps...
This is a Premium eBook
Bookboon Premium - Gain access to over 800 eBooks - without ads
You can get free access for a month to this - and 800 other books with the Premium Subscription. You can also buy the book below
Start a 30-day free trial. After trial: 39.99 kr p/m
Start a 30-day free trial. After trial: €5.99 p/m
Start a 30-day free trial. After trial: £4.99 p/m
Start a 30-day free trial. After trial: ₹299 p/m
Start a 30-day free trial. After trial: $3.99 p/m
Start a 30-day free trial. After trial: 39.99 kr p/m
Start a 30-day free trial. After trial: 39.99 kr p/m
Users who viewed this item also viewed
About the book
Reviews
Lori O. Young
★★★★★
Learned a lot of new things from this ebook. I admire the author as on how the presentation has been done. There's assessments and solutions.
Description
This e-book has been written to enable you to find an additional hour in your day. By providing you with the skills and techniques to manage your time more efficiently and effectively, you can easily discover an additional hour in your day for spending with your family, or just sleeping in that bit later!
Throughout this manual, you will find practical tips and instructions to help you understand time management. You will discover how to utilise the technology available to you, how to make the most of your own productive cycles, and how to make your life more efficient by understanding how you spend your time, and you will understand what tasks you actually need to spend your time completing.
Preface
Greetings,
I hope all the information we have gathered and put into this e-book will help you to achieve the goals you have set for yourself.
We enjoyed creating this e-book and will continue to create many more. If you want to make sure that you don't miss out on the next one, please visit our home page and add yourself to our mailing list.
If you have any ideas on great topics that you would like to see in one of our future free e-books, please email us on info@mci.edu.au or fill out the enquiry form on our website, and we will add it to our list.
Yours sincerely,
MCI Team
1300 768 550
Content
Welcome
About Management Consultancy International
Introduction
The 25-Hour Day
Know Yourself

Introduction
Getting to Know You
Be Respectful but Honest
Thinking Further
Chapter 1: Know Yourself

Follow Your Productivity Cycle

Introduction
Know Your Energy Cycle
Mr Example's Energy Cycle
Your Productive Cycle
Chapter 2: Follow Your Productivity Cycle

Technology & Time Management

Introduction
The Internet
Determine Your Priorities
The Urgent/Important Matrix
Urgent but Unimportant
Urgent and Important
Important but Not Urgent
Neither Urgent nor Important
Further Notes on Your Priorities
Begin with a To-Do List
Chapter 3: Technology and Time Wasters

Time Saving Tips with Outlook

Introduction
The Outlook Site Map
Time & Activities
People
Other Folders
A Closer Look at the Task Function
Create a New Task
Change the Task Folder View
Customise the View of Daily Tasks
Customise the Inbox
Convert an Email to a Task
Use Task Request for Delegation
Making the Most of the Calendar
Block Out the Calendar
Schedule a Meeting
Sharing Calendars
Colour Code the Calendar
Chapter 4: Time Saving Tips with Outlook

Organise Outlook

Introduction
Set Up Folders & Subfolders
Create a Rule
Colour Code Emails
Set Up a New Contact (from an email)
Follow Up on a Contact Note
Change the Default Opening Window
Convert Email to an Appointment
Disable Default Reminders
Plan to be Organised
A Simple Aid to Outlook
Chapter 5: Organise with Outlook

Increase Productivity with Focus

Introduction
Identifying Goals
Short Term Goals
Medium Term Goals
Long Term Goals
Create a Time Management Plan
Exercise 3: Do You Kno-w Your Goals?
Thinking More on Your Goals
Establish Your Priorities
The ABC System of Prioritisation
The Prioritisation Matrix
The Pareto Principle
Increase Productivity with Focus

How Do You Really Spend Your Time?

Introduction
The Time Audit
Mr Example's Time-Audit
Conduct Your Time-Audit
Tricks to Increase Your Time
Deal with Interruptions
Handling Phone Calls
Saying No
Review Your Desk Set Up
Good Communication Equals Efficiency
Improve Your Personal Skills
Streamline Email Communications
How Do You Really Spend Your Time

25 Hour Day Conclusion

Discovered Your Extra Hour?
Where can I find further help?
E-book Evaluation
About the Author
MCI provides organisations with three main streams of core programs that link learning objectives to business success:
1. MCI works with large and small organisations to implement internationally recognised standards for investing in their people.
2. MCI provides traineeships that lead to capability improvements at all levels.
3. MCI runs a suite of trainer development programs including the new Certificate 4 in Training and Assessment (TAA04).
MCI is a Registered Training Organisation (RTO) and partners with your team to provide government-funded training opportunities that lead to national certificates for staff. MCI provides programs in customer service, sales, and frontline management that lead to higher levels of effectiveness and enable internal career progression.
MCI adopts a unique "building block" approach to training that allows learners to work towards attaining leading Australian certifications, or simply attend a range of short courses.
Our experienced team is committed to assisting your learning and development division to become a profit centre that adds value to the business.
To find out more about how MCI can help you to achieve your personal, professional, and corporate goals, please visit our website at www.mci.edu.au or telephone us on 1300 768 550.