SQL: A Comparative Survey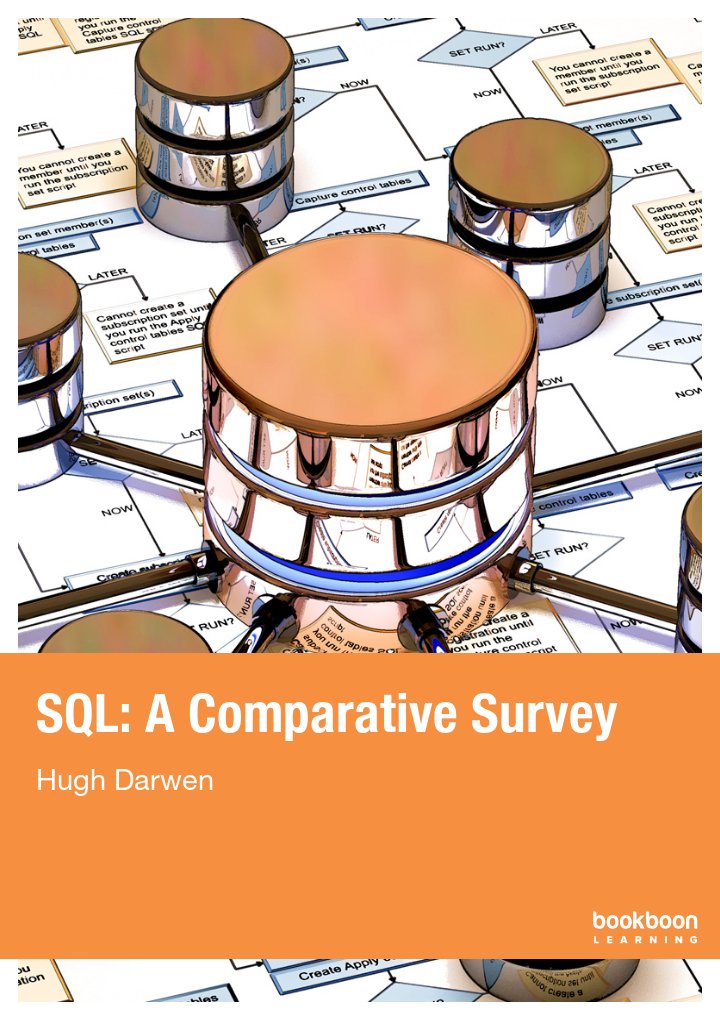 ISBN: 978-87-403-0778-8
2 edition
Pages : 169
Price: 129.00 kr
Price: €13.99
Price: £13.99
Price: ₹250
Price: $13.99
Price: 129.00 kr
Price: 129.00 kr
Download for FREE in 4 easy steps...
This is a Premium eBook
Bookboon Premium - Gain access to over 800 eBooks - without ads
You can get free access for a month to this - and 800 other books with the Premium Subscription. You can also buy the book below
Start a 30-day free trial. After trial: 39.99 kr p/m
Start a 30-day free trial. After trial: €5.99 p/m
Start a 30-day free trial. After trial: £4.99 p/m
Start a 30-day free trial. After trial: ₹299 p/m
Start a 30-day free trial. After trial: $3.99 p/m
Start a 30-day free trial. After trial: 39.99 kr p/m
Start a 30-day free trial. After trial: 39.99 kr p/m
Users who viewed this item also viewed
About the book
Description
SQL: A Comparative Survey is a companion to Hugh Darwen's An Introduction to Relational Database Theory, best studied in parallel with that text. Closely following the structure of the theory book, it shows how the examples in that book can be expressed in SQL. SQL's many deviations from relational database theory are thus exposed and their consequences discussed. Drawing on the author's long experience as a member of the committee responsible for production of the ISO SQL standard, the book includes copious Historical Notes showing how SQL has evolved from its very beginnings in the 1970s.
Content
Introduction

Introduction
"Collection of Variables"
What Is an SQL Database?
"Table" Not Equal to "Relation"
Anatomy of a Table
What Is a DBMS?
SQL Is a Database Language
What Does an SQL DBMS Do?
Creating and Destroying Base Tables
Taking Note of Integrity Rules
Taking Note of Authorisations
Updating Variables
Providing Results of Queries

Values, Types, Variables, Operators

Introduction
Anatomy of A Command
Important Distinctions
A Closer Look at a Read-Only Operator (+)
Read-only Operators in SQL
What Is a Type?
What Is a Type Used For?
The Type of a Table
Table Literals
Types and Representations
What Is a Variable?
Updating a Variable
Conclusion

Predicates and Propositions

Introduction
What Is a Predicate?
Substitution and Instantiation
How a Table Represents an Extension…
Deriving Predicates from Predicates

Relational Algebra—The Foundation

Introduction
Relations and Predicates
Relational Operators and Logical Operators
JOIN and AND
Renaming Columns
Projection and Existential Quantification
Restriction and AND
Extension and AND
UNION and OR
Semidifference and NOT
Concluding Remarks

Building on The Foundation

Introduction
Semijoin and Composition
Aggregate Operators
Tables within a Table
Using Aggregation on Nested Tables
Summarization in SQL
Grouping and Ungrouping in SQL
Wrapping and unwrapping in SQL
Table Comparison
Other Operators on Tables and Rows

Constraints and Updating

Introduction
A Closer Look at Constraints and Consistency
Expressing Constraint Conditions
Useful Shorthands for Expressing Some Constraints
Updating Tables
About the Author
Hugh Darwen was employed in IBM's software development divisions from 1967 to 2004. In the early part of his career, he was involved in DBMS development; from 1978 to 1982, he was one of the chief architects of an IBM product called Business System 12, a product that faithfully embraced the principles of the relational model. He was an active participant in the development of the international standard for SQL (and related standards) from 1988 to 2004. Based in the UK, he currently teaches relational database theory at Warwick University and is a tutor and course development consultant for the Open University. His previous publications are all collaborative efforts with Chris Date, perhaps the best known and mostly highly acclaimed author in the field of relational databases:
C.J. Date and Hugh Darwen: Databases, Types, and The Relational Model: The Third Manifesto. 3rd edition, Addison-Wesley, 2007.
C.J. Date, Hugh Darwen, Nikos Lorentzos: Temporal Data and The Relational Model. Morgan Kaufmann, 2001.
C.J. Date with Hugh Darwen: Relational Database Writings, 1989-1991. Addison-Wesley, 1992.
As Andrew Warden: "Adventures in Relationland", a special contribution in C.J. Date, Relational Database Writings, 1985-1989. Addison-Wesley, 1990.
C.J. Date with Hugh Darwen. A Guide to The SQL Standard. 4th edition, Addison-Wesley, 1997.
C.J. Date and Hugh Darwen. Database Explorations: Essays on The Third Manifesto. Trafford.