Savvy Performance Management
Turn painful performance management into Savvy Conversations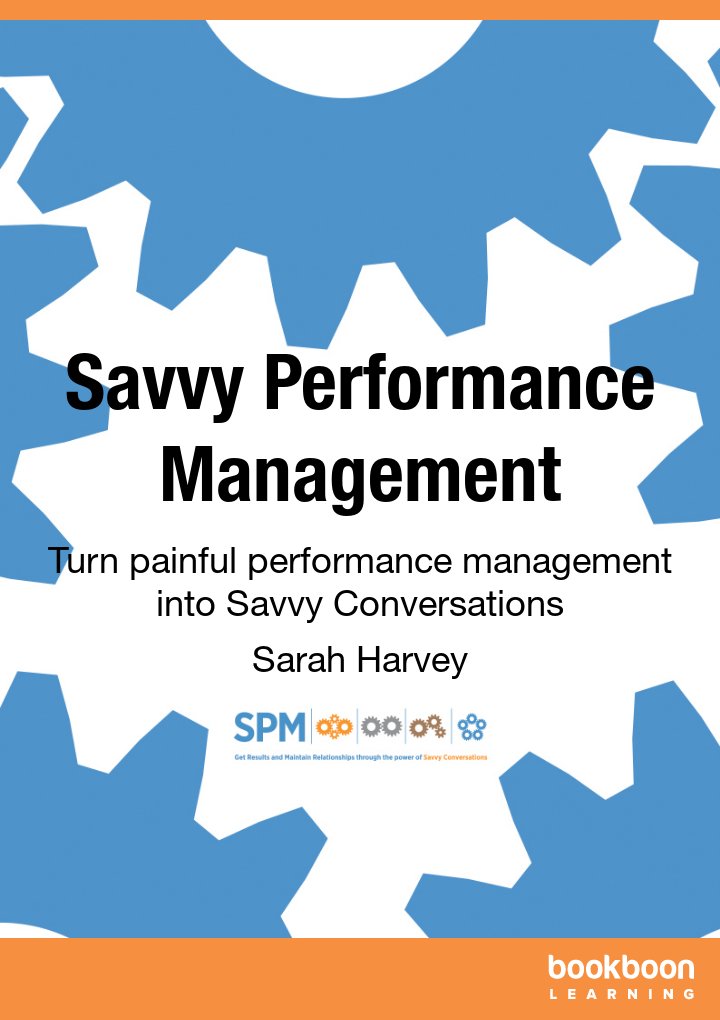 ISBN: 978-87-403-1403-8
1 edition
Pages : 60
Price: 49.50 kr
Price: €5.99
Price: £5.99
Price: ₹110
Price: $5.99
Price: 49.50 kr
Price: 49.50 kr
Download for FREE in 4 easy steps...
This is a Premium eBook
Bookboon Premium - Gain access to over 800 eBooks - without ads
You can get free access for a month to this - and 800 other books with the Premium Subscription. You can also buy the book below
Start a 30-day free trial. After trial: 39.99 kr p/m
Start a 30-day free trial. After trial: €5.99 p/m
Start a 30-day free trial. After trial: £4.99 p/m
Start a 30-day free trial. After trial: ₹299 p/m
Start a 30-day free trial. After trial: $3.99 p/m
Start a 30-day free trial. After trial: 39.99 kr p/m
Start a 30-day free trial. After trial: 39.99 kr p/m
Users who viewed this item also viewed
About the book
Reviews
Glenn Timms
★★★★★
This is a great book and I can highly recommend it if you are having to deal with a number of difficult conversations, at work or in your personal life. The author clearly explains how to address them whilst maintaining the relationship.
Steve E ('Sherlock')
★★★★★
It's hard to believe, isn't it, that this is Sarah's first book. Given the depth and breadth of her extensive practical experience, coupled with the fact that she is savvier than the average HR professional, people may think this book is long overdue. But generous to a fault, Sarah is prepared to share her unique insights for the greater good in this wonderful enlightening read that follows the success of her sold-out masterclasses. Like Sarah, many of us in HR are likely to have had misgivings with the general approach to Performance Management and how some practices are becoming outdated, stale and ineffective. So can you imagine letting go of the tired traditional approach and discovering something more modern and refreshing to boost employee engagement leading to improved productivity, profit and success in today's culture? Sarah's savvy writing dissolves the mysteries of Performance Management to allow you to become a truly effective manager in control of your service and feeling empowered to succeed by achieving real mastery. I don't know what you'll find to be the most interesting, whether it be what motivates people to do their best, the planning and integrating of quality 1 to 1's, plugging the performance management culture gap or understanding the underlying importance of goal setting by craving a commitment to a cause that is greater than one's self. For me, it was how all these important factors come together to ultimately link to Sarah's unique concept of 'Savvy Conversations' and her intriguing 'CREDS' model. Getting results, while maintaining relationships and avoiding conflict has got to be worth a shot, hasn't it? If you feel your performance management systems are failing then it is worth trying something new and innovative …a CREDible alternative to bring about positive change…… otherwise "If you always do what you've always done, you'll always get what you've always got."- Henry Ford.
Description
This book is for anyone who has ever tried to manage people's performance and is convinced there must be a better way.
It provides managers and leaders at all levels with a practical take on how to create and embed a high performance culture through day-to-day strategies and techniques that really work.
Read this book to discover:
The truth about performance management in todays organisations
What really motivates people to do their best work
How to create and embed a high performance culture
What techniques and strategies genuinely achieve better performance
How to ditch painful performance management and replace it with Savvy Conversations
Content
Performance Management: The New Context
Performance Management in today's workplace
Roles, Responsibilities and Expectations
Using the power of 1-1's as a key performance management tool
Meeting the challenges of managing virtually
Identifying the performance management culture gap
Understanding the role of objectives and goal setting
Motivating people to do their best work
Why Savvy Conversations will transform your performance discussions
Using my CREDS Model for more effective performance conversations
About the Author
Sarah Harvey is an Organisational Development (OD) consultant, training facilitator and executive coach. With over 25 years experience of managing and leading people personally as well as working alongside managers and leaders at all levels, Sarah has experienced the highs and lows of managing people and performance from the perspectives of first line managers through to CEO's and Board members. Her extensive practical experience has been gained through more than 10 years in senior Human Resources (HR) and leadership roles, followed by running her successful HR and OD consultancy, Savvy People Management Ltd (SPM), since 2003.
Sarah holds a Post Graduate (Level 7) CIPD Diploma in Personnel Management and a Post Graduate (Level 7) ILM Diploma in Leadership Mentoring and Executive Coaching.
Prior to setting up her own business, Sarah held a number of HR leadership roles. She was Business and Systems Manager for a large HR service at a time of transformational change and she has also led various cross functional/operational HR teams, Learning and Development services, shared services and data/analytics teams (HRMS).
Sarah has been actively involved in volunteer roles with the CIPD, the professional body for HR and people development, for over 10 years. She was elected to the Membership and Professional Development Committee of the CIPD Board in 2012 and elected Chair of CIPD Sussex Branch in 2014. She was also Chair for South East Thames Branch, part of CIPD London from 2008–2012. Other voluntary roles include a 5-year term as a Trustee Board Member of a leading mental health and wellbeing charity.
Established in 2003, SPM has an extensive track record of successful savvy assignments, helping clients large and small get maximum impact from their human resources and organisational development interventions. Sarah now specializes in working with individuals and teams using her unique Savvy Conversations concept and CREDS model. This shows clients how to get results and maintain relationships at work, whether the aim is to avoid conflict, plan for important conversations, give more effective feedback, carry out better quality 1-1's, transform appraisal discussions, resolve differences of opinion or simply get the best from individuals and teams.
Contact Sarah directly to find out more about her savvy business consultancy, training and coaching expertise and how she may support you in your business.
Company Website – http://savvyconversations.co.uk
You can follow Sarah Harvey on Twitter – @SavvySarahSPM
You can link with Sarah Harvey on Linked In – https://uk.linkedin.com/in/savvysarah
You can email Sarah Harvey directly on sarah@spm-ltd.com