Maximizing People Potential
A coaching perspective for leaders and managers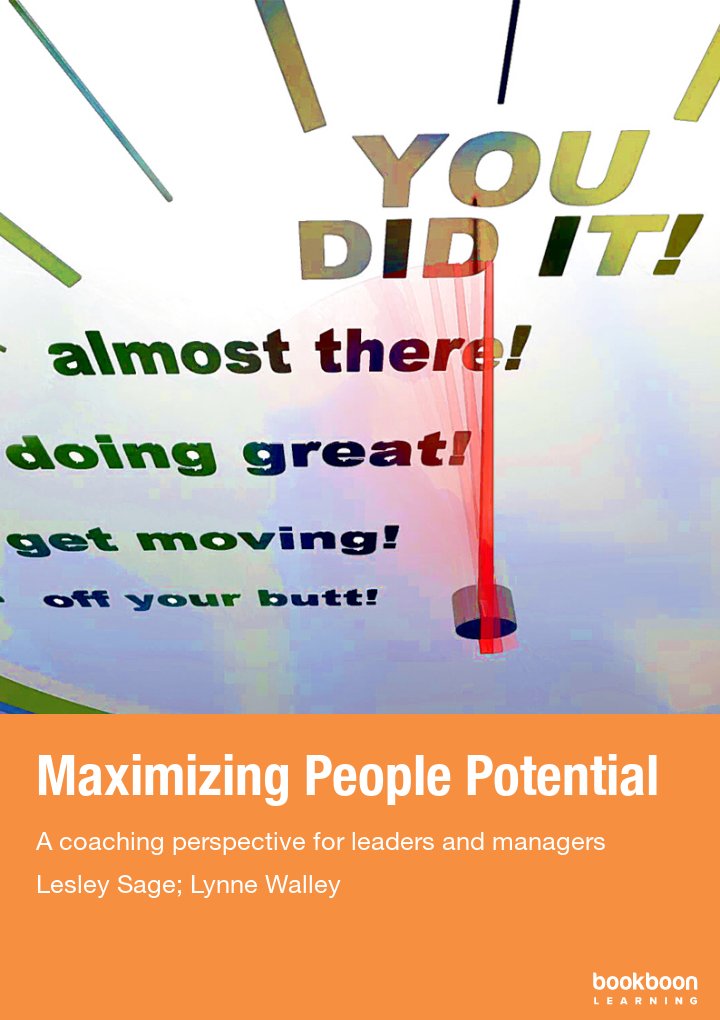 ISBN: 978-87-403-0624-8
1 edition
Pages : 90
Price: 129.00 kr
Price: €13.99
Price: £13.99
Price: ₹250
Price: $13.99
Price: 129.00 kr
Price: 129.00 kr
Download for FREE in 4 easy steps...
This is a Premium eBook
Bookboon Premium - Gain access to over 800 eBooks - without ads
You can get free access for a month to this - and 800 other books with the Premium Subscription. You can also buy the book below
Start a 30-day free trial. After trial: 39.99 kr p/m
Start a 30-day free trial. After trial: €5.99 p/m
Start a 30-day free trial. After trial: £4.99 p/m
Start a 30-day free trial. After trial: ₹299 p/m
Start a 30-day free trial. After trial: $3.99 p/m
Start a 30-day free trial. After trial: 39.99 kr p/m
Start a 30-day free trial. After trial: 39.99 kr p/m
Users who viewed this item also viewed
About the book
Reviews
Mary Clancy
★★★★★
Inspired coaching written by two highly qualified Practitioners. And that's the magic of this book. It is full of useful tried and tested approaches with a sprinkling of intuition and humour. As a leader/ manager in business today you are required to deliver high performance. To be successful it is my belief you must surround yourself with the best. If that resonates with you this book will be your trusted guide. Lesley and Lynne give you so much to work with right at your fingertips, saving you oodles of time researching the best coaching methods. They help you navigate the roles of coach and leader, give you up to the minute current thinking and practices in the coaching world and with a clear focus on achieving results. They take the complex and make it practical in its application in business, giving you the vital ingredients to be able to contribute as a coach and leader. If you are serious about inspiring those around you and achieving amazing results do yourself a favour and invest in this book now. It's a guide you will dip in and out of over and over again
Maria Wood
★★★★★
Lesley Sage and Lynne Walley's ebook Maximising people potential is an easy to read book packed full of helpful coaching tools, techniques, models and information. It contains enough information to get a brief understanding of the topics discussed and lots of helpful references if you want to find out more. A useful book for any manager looking to expand their coaching repertoire.
Description
Is working with, and through, people important to getting results? If so, the aptitudes and skills in this book should be of value to you.
It presents the fundamental mindsets and perspectives to enable you to harness the potential within yourself and others through a coaching approach; it is not a book to teach you coaching skills.
The authors each have many years of line management responsibilities, one-to-one coaching experience and tutoring within a variety of organisations plus high level coaching and mentoring qualifications. The book shares the perspectives, models and theories which have inspired them to learn and try out coaching approaches as they developed themselves and their staff.
The result is a combination of practical experience rooted in sound evidence-based research sprinkled with humour.
Preface
This book is aimed at:
Managers wanting to understand how the coaching approach differs from and integrates into their line management and training.
Managers who have worked, or who are currently working, with a coach and wish to retain their effectiveness between coaching sessions.
Outlining knowledge and thought processes your coach may be accessing in order to ask you the questions which help you make up your own mind on the actions most appropriate to the situation.
Generating trust and confidence between those with whom you live, work, manage and lead.
It is not designed as an alternative to a well-supported coach-training programme.
All the principles shared here are those which we have found useful when working with many of our coachees/clients as well as our own coaching journeys. As part of this sharing, we'll do our best to bring clarity to those concepts, models, theories and words which we have found made most sense to us; but remember if something makes sense for some individuals, that doesn't mean to say it makes sense for everyone. Learning is special to each individual: we can listen; ask questions; and sometimes share what has worked for us in the hope some aspect of this knowledge will 'click' with the coachee.
We feel clarity is important, hence some references, a bibliography and an extensive appendix of tools and models useful to coaching are included. So please feel free to 'try them on' and see which fits you best. Hopefully the content of the pages will speak to you as a manager, whether or not you choose to look behind our thinking.
Chapters:
Differences between line management responsibilities, training staff, coaching, coaching strategy and the role of the coach.
Underlying, often unspoken principles behind an effective coach or a coaching-style management approach.
Self-awareness and self responsibility.
Beliefs to performance and goals.
Seven levels of dialogue: effective communication.
Change and transitions: moving forward.
Outcome thinking – coaches engaging in business growth.
Neurobiology: the now and the future.
Content
Differences between line management responsibilities, training staff, coaching, coaching strategy and the role of the coach
Underlying, often unspoken, principles behind an effective external coaching relationship or a coaching style management approach
Self awareness and self responsibility
From Beliefs to Performance and Goals
Seven Layers of Dialogue – Effective Communication
Change and Transition – Moving forward
Outcome thinking – coaches engaging in business growth
Neurobiology – the now and the future
Bibliography
Appendices
About the Authors
Endnotes
About the Author
Lesley Sage.
After many years in the management of learning and development activities in a fast-moving commercial environment, Lesley has been a sole operator since 2005. She has experience of coaching managers, on an individual basis, from many nationalities in industry as well as public and charitable organisations. She was a visiting lecturer in 2008 and 2009 at the University of Wolverhampton Business School, having gained their MA in Coaching & Mentoring in 2007. She has written and facilitated Institute of Leadership and Management (ILM) Levels 3, 5 & 7 Coaching and Mentoring modules. She is able to lead, or be part of a team, undertaking evidence-based research utilising the Critical Incident Technique.
Although not a formally trained 'Coach Supervisor', Lesley has experience of 'Mentoring the development of Coaching Skills'. Her own development is through personal reflection and reading plus active membership of the Association for Coaching and also personal 'Coach supervision'.
For the technically interested, her coaching style is eclectic, informed through those theories and approaches which have worked for her personally, all of which are rooted in evidence-based research into adult learning. The resulting approach is predominantly an application of GROW, Clean Language, Behavioural and Cognitive approaches, Psychosynthesis, NLP, Symbolic Modelling and Intelligent Emotions as outlined in Neuropsychology. She is a trained counsellor-advisor for the Bar-On EQi profiling system.
Between 2006 and 2013 she was a member of the Independent Monitoring Board (IMB) at one of England's eight High Security prisons and chairman for nearly three of those years.
Lynne Walley
Lynne is a qualified Executive Business Coach and Psychometric Administrator with over twenty years experience gained within the Higher Education sector, where she designed, developed and delivered Corporate Programmes to public and private sector bodies, including in the UK, the National Health Service, the Royal Air Force and Local Government Authorities and both in the UK and internationally, Police Forces.
She is skilled at assessing business needs and designing bespoke courses, whether accredited or non accredited, to achieve clients' business goals and ensure return on investment.
She holds an LLB(Hons) and an MA in Criminology and is British Psychological Society trained at Level A & B. She also is a Myers Briggs Type Indicator (MBTI) Practitioner and an active member of the European Mentoring and Coaching Council (EMCC).
Her coaching style is person-centred and takes a strengths based approach with coachees. She uses a positive psychological approach to coaching aimed at behavioural and cognitive changes in personal development.
Her facilitation strengths lie in engaging leaders with people focused topics e.g. personality traits, coaching skills, leadership styles, change and transition. She is also particularly interested in ethics and value driven behaviours and how they impact on the workplace.