Manage your personal energy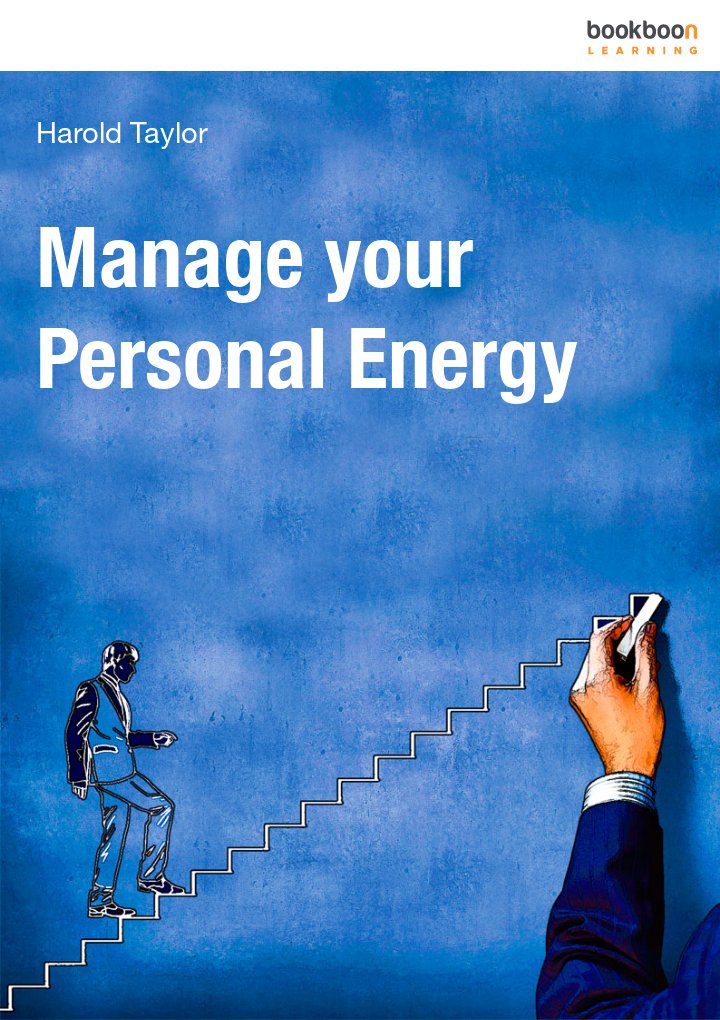 ISBN: 978-87-403-1170-9
1 edition
Pages : 46
Price: 75.50 kr
Price: €8.99
Price: £8.99
Price: ₹150
Price: $8.99
Price: 75.50 kr
Price: 75.50 kr
Download for FREE in 4 easy steps...
This is a Premium eBook
Bookboon Premium - Gain access to over 800 eBooks - without ads
You can get free access for a month to this - and 800 other books with the Premium Subscription. You can also buy the book below
Start a 30-day free trial. After trial: 39.99 kr p/m
Start a 30-day free trial. After trial: €5.99 p/m
Start a 30-day free trial. After trial: £4.99 p/m
Start a 30-day free trial. After trial: ₹299 p/m
Start a 30-day free trial. After trial: $3.99 p/m
Start a 30-day free trial. After trial: 39.99 kr p/m
Start a 30-day free trial. After trial: 39.99 kr p/m
Users who viewed this item also viewed
About the book
Description
Our brains do not have an unlimited amount of energy to process information and make decisions throughout the day. Nor can our bodies absorb the ever-increasing demands of 24/7 connectivity, multitasking and increasing workloads, without a concomitant reduction in efficiency and compromised health and well-being.
But by managing your energy – from its creation to its use – you are able to increase your efficiency and personal performance, more easily achieve your goals, and still have ample energy remaining for an active and fulfilling lifestyle.
In this book, you will learn how to work with your natural body rhythms instead of against them, expend less energy while attaining significantly greater results, and avoid the energy drainers that could lead to inefficiency, poor decisions, and physical and mental exhaustion.
Content
Get in sync with your body's rhythm

Ride the waves of high energy
Work with your biological clock
The role of sleep in energy management
The impact of sleep deprivation
Work with your energy cycles
Are you a lark or a night owl?
A nap a day keeps brain-drain at bay

Tap into the major energy sources

Sunlight – the most distant source of energy
Let it shine on your work and your work will shine
Exercise your body and brain for greater energy
Your brain: use it or lose it
Nutrition
Water your brain before using

Ways to boost your energy

Working environment can impact both energy & productivity
Batching consumes less energy and increases efficiency
Coffee is a "good news – bad news" energy source
Energy drinks are not recommended
Sweets may improve performance
Building sound relationships keeps energy high

Activities that drain your energy

Excessive use of technology can drain your energy
Balance your technology and your humanity
Multitasking can deplete your energy supply
Decision-making, problem solving & willpower all consume energy
Interruptions consume energy as well as time.
Disorganization is an energy waster as well as a time waster
Stress is the catalyst for energy loss

Ways to conserve your energy

Make your health and well-being a priority
Maintain an active lifestyle
Don't rush needlessly
Pace yourself during the day
Keep on top of your workload
Develop routines to conserve energy
Maintain a healthy attitude
Keep your friendships alive and active

Conclusion
Books referenced in Managing your energy
About the author
About the Author
Harold Taylor, CSP, president of Harold Taylor Time Consultants Ltd., and now operating as Taylor In Time, was a teaching master at Humber College of Applied Arts & Technology in Toronto, Canada for eight years before launching into the consulting business. He has now been speaking, writing and conducting training programs on the topic of effective time management for over 35 years. He has written over 20 books, including a Canadian bestseller, Making Time Work for You. He has developed over 50 time management products, including the popular Taylor Planner, which has sold in 38 countries around the world. He has had over 300 articles accepted for publication.
A past director of the National Association of Professional Organizers, Harold Taylor received their Founder's Award in 1999 for outstanding contributions to the organizing profession. He received the CSP (Certified Speaking Professional) designation in 1987 from the National Speakers Association. In 1998 the Canadian Association of Professional Speakers inducted him into the Canadian Speaking Hall of Fame. And in 2001, he received the first Founder's Award from the Professional Organizers in Canada. The award has been named in his honor.
Since 1981, when he incorporated the original time management company, he has personally presented over 2000 workshops, speeches and keynotes on the topic of time and life management.