Hurry, Hurry, Every Second Counts!
Not just seconds, but time itself!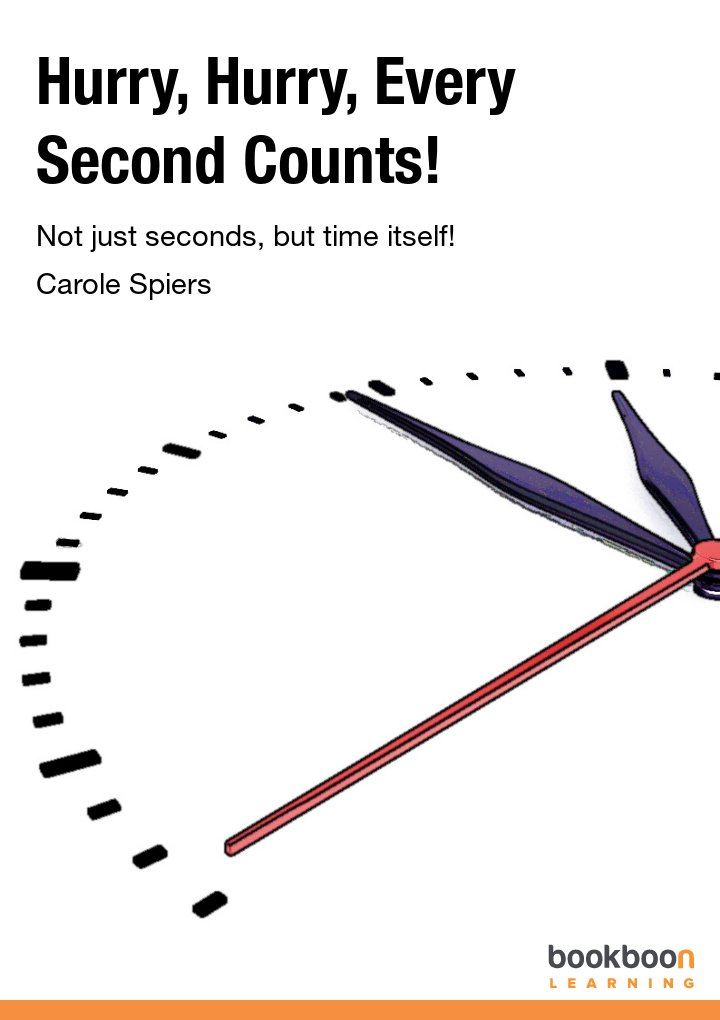 ISBN: 978-87-403-1154-9
1 edition
Pages : 86
Price: 75.50 kr
Price: €8.99
Price: £8.99
Price: ₹150
Price: $8.99
Price: 75.50 kr
Price: 75.50 kr
Download for FREE in 4 easy steps...
This is a Premium eBook
Bookboon Premium - Gain access to over 800 eBooks - without ads
You can get free access for a month to this - and 800 other books with the Premium Subscription. You can also buy the book below
Start a 30-day free trial. After trial: 39.99 kr p/m
Start a 30-day free trial. After trial: €5.99 p/m
Start a 30-day free trial. After trial: £4.99 p/m
Start a 30-day free trial. After trial: ₹299 p/m
Start a 30-day free trial. After trial: $3.99 p/m
Start a 30-day free trial. After trial: 39.99 kr p/m
Start a 30-day free trial. After trial: 39.99 kr p/m
Users who viewed this item also viewed
About the book
Description
We cannot manage time, we can only manage ourselves and our relationship with time.
Do you sometimes wish you weren't always trying to beat the clock?
Do you wish there were more than 24 hours in the day?
Well, if you can answer 'yes' to these questions, then this time management book is just for you!
So how do you manage your time? Well, if you are like many people, then the answer will be 'not very effectively'. Planning your day is essential and you need to estimate, in advance, the amount of time you will need to complete specific tasks. If they are completed within that time, then you have 'control' over your day. However, if you frequently fail to meet your estimated time targets, then your time management needs an overhaul.
If you have perfected the art of crisis management and not managing your time, then use the proven tips and simple strategies in this book will take you from 'fire-fighting mode' to 'control mode'.
Don't forget the more efficient a time-manager you are, the less stress you will experience.
Content
A Perspective On Time
Stress And Health Problems
What Causes Stress?
Stress Triggers
Stress Related Ailments
The Early Signs And Symptoms Of Stress
Behavioural Symptoms of Stress Questionnaire
Physical Symptoms of Stress Questionnaire
The Stress Of A High Work Load
Effectiveness And Efficiency
Response Time
Management Priorities: Important vs Urgent
Prime Time
Personality Traits That Make Time Management Difficult
Taking Control
Where is Your Locus of Control?
How Assertive At Work Are You Questionnaire
Contributing Assertively At Meetings
Assertion Technique – Broken Record
Being Proactive
Are You An Actor Or A Reactor?
Circles of Influence 2
Top Time Management Tips
Activity Management
Handling Interruptions
Using a Time Log
Time Improvement Plan
Identifying Timewasters
Managing Meetings – Time at Meetings
Delegation: How Well Do You Delegate?
Dealing with Paperwork
Dealing with E-Mails
Tips For Dealing with the Telephone
Alternative Approaches To Time Management
What are you going to do differently?
Stress Management Training, Workplace Counselling and Consultancy Delivering Quality Service to Industry and Commerce
Continue Where This Book Leaves Off!
About the Author
Carole credibility is rooted in twenty years' success as CEO of the Carole Spiers Group, a leading provider of Stress Management and Employee Counselling services working with equal success in the contrasting cultures of the UK and the Gulf region where she is renown for creating happier, resilient and more productive workforces.
An acclaimed weekly business columnist for the prestigious Gulf News, the Emirates leading daily newspaper, writing on topical issues facing Middle East Management and is regularly called upon by the national press and media for comment. She is author of industry's bible Tolley's 'Managing Stress in the Workplace' published by LexisNexis and Show Stress Who's Boss!
Carole is a high-energy motivational speaker able to combine inspiration with insight. Her charismatic style and ability to engage emotionally with audiences has made her a sought-after keynote speaker around the world.
In the UK, Carole launched National Stress Awareness day on behalf of the International Stress Management Association of which she is a VP, Fellow and Past Chair. She is also Past President of the London Chapter of the Professional Speaking Association.
Within the high pressure environment in which we work, stress is not easy to manage. However, Carole is here to help you.
Wikipedia: http://en.wikipedia.org/wiki/Carole_Spiers
Klout score - 73%: https://klout.com/#/thestressguru
LinkedIn: https://www.linkedin.com/profile/view?id=AAIAAAALRbcBkDdVFNENdLw19tbyaypx7fCD3Pg&trk=nav_responsive_tab_profile
Twitter: @thestressguru
Website: http://www.carolespiersgroup.co.uk
Email: cs@carolespiersgroup.co.uk