How to ask for what you want at work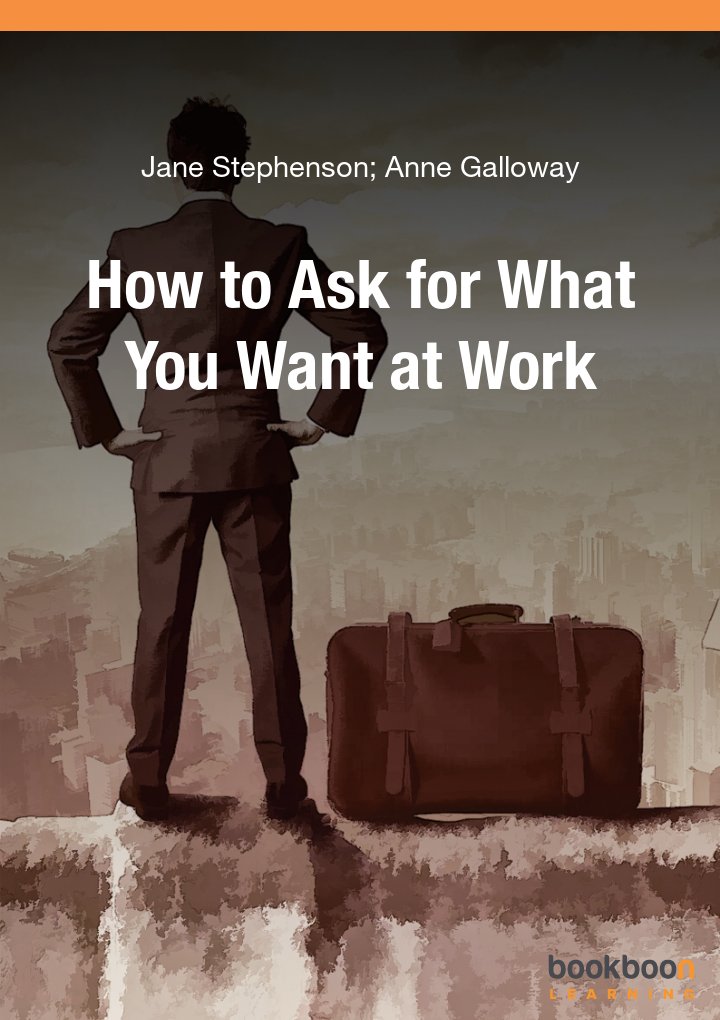 ISBN: 978-87-403-0735-1
1 edition
Pages : 32
Price: 75.50 kr
Price: €8.99
Price: £8.99
Price: ₹150
Price: $8.99
Price: 75.50 kr
Price: 75.50 kr
Download for FREE in 4 easy steps...
This is a Premium eBook
Bookboon Premium - Gain access to over 800 eBooks - without ads
You can get free access for a month to this - and 800 other books with the Premium Subscription. You can also buy the book below
Start a 30-day free trial. After trial: 39.99 kr p/m
Start a 30-day free trial. After trial: €5.99 p/m
Start a 30-day free trial. After trial: £4.99 p/m
Start a 30-day free trial. After trial: ₹299 p/m
Start a 30-day free trial. After trial: $3.99 p/m
Start a 30-day free trial. After trial: 39.99 kr p/m
Start a 30-day free trial. After trial: 39.99 kr p/m
Users who viewed this item also viewed
About the book
Description
What everyone wants at work is to be valued, to be respected, and to be heard. But let's be honest, do you always get what you want at work? Are you always the perfect communicator?
"How to ask for what you want at work" takes you on a journey of self-discovery. Get to know your own personal communication style and see how to adapt it to become more assertive and effective.
This book helps you to articulate your message and say "no" to taking on extra work; it shows you the way to delegate, ask for a pay rise or promotion, get your new team to follow your lead, and be confident that you are heard and your needs are met.
Preface
Do you know someone who appears extremely confident and who always seems to get what they ask for?
You have probably noticed people at work, school, and in your daily life that always appear to be self-confident and on top of world. Everything seems to go right for these people and they always seem to present themselves as calm, collected and successful in everything they do.
So how do they do it?
Self-confident people are usually great communicators and they understand the impact of believing in themselves and relying on their abilities; this confidence ultimately creates opportunities for success. Unlike many of us who struggle to articulate our message about what it is we want to achieve and how others can help us, confident people are able to clearly and succinctly specify exactly what it is they want and this is central to their success.
The following chapters take you on a journey of self-discovery. You will learn how to articulate your message so that you: can say "no" to taking on extra work; so that you can delegate; ask for a pay rise or promotion; get your new team to follow your lead; be heard and get your needs met within an organisation.
You will be given the opportunity to analyse your own personal communication style as well as the tools to help you adjust your style to effectively enable you to ask for what it is you want. By taking a new approach to the way you communicate, you will develop the skills to communicate assertively so that you can increase the chances of getting what you want.
With the use of examples, you will be shown how to properly prepare to ask for what you want which will not only help to boost your confidence levels significantly but also increase your chance of getting the outcome you want.
Finally, no matter what it is you want to ask for at work, you will need to know how to negotiate effectively and this book will provide you with the tools for creating the ultimate win/win solution.
And, while you can't force dreams to happen, you can take the steps outlined in this book toward making them a reality.
Content
From dream scenario to reality
Why the reality happens

Personal Communication styles

Which style are you?

Communication style quiz
How to score the Communication Styles Quiz

How to put that right
Raising confidence levels
Knowing your triggers and how to act differently
Assertive communication
Planning is everything

Technique 1 – Positive thoughts/positive actions
Technique 2 – The right attitude
Technique 3 – Looking the part
Technique 4 – Non-confrontational conversation

Negotiation
Conclusion
About the Author
Jane Stephenson and Anne Galloway are experienced, qualified coaches. Although originally from the UK, they now both have their own coaching practices based in North Holland.
Jane worked for many years in international business finance. Over the last 10 years she has developed her career as psychologist, coach and writer, fitting this in around the demands of a growing family. She gained her BSc Hons Psychology with the Open University and followed that with a diploma in coach counselling with the Nederlandse Academy van Psychotherapy. She now runs her own communication coaching business knowboundaries providing individual coaching to businesses and private clients in the Netherlands. Her professional writing career began when she joined the writing team of "Amsterdam - The complete residents guide" published by Explorer Publishing.
Through her own business, power-to-change, Anne specialises in career and small business coaching working primarily with individuals. Her aim is to inspire people to put the fun and passion back into their working week. She contributes articles to several online forums and continues to produce her 'Inspirational Toolkit' which provides monthly tips on a wide range of business and career issues. Born and brought up in the North of Scotland, Anne worked for a long time as a Cost and Contracts Engineer for a munti national company before setting up her own small business consultancy service and then retraining as a career and business coach.
Jane and Anne have combined their unique skills in their partnership "Two Motivating Minds" and have been developing and delivering highly successful workshops together since 2009. They published their first book "Your Future - A Practical Guide to Action" in 2011; this e-book "The Secrets to Workshop Success" is their second book collaboration.
For more information about Anne and Jane's work visit their website http://twomotivatingminds.com/.