Good Digital Hygiene
A guide to staying secure in cyberspace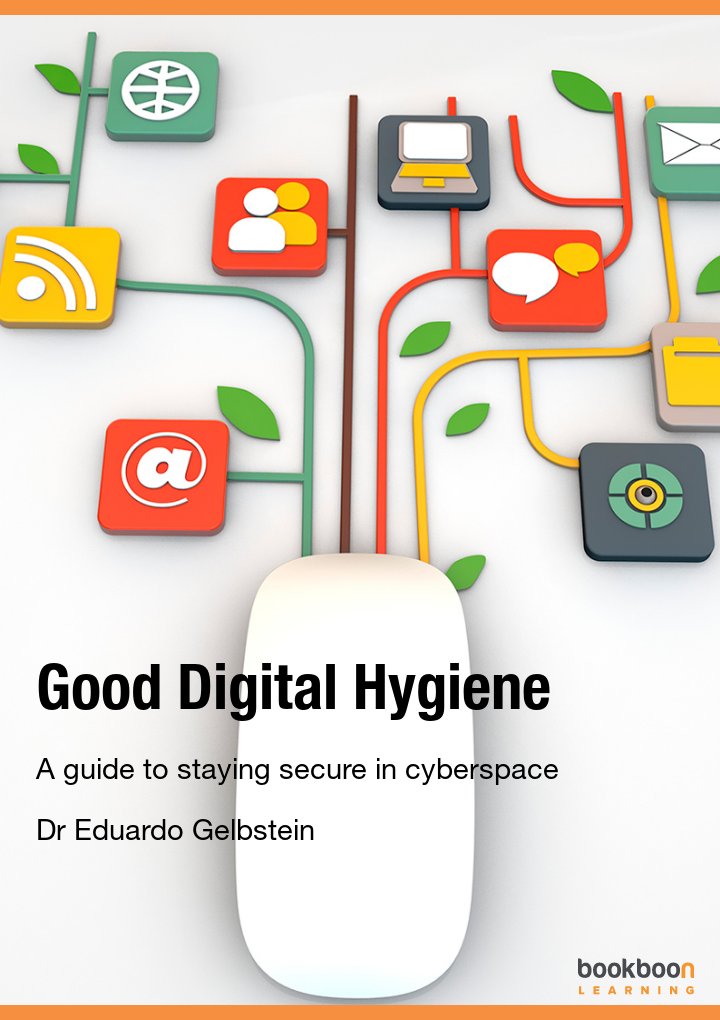 ISBN: 978-87-403-0577-7
1 edition
Pages : 86
Price: 49.50 kr
Price: €5.99
Price: £5.99
Price: ₹110
Price: $5.99
Price: 49.50 kr
Price: 49.50 kr
Download for FREE in 4 easy steps...
This is a Premium eBook
Bookboon Premium - Gain access to over 800 eBooks - without ads
You can get free access for a month to this - and 800 other books with the Premium Subscription. You can also buy the book below
Start a 30-day free trial. After trial: 39.99 kr p/m
Start a 30-day free trial. After trial: €5.99 p/m
Start a 30-day free trial. After trial: £4.99 p/m
Start a 30-day free trial. After trial: ₹299 p/m
Start a 30-day free trial. After trial: $3.99 p/m
Start a 30-day free trial. After trial: 39.99 kr p/m
Start a 30-day free trial. After trial: 39.99 kr p/m
Users who viewed this item also viewed
About the book
Reviews
Arthur T. Crosby
★★★★★
The author did a great concept and a great job with the details also. Ideas are refreshing.
Description
The explosive growth in the adoption of electronic devices by the general population (computers in various forms, smartphones and tablets) is creating an environment where some measures of digital hygiene (such as maintaining strong passwords, carrying out backups, not becoming a victim to phishing, etc.) are needed to protect the devices and the data they contain as well as their owners.
This book presents 39 such measures. None is obligatory but each one that is implemented will help reduce the impact of misadventures in cyberspace.
Preface
When Hagel wrote this well-known statement, poor hygiene was not recognised as a contributing factor of disease. Several plagues devastated populations over the centuries and the measures taken by the medics of the time did not focus on hygiene – a surgeon would typically wash his hands after performing surgery, not before (and of course no anaesthesia or antisepsis).
Worse still, those in the medical profession who advocated hygiene (like Dr. Ignaz Semmelweis, in Vienna, around 1840) lost their job by offending the medical establishment suggesting they should wash their hands. Then came Pasteur, Lister and many others and everything changed. Nevertheless, plagues continue to exist and hygiene remains an important factor. The problem however has not gone away: an article in Freakanomics published in 2012 entitled: "How to get doctors to wash their hands."
We should also remember that bacteria and viruses have evolved in pace with new drugs to manage them and now we have resistant strains that don't respond to available drugs. Hospital infections are found around the world.
As far as the author is concerned, poor digital hygiene, as introduced here, is at the stage comparable to that existed in Vienna when the Great Plague hit: people are unaware of the need to protect themselves and are not particularly bothered with digital hygiene despite many guidelines and good advice being readily available. In addition, malicious software such as viruses, worms, Trojan horses, etc., continue to evolve faster than the capability of protective products to detect them and clean them.
Every person has a role to play to prevent and/or reduce the impact of a cyber-plague. It may not kill millions of people but could make life quite uncomfortable.
Content
About the author
Introduction
Purpose of this book and summary of key points
A scary story for grown ups
The inhabitants of cyberspace's hostile side
Good digital hygiene: the essentials

Malicious software
Anti-virus and Firewalls
Use a vault
Bad ideas
Disposing of your devices
Backups
Passwords
Personal Identification Numbers (PIN)
Choosing software for your devices
Downloads
Sharing your devices
Locking your devices when not in use
Securing online transactions and "https"

Your footprints in cyberspace

Who is watching your online activities?
Your browser disclosures
Your cookies
Your disclosures
What others may be saying about you
Your IDs and privacy in cyberspace
Being selective about who is in your network
Social media and Internet Memory

Hygiene and the cyber-minefield

Spam and scams
Phishing and spear-phishing
Attachments
Click here to follow the link
Unencrypted "free" WiFi (or WLAN)
Encrypting your domestic WiFi
Bluetooth
Log out of everything you do online

Beyond the essentials

Inventory of your devices
Crapware, craplets and Scareware
Inventory of all your accounts
Lost your smartphone or your computer?
Tracking software for electronic devices
Remotely wipe the contents of your lost device
Encryption and digital signatures
Geo-tagging
Legislation you should know about
Jailbreaking or rooting your devices

Good hygiene in the future

Coming your way: the Internet Of Things
Digital hygiene in

In conclusion…
Other publications and websites
Acknowledgments
About the Author
With nearly 50 years experience in the private and public sectors in several countries, Ed has been active in information security through publications, international conferences, workshops and also as an auditor.
After many years as a senior Information Technology manager in the pre-privatised British Rail, he joined the United Nations as Director of the International Computing Centre, a service organization providing services to many international organisations.
Following his retirement, he was invited to joint the audit teams of the United Nations Board of External Auditors and those of the French National Audit Office (Cour des Comptes), activities he continued for several years.
He is currently a Senior Fellow of the Diplo Foundation, an entity that provides online training to diplomats around the world. He is also a faculty member of Webster University, Geneva, Switzerland and a guest speaker at the Geneva Centre for Security Policy. He remains a contributor to security conferences in Europe, the Arabian Gulf and Africa.
His publications include several books and articles in peer-reviewed journals. Amongst them:
Information Security for Non-technical Managers", Bookboon, September 2013
"Quantifying Information Risk and Security", ISACA Journal, July 2013.
"Demonstrating Due Diligence in the Management of Information Security", ISACA Journal, January 2013.
"Strengthening Information Security Governance, ISACA Journal, November 2012
"Planning an I.T. Audit for a Critical Information Infrastructure", Chapter 11 of the book "Securing
Critical Infrastructures and Critical Control Systems – approaches for Threat Protection" edited by Christopher Laing et.al. IGI Global, November 2012
"Law and Technology – Cyberwar, Cyberterrorism and Digital Immobilization", co-authored and co-edited with Professor Pauline Reich, IGI Global, November 2012
"Data Integrity, the poor relation of Information Security", ISACA Journal, November 2011
"Crossing the Executive Digital Divide", Diplo Foundation, Geneva, 2006
"The Information Society Library", a collection of 9 booklets (3 of them on security), Diplo Foundation, Geneva, 2003 (in support of the first World Summit of the Information Society)
"Information Insecurity", United Nations Secretary General's Information and Communications Task Force, September 2002
Ed can be contacted at gelbstein@diplomacy.edu