Getting Redundancy Right
How to Reduce the Risk of Unfair Dismissal Claims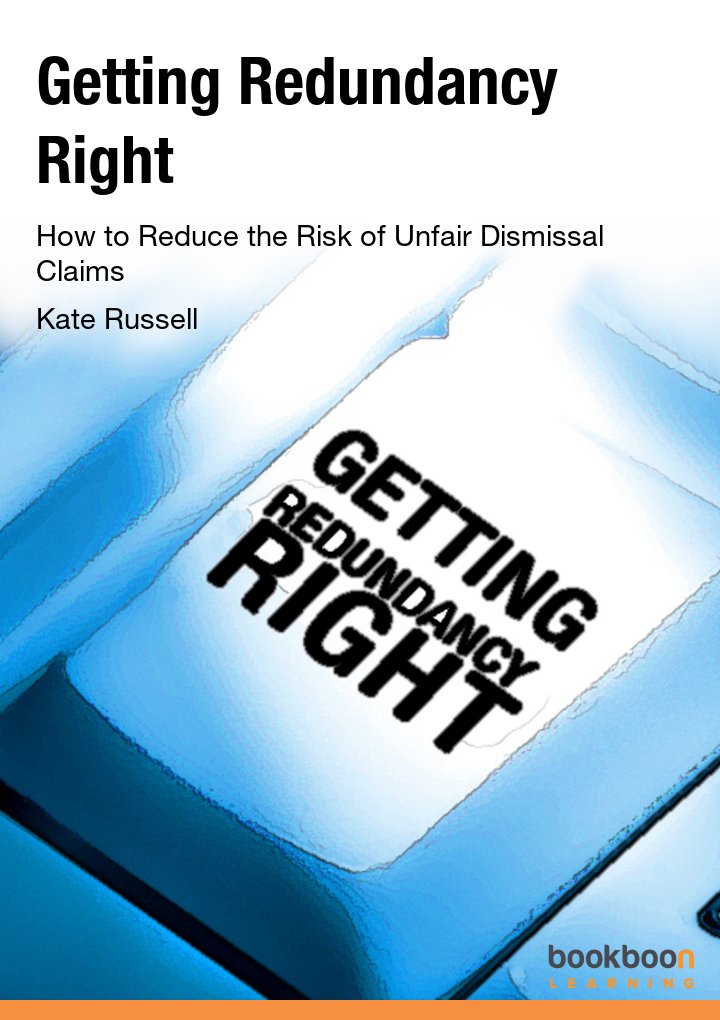 ISBN: 978-87-7681-916-3
1 edition
Pages : 51
Price: 75.50 kr
Price: €8.99
Price: £8.99
Price: ₹150
Price: $8.99
Price: 75.50 kr
Price: 75.50 kr
Download for FREE in 4 easy steps...
This is a Premium eBook
Bookboon Premium - Gain access to over 800 eBooks - without ads
You can get free access for a month to this - and 800 other books with the Premium Subscription. You can also buy the book below
Start a 30-day free trial. After trial: 39.99 kr p/m
Start a 30-day free trial. After trial: €5.99 p/m
Start a 30-day free trial. After trial: £4.99 p/m
Start a 30-day free trial. After trial: ₹299 p/m
Start a 30-day free trial. After trial: $3.99 p/m
Start a 30-day free trial. After trial: 39.99 kr p/m
Start a 30-day free trial. After trial: 39.99 kr p/m
Users who viewed this item also viewed
About the book
Description
This book is a useful guide for those who are new to HR or managing teams. Getting Redundancy Right takes the reader through an explanation of what redundancy is and what can be done to reduce the need for it. The book sets out the redundancy process in simple, straightforward steps. Written in an easy-to-read style by an HR practitioner of considerable experience, the reader will understand what has to be done to limit the risk of unfair dismissal claims, guidance on best practice as well as some robust no nonsense advice. Illustrative case studies add an amusing human dimension to the topic.
Preface
This topic will help you to manage the redundancy process effectively and lawfully. It sets out the legal requirements, best practice and some useful hints and tips.
Getting it wrong can mean that you end up in court. Many employers don't realize that redundancy is a dismissal and subject to the same rules as any other dismissal. This means that you must ensure you follow a fair and proper process when carrying out a redundancy programme.
Last year I had a call from an employer, Ed, who had received an ET1 (tribunal claim form) from a former employee, claiming unfair dismissal. Ed didn't understand that redundancy is a dismissal and said, "But I didn't dismiss him. I made him redundant."
It was the usual story. The employee had been unsatisfactory, but had never been disciplined or managed. When things got tighter financially, Ed called him in and told the employee that he was making him redundant. There was no selection process, no consultation, no formal meeting and no right of appeal. Ed found the concept that redundancy is a dismissal a bewildering idea. He just couldn't accept that he had unfairly dismissed the employee because he had failed to go through any sort of process, never mind a fair one. Many employers still think that redundancy is a sort of 'get out of jail free' card. It's not. Ed had unfairly dismissed the employee, so he had to settle and it cost him a fair sum of money.
Content
Overview of the Ebook

Introduction
What is redundancy?
Selection for redundancy
Redundancy notification procedure
Voluntary redundancy
Redundancy payment
Consultation
Collective redundancies
Garden leave and time off

What is redundancy?

Introduction
Alternatives to redundancy
Layoffs, short time working and guaranteed pay
Claims for redundancy due to a lay-off or short time working
Redeployment
Employees who are at risk enjoy priority treatment
The legal risks

Selection for redundancy

Introduction
Selection
Bumping
Selection of part time employees
Pregnant employees or employees on maternity leave

Redundancy notification procedure

Introduction
Planning the process
Selecting from a pool
Where there is no pool
Conclusion of the consultation process
Right of appeal

Voluntary redundancy

Introduction
Voluntary redundancies are still dismissals
Setting up a voluntary redundancy process
The voluntary redundancy process
Selecting employees for voluntary redundancy
No contractual right to voluntary redundancy

Redundancy payment

Introduction
Redundancy calculation
Enhanced redundancy pay
Notice pay

Consultation

Introduction
What is covered by consultation?
Consulting with absent employees

Collective redundancies

Introduction
Collective redundancies
Employee representatives
Timing
The collective consultation process 8.6 Redundancy notices

Garden leave and time off

Introduction
Garden leave
Time off when at risk of redundancy
Payment for time off
Redeployment
About the Author
Kate Russell, BA, barrister, MA is the Managing Director of Russell HR Consulting and the author of this publication. As Metro's HR columnist, she became known to thousands, with her brand of down-to-earth, tactical HR. Kate is a regular guest on Five Live and her articles and opinions have been sought by publications as diverse as The Sunday Times, Real Business and The Washington Post, as well as every major British HR magazine and her HR blog has been rated third best in the UK. She is the author of several practical employment handbooks and e-books, the highly acclaimed audio update service Law on the Move, as well as a monthly e-newsletter, the latter document neatly combining the useful, topical and the frivolous.
Russell HR Consulting Ltd delivers HR solutions and practical employment law training to a wide variety of industries and occupations across the UK. Our team of skilled and experienced HR professionals has developed a reputation for being knowledgeable, robust and commercially aware. We are especially well versed in the tackling and resolving of tough discipline and grievance matters.
We also specialise in delivering employment law training to line managers, business owners and HR professionals, both as in-house, tailor made workshops or open courses. We provide a wide range of practical employment training, enabling new and experienced managers to ensure that they work in a compliant and ethical fashion, and gain optimum employee output.
At Russell HR consulting we will design and deliver a solution that suits your particular needs, identifying and addressing the issues in the way that best fits your workplace.
Download 15 FREE employment tools
Please visit our website www.russellhrconsulting.co.uk for information about the services we offer and to download your FREE employment tools.
Contact Russell HR Consulting Ltd