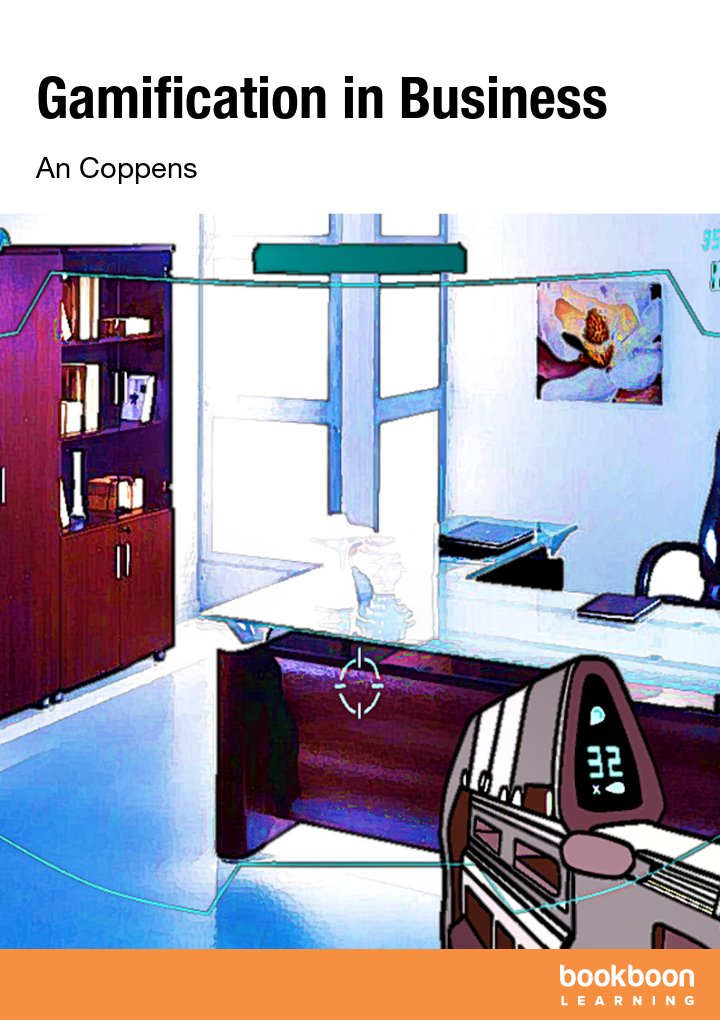 ISBN: 978-87-403-0824-2
1 edition
Pages : 63
Price: 75.50 kr
Price: €8.99
Price: £8.99
Price: ₹150
Price: $8.99
Price: 75.50 kr
Price: 75.50 kr
Download for FREE in 4 easy steps...
This is a Premium eBook
Bookboon Premium - Gain access to over 800 eBooks - without ads
You can get free access for a month to this - and 800 other books with the Premium Subscription. You can also buy the book below
Start a 30-day free trial. After trial: 39.99 kr p/m
Start a 30-day free trial. After trial: €5.99 p/m
Start a 30-day free trial. After trial: £4.99 p/m
Start a 30-day free trial. After trial: ₹299 p/m
Start a 30-day free trial. After trial: $3.99 p/m
Start a 30-day free trial. After trial: 39.99 kr p/m
Start a 30-day free trial. After trial: 39.99 kr p/m
Users who viewed this item also viewed
About the book
Description
In the book Gamification in Business, An Coppens aims to give you a flavour of what gamification is and where it can be applied as well as where it isn't useful and better not deployed.
The book covers the benefits and downsides of gamification. It addresses the need to ensure your gamification design hits the right note with your target audience. An also included a number of examples of gamification campaigns which won awards at events in 2014 and examples by business area.
The aim of the book is to give the reader an overview of what is possible, what to watch out for and enough information to start deciding whether gamification as a strategy for you business or project is indeed one you want to pursue.
Preface
It may seem odd to start a book with a few infographics, but I guess as they say a picture paints 1000 words. I also believe some of the statistics speak for themselves and I hope they will encourage you to explore the book in full.
My aim with this short book is to give you a flavour of what gamification is and isn't, where it applies and where it is better not deployed. I have tried to give you a very balanced view with both positive and negatives. As a gamification practitioner I have come across some great examples and have tried to assemble a good selection of examples, so you can actively make your mind up whether this is a strategy you would also like to pursue.
I hope you enjoy the read and follow the links provided to learn more through video and download additional materials. I would love you to share your thoughts on Twitter with the #businessgamification and include my alter ego @GamificationNat.
I look forward to reading your thoughts.
An Coppens
Content
What is gamification?
Benefits and Downsides of Gamification
Getting your Gamification Design Right
Examples of Gamification in Business
Gamification by business area
About the author
About the Author
An Coppens is the Chief Game Changer at Gamification Nation Ltd, where the vision is to make business and learning more fun and engaging. Gamification Nation Ltd offers gamification design services and is based in London, serving European based clients primarily. An is an award winning business coach, learning & development professional, author and speaker.
An Coppens has spoken and held workshops at the following events in the past number of months: Sales and Marketing Excellence in Pharma in Amsterdam, Gamification World Congress in Barcelona, Gamification in HR Summit in Paris, BrightTalk web summit, Gamification to engage app users webinar held for BrightTalk, Gamifiers Meetup and Interesting Talks Meetup.
With Gamification Nation, An offers gamification design services and online learning programs which are designed to encourage winning behaviours and improve business results in the areas of sales, recruitment, learning and productivity. She is a prolific blogger on the topic through www.gamificationnation.com and tweets under her Twitter alter ego @GamificationNat.
She is the author of 'Leading the boss in the mirror', a book, which teaches people smart and practical ways to reduce their stress levels and is the culmination of her work with high achievers in her coaching practice. Her second book "Attracting IT graduates to your business" was written for Impackt Publishing and is aimed to help organisations with small HR teams to be creative in their graduate attraction strategies (it includes a chapter on gamification as one option). She is currently working on her 3rd book called "Gamification in business", which will be published later this year.
She was a guest expert contributor on the RTE (Irish television) show 'How long will you live since it's pilot series and continued to contribute throughout all following series. Her clients nominated her for the European Coaching Achievement Award and proved to the European Coaching Institute that they had achieved lasting benefits from working with An as their coach.
She speaks and trains on the topics of gamification for entrepreneurs and learning, work life balance and leadership with passion and inspiration at conferences and in corporate settings. The feedback given at these events ranges from inspirational to making a tangible difference.
She has worked with 100's of business owners, high achievers and corporate employees to achieve a new level of skill in business development, mind-set, leadership and more.
She originally started B/Right Business Coaching in Cork, Ireland to bring big business change knowledge to the small business sector, because prior to this venture An had worked with Xigma Management Consultants, Philips Electronics and Arthur Andersen Business Consulting, where she had learned big business strategies for both project management and change management. She holds a BA (Hon) in International Marketing and languages from Dublin City University and an MBA from the Open University Business School in the UK.
An is a prolific reader and will seek out further development with mentors and thought leaders worldwide to enhance her skills and improve her services for clients. She holds business and life coaching qualifications from the UK, USA, Australia and Ireland and is qualified as master practitioner of neuro-linguistic programming. She is currently studying towards a diploma in game design and has recently added gamification design expert to her qualifications.
She became the go-to person for business start-ups, business growth and work/life balance and worked extensively with clients from the Cork city and county enterprise boards as well as Enterprise Ireland.
In 2010 An took on the new challenge of becoming an internal training consultant for the media industry with a position in Modern Times Group, a broadcasting group headquartered in Stockholm, Sweden with the largest geographical footprint in commercial radio, television and online TV. She quickly proved her capabilities by winning the Rookie Award in Modern Services with her Strengths Based Leadership training.