Fundamentals of communication, P.R. and leadership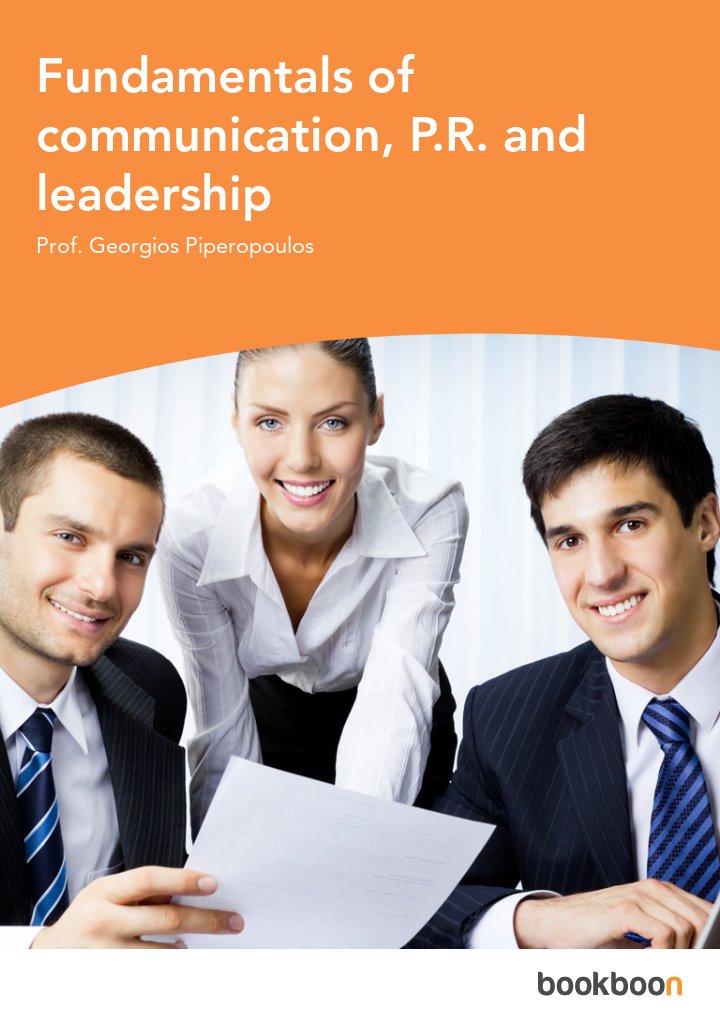 ISBN: 978-87-403-0484-8
1 edition
Pages : 148
Price: 39.99 kr
Price: €5.99
Price: £4.99
Price: ₹299
Price: $3.99
Price: 39.99 kr
Price: 39.99 kr
Download for FREE in 4 easy steps...
This is a Premium eBook
Bookboon Premium - Gain access to over 800 eBooks - without ads
You can get free access for a month to this - and 800 other books with the Premium Subscription. You can also buy the book below
Start a 30-day free trial. After trial: 39.99 kr p/m
Start a 30-day free trial. After trial: €5.99 p/m
Start a 30-day free trial. After trial: £4.99 p/m
Start a 30-day free trial. After trial: ₹299 p/m
Start a 30-day free trial. After trial: $3.99 p/m
Start a 30-day free trial. After trial: 39.99 kr p/m
Start a 30-day free trial. After trial: 39.99 kr p/m
Users who viewed this item also viewed
About the book
Reviews
Lepulana Ledwaba
★★★★☆
This book gave me an absolute insight into the world of communication. A well articulated and great read indeed. Thanks...
Apostolos Doukellis
★★★★★
Having read previous author's books, it was not a surprise to recognize author's concise, realistic and pinpointed way of writing. I found extremely successful the well-balanced academic language expressed in a direct and well comprehensive manner that keeps reader's interest at a high pacing. Professor Piperopoulos as a communication expert, is known for his ability to formulate ideas into realistic, usable and constructive outputs and hence his paraphrased "I communicate therefore I am" intimates the significance of being able to communicate effectively as equal to "I think therefore I am". Highly recommended for those who are looking for real life ways to improve or use their communication abilities.
Genie J. Weiss
★★★★★
The book was able to meet my expectations as on what I wanted to read. The author was very precise as on how he presented these three various concepts which summed up to a high quality material.
Effie Syrta
★★★★★
Very nicely written book explaining communication, Public Relations and Leadership. Highly recommended!
Athanasios Fourtounas
★★★★★
It is worth reading it. Excellent!!!!
Description
This book provides a refreshing introduction to the three fascinating and fundamental subjects of communication, public relations and leadership. Aimed primarily at University undergraduate and postgraduate students (as well as those studying A-levels) in business schools, within the humanities and social sciences, and communication and media studies, the book examines and explores in a unique, provocative and iconoclastic manner the major theories, models and trends in the three fields.
Content
Prolegomena
Part One – Communication
Communication is a universal phenomenon

System of 4 components
Communication among ants and bees
Communication among canines & felines

Human Communication

The scheme of human communication
Defining human communication
Language in human communication
Words in a language
Signs and Symbols
Semiotics and Semiology
The role of context and effect in communication
Barriers to communication

Body language

Darwin's contribution
The 'intrigue' of body language
Keeping matters at 'arm's length'
The role 'culture' plays
Focusing on the human face
Ardrey's 'territorial imperative'

Mass Media & social media

From stone inscription to the printing process
Enter the 'penny press' innovation
From the wired telegraph to wireless telegraphy
AM and FM radio come to existence
Birth and development of television
The digital age & 'www'

The Role of attitudes in human communication

Defining Attitudes
The components of attitudes
Attitude functions for the personality
Our attitudes can change
Attitude measuring scales

Part Two – Public Relations

The birth of a speciality

Tracing P.R. roots in antiquity
A historic glimpse at the USA in late 19th and early 20th Century
Defining the field of Public Relations
Misconceptions of public relations
Brief profiles of four pioneers in P.R. history

Publics, Public Opinion and its moulders

Historical evolution of the term 'public' 
Public Opinion

Rhetoric, Persuasion and Propaganda

From Rome with…'love'
Not one but a multitude of definitions
A variety of propaganda types
World Wars & the use of Propaganda
The Korean War and "Brainwashing"

Corporate Communication & Responsibility

Corporate Communication
Corporate responsibility or CSR
P.R. vs. marketing and advertising

Press releases, special events and sponsorships

An in-house P.R. specialist vs. the services of a P.R. consultancy
The 'press release' or 'news release'
Form & structure of a 'press' or 'news release'
Content and Style of the 'press or news release'
Different 'releases' to different Media
Emphasis on ethos, pathos and logos
Special events and sponsorships
Crisis management

Part Three – Leadership

Leaders and Leadership
Leadership, Power, Authority & Charisma

A glimpse at recent political, financial and religious events
Starting with Plato and Aristotle
Max Weber's theoretical viewpoint
Enter Machiavelli, Sennet & Habermas
The era of 'scientific management' and the Hawthorne studies

Leadership research at the Universities of Iowa, Ohio & Michigan
Modern theories of leadership in Private and Public Enterprises and Organizations

Contingency and path-goal theories
Transformational leadership – 'Charisma' revisited?'

Instead of an epilogue: Women leaders remain under a 'glass ceiling'

Women in Politics
Women in the Economy and in Higher Education

References / Bibliography
The Author
About the Author
As an academic, Dr Georgios P. Piperopoulos (rtd) Professor of Communications and Public Relations received his Bachelor's, Master's and Ph.D. degrees studying sociology and psychology at American, German and Austrian Universities. Spanning an academic life of over four decades in American, European and Greek Universities he designed and taught undergraduate, postgraduate and executive education courses in industrial sociology, social and organizational psychology, social problems and social pathology, communication, public relations and leadership. He has recently retired from his professorial chair in the Department of Business Administration at the University of Macedonia in Thessaloniki, Greece. .
He has developed and taught Leadership, Communication, Stress Management and Psychological Operations courses at the Supreme Joint War College of the Hellenic Armed Forces; at the Hellenic Police Continuing Education Centre and at the United Nations Peace Serving Operations Training Centre (in Greece).
He is Visiting Professor at Newcastle University Business School during the academic year 2013-2014 and he has been Visiting Professor, since the academic year 2010, with Sheffield University International Faculty, (The City College of Thessaloniki), in the Department of Business and Economics. He is a life member of the American Psychological Association, and has been a member of the American Sociological Association, the British Psychological Society, the New York Academy of Sciences (Psychology), the American Academy of Political and Social Sciences, the International Association of Business Communicators and the Hellenic Psychological Society.
As a practitioner, he has held a variety of top managerial posts in large multinational enterprises such as Goodyear, Hellas and public organizations in the USA as Executive Director Spectrum House, Inc in Massachusetts (now Spectrum Health Services), and Director of Planning Progress for Providence, R.I. War on Poverty Programs. He has also provided services as a management consultant on employee communications and corporate public relations for a number of multinational and large national enterprises in Greece and to two Greek Premier League football teams (Apollon and Heracles of Thessaloniki).
He has been listed in the Who Is Who Among Students in American Colleges and Universities, Who is Who in the World, Who is Who in Europe and Who is Who in Greece.
He has published several textbooks and best selling popular books in Greek and English and authored hundreds of articles and editorials in leading Greek Newspapers and magazines including the Greek American New York based newspapers Herald Tribune and Atlantis. He is a frequent guest on Greek TV and radio programs as a commentator and, for several years, he presented his own TV program titled 'I Communicate Therefore I am' in Greek National and Regional TV channels and Radio stations. He has appeared frequently as a guest commentator in English Language International News programs originating in Athens.
His daughter Dr Anastasia Natasha Piperopoulou lives with her husband and son in Athens and serves as a psychologist in a public school for training and educating adolescents with special needs. His son Dr Panagiotis Piperopoulos is a lecturer at the Newcastle University Business School in the UK.