From Reactive to Proactive
High Impact Strategic HR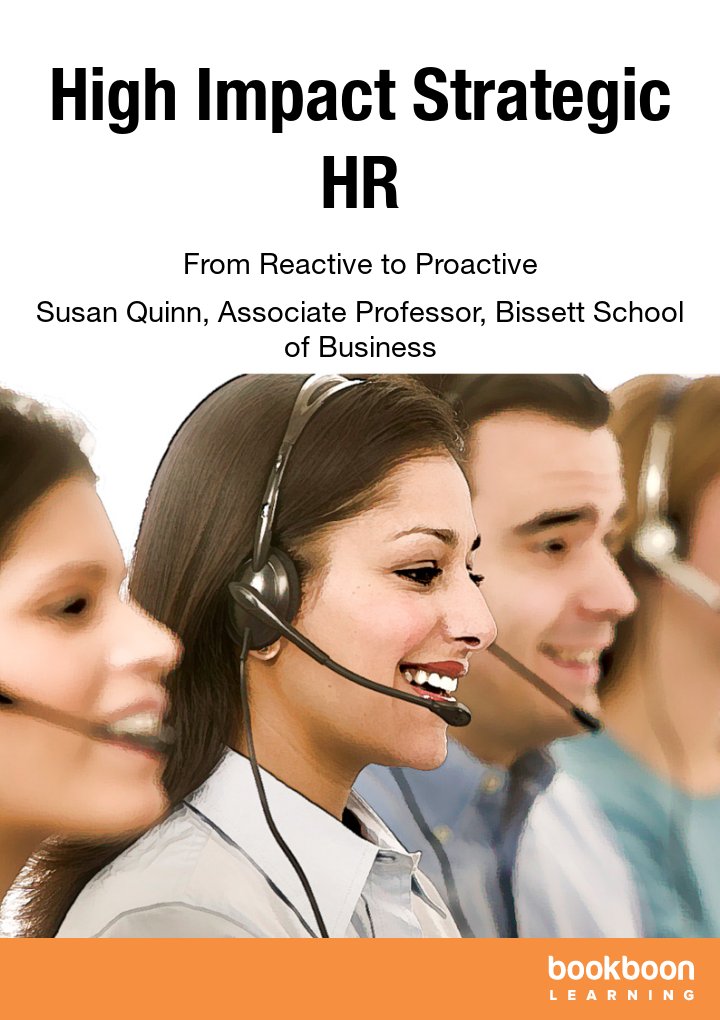 ISBN: 978-87-7681-902-6
1 edition
Pages : 60
Price: 75.50 kr
Price: €8.99
Price: £8.99
Price: ₹150
Price: $8.99
Price: 75.50 kr
Price: 75.50 kr
Download for FREE in 4 easy steps...
This is a Premium eBook
Bookboon Premium - Gain access to over 800 eBooks - without ads
You can get free access for a month to this - and 800 other books with the Premium Subscription. You can also buy the book below
Start a 30-day free trial. After trial: 39.99 kr p/m
Start a 30-day free trial. After trial: €5.99 p/m
Start a 30-day free trial. After trial: £4.99 p/m
Start a 30-day free trial. After trial: ₹299 p/m
Start a 30-day free trial. After trial: $3.99 p/m
Start a 30-day free trial. After trial: 39.99 kr p/m
Start a 30-day free trial. After trial: 39.99 kr p/m
Users who viewed this item also viewed
About the book
Reviews
Darryl Fernandes
★★★★★
A fantastic approach to HR strategy
Description
HR departments are being asked to "be more strategic" and help contribute to the bottom-line more than ever before. What does "being strategic" mean? How can an HR department add more value to the organization? How can they get and keep a place at the Executive table? This straight-talking book will explain strategic HR, what it is and what it does.
Preface
"People issues are clearly now dominant on the business agenda, but as these issues become more important to business leaders, there is increasing tension between the needs of the company and HR's ability to deliver." (Deloitte Touche Tohmatsu and the Economist Intelligence Unit 2007)
The rallying cry for HR practitioners for decades has been twofold: "HR must be at the Executive table" and "HR must be more strategic". And yet many HR departments are still struggling to achieve both of these aims. Why is that? How did it come to this? Why are many HR departments still struggling to be recognized and to contribute?
The answers to these questions form an interconnected and integrated roadmap for HR departments to follow as they move forward to deal with the myriad of organizational people challenges.
What does HR have to do? How does an HR department move from being reactive to being proactive? How can they get to that elusive Executive table? How can they move to being strategic when there are so many administrative duties to do? The development of a truly strategic HR department will centre itself on these four initiatives.
- Be transformational, not transactional
- Think about your structure
- Be credible – have educated, experienced, trained HR practitioners
- Provide value for service
Sounds simple enough, but it is not. The reality is that if the HR department is largely concerned with transactional activities, they will not be at the Executive table. And moving from transactional to transformational involves many changes, from an attitude change to a broad-ranging change in activities.
We will deal with each of these points in this text.
Content
Introduction

Use of the word "transform"

Be transformational, not transactional

The transactional HR department
The HR department is a staff, not a line, department!
What is different about a transformational HR department?
Does this mean the transformational HR department doesn't do transactional stuff?
Comparing strategic and non-strategic HR actions
Questions

Think about structure - Structuring the HR department

The specialist HR department
The Generalist HR department
Dave Ulrich's model for structuring HR departments
Questions

Be credible – have educated, experienced, trained HR practitioners

Roles of the HR practitioner in a transformational HR department
Skills needed in HR staff
Credibility
Jim Canterucci discusses change leadership
Questions

Provide value for service

HR must show that they can and are assisting the line managers to achieve their goals
Metrics or no?
Pason Systems Inc – Conversation with Ron Dudar, Human Resources Manager
Questions

Conclusion
References

Articles
Books
About the Author
Susan Quinn has taught and researched at the post-secondary level and consulted to businesses and not-for-profits for over 30 years. Areas of interest and expertise include leadership, strategy, ethics, corporate social responsibility, diversity, organizational behaviour and human resource practices.
In her teaching, Susan's reputation is that she is able to help translate academic theories and illustrate their applicability (or not) in the business world. She is also a firm believer that "good" management and human resource principles are straightforward although not in practice as much as they should be. She hopes that her books take the mystery out of these practices and help readers make sense of the manager/leader job.
She most recently retired as an Associate Professor at Mount Royal University in Calgary, Alberta, Canada and continues her interest in the business and not-for-profit world.