Finance for the Non Financial Manager I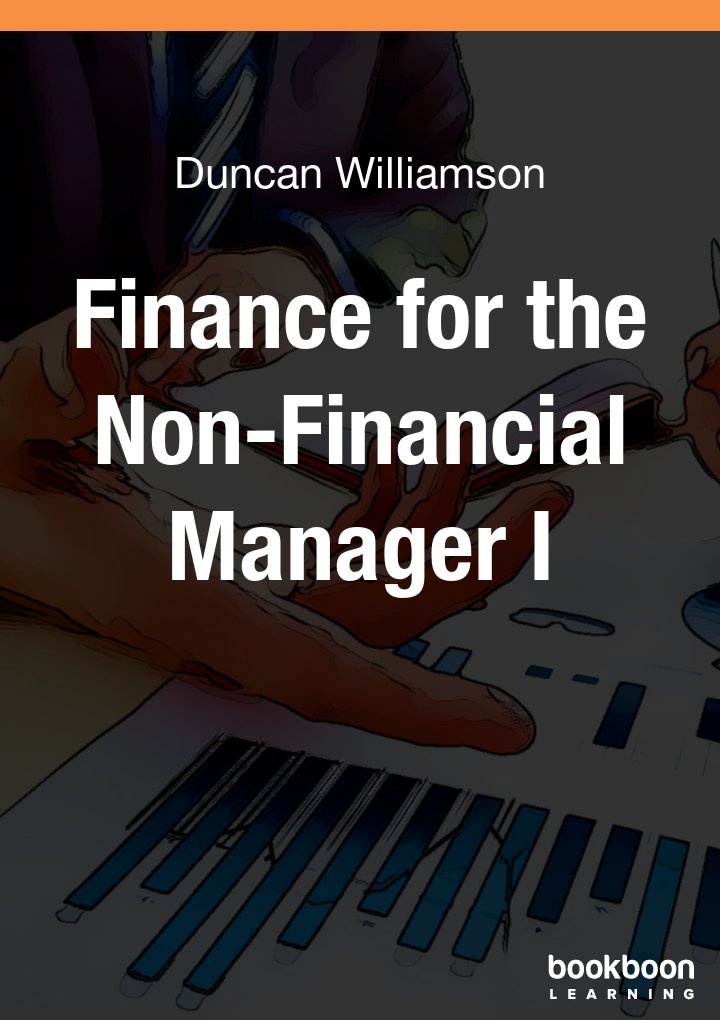 ISBN: 978-87-403-1204-1
1 edition
Pages : 128
Price: 75.50 kr
Price: €8.99
Price: £8.99
Price: ₹150
Price: $8.99
Price: 75.50 kr
Price: 75.50 kr
Download for FREE in 4 easy steps...
This is a Premium eBook
Bookboon Premium - Gain access to over 800 eBooks - without ads
You can get free access for a month to this - and 800 other books with the Premium Subscription. You can also buy the book below
Start a 30-day free trial. After trial: 39.99 kr p/m
Start a 30-day free trial. After trial: €5.99 p/m
Start a 30-day free trial. After trial: £4.99 p/m
Start a 30-day free trial. After trial: ₹299 p/m
Start a 30-day free trial. After trial: $3.99 p/m
Start a 30-day free trial. After trial: 39.99 kr p/m
Start a 30-day free trial. After trial: 39.99 kr p/m
Users who viewed this item also viewed
About the book
Reviews
Ali
★★★★★
Ce livre permet aux managers et étudiants de mieux connaître les finances.
Description
This book has been written for junior, middle and senior managers who do not work in accounting or finance but who need to know what happens in accounting and finance! By the end of the book, you will
Be able to distinguish between and use the three major financial statements

Income Statement
Balance Sheet
Cash Flow Statement

Carry out an analysis of financial data using a variety of techniques, including ratio analysis
Carry out a qualitative analysis of financial and non financial data
Review the annual report and accounts of organisations, including the notes of explanation found in those reports
Identify trends and strategies contained in financial and non financial data and reports
Click here to download the files for this book.
Content
Building the Accounting Picture

Definitions
The Bookkeeping and Accounting Cycle
Bookkeeping Processes

Identifying a Bookkeeping Transaction

The Concepts of Accounting

Building Financial Statements

Case Study: David Tasker
David Tasker Guidance and Templates

Business Analysis

Credit Analysis
Equity Analysis
Business Activities
Planning Activities
Financing Activities
Operating Activities

Correlation and Correlation Matrices

Correlation
Excel: CORREL(array_1,array_2)
Data Analysis ToolPak Add-In

Technical and Fundamental Analysis
Financial Statements: basic analysis

Financial Statements Reflect Business Activities
The Financial Ratio Analysis of Organisations

Financial Statements Analysis: in detail

1 Comparative financial statement analysis
2 Common Size Financial Statement Analysis
Creating Common Size Statements
3 Ratio analysis
4 Cash Flow Analysis
5 Valuation

Benchmarking of Financial and Non Financial Performance

Key Performance Indicators
Management Models That Have a Profound Impact on KPIs
Balanced Scorecard
Beyond Budgeting Management Model
Converting Reports from Information Memorandums to Decision Based Reports
Definitions

Review Annual Report and Accounts

Non Financial Data
Reviewing the Annual Report for Evidence of Trends and Strategies
Identify trends and strategies contained in financial and non financial data and reports
About the Author
Duncan Williamson is addicted to lifelong learning and is currently happily working in the world of the MOOC as a student! This is in addition to his MBA from the University of Newcastle Upon Tyne, his Certificate of Education from Sunderland Polytechnic and his HND from Teesside Polytechnic. In addition, Duncan has successfully completed the Diploma of the Chartered Institute of Marketing and recently received a Certificate in Data Analysis from the University of Texas at Austin.
Duncan has studied, worked with and taught many aspects of management accounting, financial accounting and bookkeeping, financial reporting under IFRS, corporate finance, financial analysis, financial and spreadsheet modelling. He has worked on the financial and economic appraisal of projects in several countries over many years. He has published books and articles, case studies and so on: in addition to this, his first book for bookboon.com, Excel Solutions for Accountants, look out for The Accounting and Bookkeeping Coach, published in April 2014 by Hodder and Stoughton, Prentice Hall published his Cost and Management Accounting in 1995 and he has self published a number of books including his 2012 major spreadsheet book The Excel Project … available on amazon.co.uk. In addition, he has written and published a wide number of books aimed at pre University and first year undergraduate level students.
Also take a look at Duncan's ever growing Excel blog at http://excelmaster.co where there are some simple and some more complicated words of wisdom covering many aspects of spreadsheeting.
Duncan has always loved travelling and over the last three decades or so he has lived and worked (from as little as a week to as long as five years) in such countries as Bosnia and Herzegovina, Kyrgyzstan, Kazakhstan, Uzbekistan, Romania, United Kingdom, Denmark, Afghanistan, Dubai, Abu Dhabi, Kuwait, Oman, Saudi Arabia, Switzerland, Hungary, Thailand, Singapore, Vietnam, Malaysia, Pakistan, Holland, Sudan, Albania, Qatar, Mexico, Angola, Ghana, Mozambique.
In terms of hobbies and interests, Duncan clearly loves travelling: in addition to the countries he has worked in, he has visited another 35 – 40 countries. Cultural and ethnic differences and similarities are a fascination for him too. Duncan loves taking photographs and reckons that for every hundred of his serious attempts at photography, one might be good! Duncan loves writing and creating training and learning materials; both for his work and as part of his lifelong learning crusade: keeping his brain cells fully engaged. More than that, you will find Duncan on discussion lists, in various online forums in which he fully engages with others in putting the world to rights and to helping people solve their Excel, modelling and accounting problems.
Even though he lives in Thailand now, he still follows the English Premier League and his favourite club Burnley FC.