Corporate Valuation and Takeover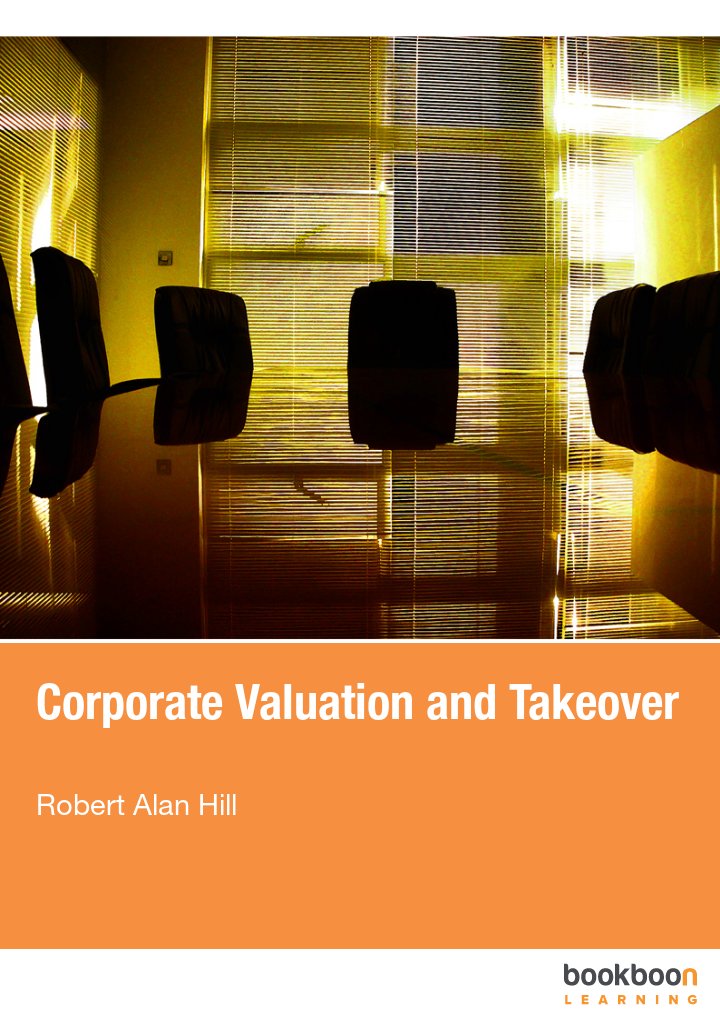 ISBN: 978-87-7681-830-2
1 edition
Pages : 126
Price: 129.00 kr
Price: €13.99
Price: £13.99
Price: ₹250
Price: $13.99
Price: 129.00 kr
Price: 129.00 kr
Download for FREE in 4 easy steps...
This is a Premium eBook
Bookboon Premium - Gain access to over 800 eBooks - without ads
You can get free access for a month to this - and 800 other books with the Premium Subscription. You can also buy the book below
Start a 30-day free trial. After trial: 39.99 kr p/m
Start a 30-day free trial. After trial: €5.99 p/m
Start a 30-day free trial. After trial: £4.99 p/m
Start a 30-day free trial. After trial: ₹299 p/m
Start a 30-day free trial. After trial: $3.99 p/m
Start a 30-day free trial. After trial: 39.99 kr p/m
Start a 30-day free trial. After trial: 39.99 kr p/m
Users who viewed this item also viewed
About the book
Description
This free book critically evaluates corporate equity valuation in today's volatile markets using asset values, earnings, dividend policy, cash flow analysis and behavioural theory. The case for efficient markets and performance measures (based on yields and P/E ratios) published by stock exchanges worldwide to provide market participants with a framework for investment analysis is assessed. Finally, the two most important strategic decisions corporate management and investors will ever encounter are analysed; an unlisted company seeking a stock exchange quotation and a listed company preparing a takeover bid.
Content
Part I: An Introduction

An Overview

Some Observations on Traditional Finance Theory
Some Observations on Stock Market Volatility

Part II: Share Valuation Theories

How to Value a Share

The Capitalisation Concept
The Capitalisation of Dividends and Earnings
The Capitalisation of Current Maintainable Yield
The Capitalisation of Earnings

The Role of Dividend Policy

The Gordon Growth Model
Gordon's 'Bird in the Hand' Model

Dividend Irrelevancy

The MM Dividend Irrelevancy Hypothesis
The MM Hypothesis and Shareholder Reaction
The MM Hypothesis: A Corporate Perspective

Part III: A Guide to Stock Market Investment

How to Read Stock Exchange Listings

Stock Exchange Listings

Strategies for Investment (I)

Dividends as Income
Dividends for Growth
The Price-Earnings Ratio: Past and Future

Strategies for Investment (II)

Corporate Information
"Beating" the Market

Part IV: Valuation and Takeover

A Stock Exchange Valuation

Coming to the Market
Calculations and Assumptions
A Total Market Valuation
An Aggregate Flotation Value
The Number and Denomination of Shares
A Valuation per Share

Managerial Motivation and Corporate Takeover

Objective Motivational Factors
Subjective Motivational Factors

Acquisition Pricing and Accounting Data

Takeover Valuation: The Case for Net Assets
Valuing the Assets
How to Value Goodwill

Acquisition Pricing-Profitability, Dividend Policy and Cash Flow

Takeover Valuation: The Profitability Basis
Takeover Valuation: Dividend Policy
Takeover Valuation: The Cash Flow Basis

Takeover Activity, Investor Behaviour and Stock Market Data

The Current Takeover Scene
Investor Behaviour
The "Golden Rules" of Investment
Acquisition Strategy and Stock Market Data

Appendix: Stock Market Ratios
About the Author
With an eclectic record of University teaching, research, publication, consultancy and curricula development, underpinned by running a successful business, Alan has been a member of national academic validation bodies and held senior external examinerships and lectureships at both undergraduate and postgraduate level in the UK and abroad.
With increasing demand for global e-learning, his attention is now focussed on the free provision of a financial textbook series, underpinned by a critique of contemporary capital market theory in volatile markets, published by bookboon.com.
To contact Alan, please visit Robert Alan Hill at www.linkedin.com.