Cool It!
Anger Management & Conflict Resolution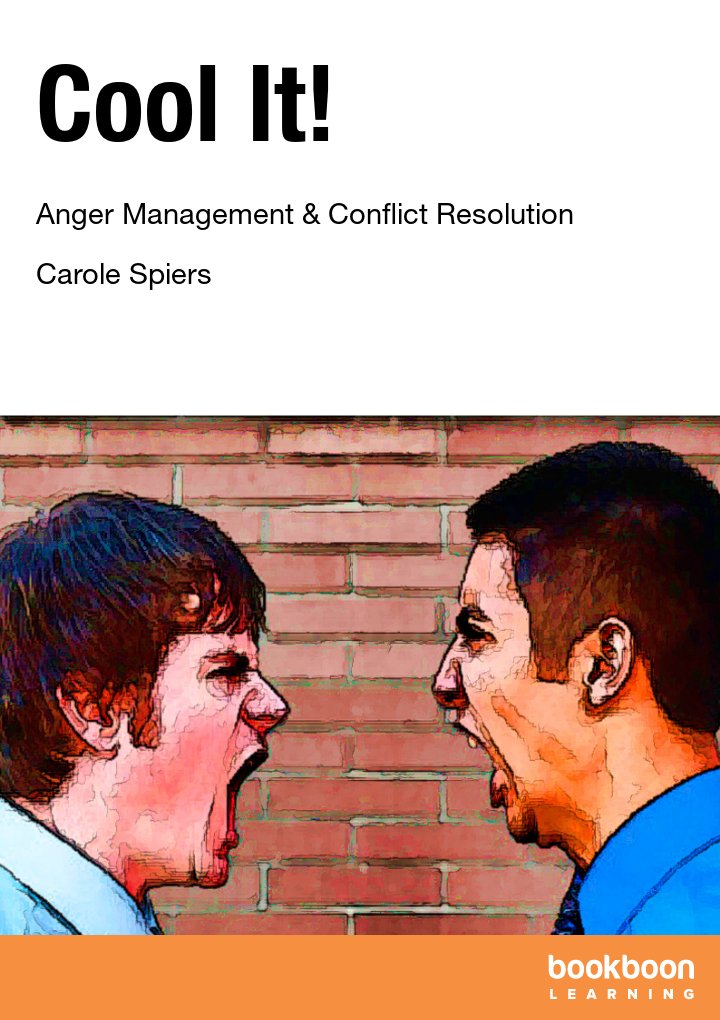 ISBN: 978-87-403-0229-5
1 edition
Pages : 70
Price: 75.50 kr
Price: €8.99
Price: £8.99
Price: ₹150
Price: $8.99
Price: 75.50 kr
Price: 75.50 kr
Download for FREE in 4 easy steps...
This is a Premium eBook
Bookboon Premium - Gain access to over 800 eBooks - without ads
You can get free access for a month to this - and 800 other books with the Premium Subscription. You can also buy the book below
Start a 30-day free trial. After trial: 39.99 kr p/m
Start a 30-day free trial. After trial: €5.99 p/m
Start a 30-day free trial. After trial: £4.99 p/m
Start a 30-day free trial. After trial: ₹299 p/m
Start a 30-day free trial. After trial: $3.99 p/m
Start a 30-day free trial. After trial: 39.99 kr p/m
Start a 30-day free trial. After trial: 39.99 kr p/m
Users who viewed this item also viewed
About the book
Reviews
Manuel A. Cope
★★★★★
Have actually recommended this to a number of friends and we find the tips very effective and helpful in keeping our pace and professionalism.
Description
Do you:
· Have to manage emotional and volatile staff? · Have to deal with angry customers? · Sometimes have to diffuse violent situations at work?
If you can answer 'Yes' to any of these questions, then this book is right for you.
Anger management is a key communication skill, increasingly needed by management and staff, everywhere from factories and hospitals to call-centres and car-parks. Effective conflict resolution skills can avert violence, settle disputes and improve relations all round, resulting in a happier and more productive team, as well as reducing the risk of expensive litigation.
This book provides proven skills to help recognise and diffuse anger in the workplace.
Preface
Anger and conflict in the workplace – unless properly managed – can lead to untold damage both to the organisation and the individuals involved.
For many people, conflict is something to be avoided at all costs. As a result, they may find themselves backing away from situations where they should ideally be taking control; and may even find their own situation or former neutrality compromised as a result.
If any of this sounds familiar, or if you find yourself exposed to particular people, personalities or circumstances that make you wish you possessed the skills and tools to manage them better, then you will find everything you need in the following pages.
This practical management toolkit will increase your knowledge of everything from the theory of violence and aggression, and how to manage different types of conflict in the workplace, to the best ways of dealing with notoriously difficult personality types.
The result will be that you will be able to increase your assertiveness and self-esteem; improve the performance of your team; and develop a work environment that will be of benefit to your colleagues and yourself.
Anger, violence and aggression are the antithesis of creativity, productivity and respect. Use these tools to help to minimise the former - and maximise the latter.
Full acknowledgement is given to my colleague Gerry Jackson for his input into this toolkit.
Content
Introduction
Anger Management - An Overview
The Theory Of Conflict In The Workplace
Conflict Categories
The Theory of Violence and Aggression
Strategies For Managing Conflict And Reducing Aggression
Verbal And Non-Verbal Behaviour
Basic Negotiation Skills
Mediation
Individual Skills For Conflict Management
How To Handle Difficult People With Listening And Influencing Skills
Conflict Resolution – Specific Additional Skills
Conflict Reduction Planning
Difficult Personality Types
Effective Anger And Conflict Management
Book List
Continue Where This Toolkit Leaves Off!
About the Author
Carole credibility is rooted in twenty years' success as CEO of the Carole Spiers Group, a leading provider of Stress Management and Employee Counselling services working with equal success in the contrasting cultures of the UK and the Gulf region where she is renown for creating happier, resilient and more productive workforces.
An acclaimed weekly business columnist for the prestigious Gulf News, the Emirates leading daily newspaper, writing on topical issues facing Middle East Management and is regularly called upon by the national press and media for comment. She is author of industry's bible Tolley's 'Managing Stress in the Workplace' published by LexisNexis and Show Stress Who's Boss!
Carole is a high-energy motivational speaker able to combine inspiration with insight. Her charismatic style and ability to engage emotionally with audiences has made her a sought-after keynote speaker around the world.
In the UK, Carole launched National Stress Awareness day on behalf of the International Stress Management Association of which she is a VP, Fellow and Past Chair. She is also Past President of the London Chapter of the Professional Speaking Association.
Within the high pressure environment in which we work, stress is not easy to manage. However, Carole is here to help you.
Wikipedia: http://en.wikipedia.org/wiki/Carole_Spiers
Klout score - 73%: https://klout.com/#/thestressguru
LinkedIn: https://www.linkedin.com/profile/view?id=AAIAAAALRbcBkDdVFNENdLw19tbyaypx7fCD3Pg&trk=nav_responsive_tab_profile
Twitter: @thestressguru
Website: http://www.carolespiersgroup.co.uk
Email: cs@carolespiersgroup.co.uk