Control Your Stress & Manage Your Time!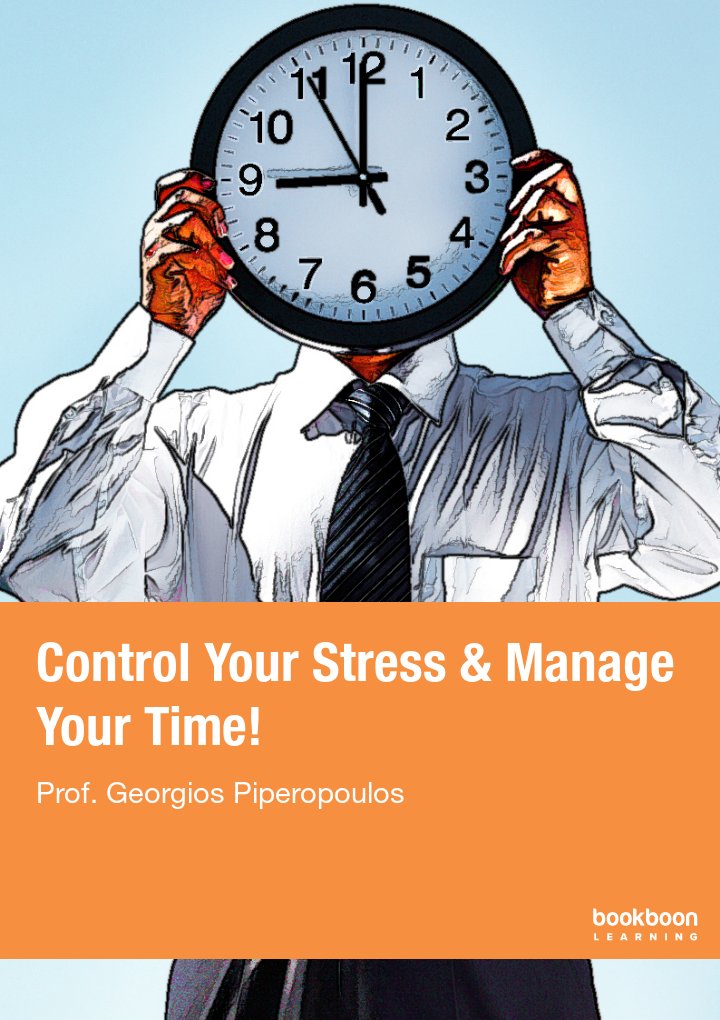 ISBN: 978-87-403-1373-4
1 edition
Pages : 65
Price: 75.50 kr
Price: €8.99
Price: £8.99
Price: ₹150
Price: $8.99
Price: 75.50 kr
Price: 75.50 kr
Download for FREE in 4 easy steps...
This is a Premium eBook
Bookboon Premium - Gain access to over 800 eBooks - without ads
You can get free access for a month to this - and 800 other books with the Premium Subscription. You can also buy the book below
Start a 30-day free trial. After trial: 39.99 kr p/m
Start a 30-day free trial. After trial: €5.99 p/m
Start a 30-day free trial. After trial: £4.99 p/m
Start a 30-day free trial. After trial: ₹299 p/m
Start a 30-day free trial. After trial: $3.99 p/m
Start a 30-day free trial. After trial: 39.99 kr p/m
Start a 30-day free trial. After trial: 39.99 kr p/m
Users who viewed this item also viewed
About the book
Reviews
Irene Skorda
★★★★★
This well-written book is a valuable guide to a stressless life. Thanks to Professor Piperopoulos we can achieve a better living using easy techniques. I would highly recommend it to everyone.
Sidiropoulos Konstantinos
★★★★★
This is small in size but very large in its usefulness practical and academically sound book. Learned a lot and enjoyed it. Passed it on to friends who will also enjoy reading it and use its techniques.
Dr. Mouza Anna Maria
★★★★★
The book provides valuable assistance not only to all students and researchers but also to anyone who has the intention to go further regarding stress and how to cope with it in our everyday life. We can also find useful proposals for achieving a better living. In this context, we are grateful to the author for his outstanding propositions.
C. J. Drowne
★★★★★
Written in a friendly, down-to-earth, easy to read style, easily understood by the lay person. Gives a practical list of ways to handle stress in your life.
Dr Lara Grinkovitch
★★★★★
There are two parts between the prolegomena and epilegomena. The first part exhibits the author's ability to transform complex scientific concepts and data into easy to read and comprehend prose. The anxiety and stress control techniques are valuable. The second part is indeed an innovative, almost poetic rendition of the elusive concept of time. Great reading in a small book.
Description
This is a fresh innovative diversion from traditional 'how-to-do it' books dealing with stress and time. Aimed at today's professionals, as well as students and members of the general public, overburdened by stress and anxiety and failing to master their time schedules. The book offers a novel, scientifically supported, and unique approach in helping the readers fully understand the nature of stress and anxiety and the concept of time. In its practical contribution the book provides a variety of easy to learn and to apply techniques aimed to help the readers' ability to successfully control their stress and effectively manage their time. Basically an enjoyable, 'must' download and read book.
Content
Part One – Control your stress
What is stress?
Our nervous systems and the physiology of stress

The 'fight or flight' response
The role of the adrenal glands

Causes of stress
Different types of stress
Symptoms – effects of stress

Physical-Organic changes
Emotional Changes
Behavioural Changes
Cognitive Changes
The 'burn-out' syndrome

A brief view of anxiety
A glimpse into type 'A' personality
Stress reduction strategy and techniques

Implementing change
Use of alcohol, cannabis and prescribed drugs
Psychotherapeutic intervention
Meditation and Transcendental Meditation 'T.M.'
Relaxation techniques
Progressive muscle relaxation technique
Autogenic training
Biofeedback training
Holistic wellness approach
Part Two – Manage your time
Before we discuss...time

Some classic 'time' related quotes
Mechanical or 'public' time
The demographics of lifespans

Philosophic view of time

Setting goals
Goals in a time perspective
'Things to do' list

Types of time

Biological 'prime time'

A 'thief' named procrastination
About the Author
Georgios P. Piperopoulos studied sociology and psychology at American, German and Austrian Universities receiving his Bachelor's, Master's and Ph.D. degrees; taught at several American, European and Greek Universities at both undergraduate and postgraduate levels before retiring from his professorial chair at the Department of Business Administration, The University of Macedonia, Thessaloniki, Greece.
He has been visiting professor at Newcastle University Business School, U.K. since 2013 and at the MBA program, City College of Thessaloniki, International Faculty of Sheffield University since 2010.
He has held a variety of managerial posts in private enterprises and public social services organizations in the USA and Europe.
He has developed and taught Leadership, Communication, Stress Management and Psychological Operations courses at the Supreme Joint War College of the Hellenic Armed Forces (Army, Navy, Air force), the Army staff training school, the Hellenic Police Continuing Education Centre and at the Greek branch of the United Nations Peace Serving Operations Training Centre.
Professor Piperopoulos has published several textbooks and many popular books in Greek and English and authored hundreds of articles and editorials in leading Greek Newspapers and magazines. He has been a frequent guest on Greek TV and radio programs as a commentator and, for several years, presented his own show titled 'I Communicate Therefore I am' in Greek National and Regional TV channels and Radio stations. He has delivered hundreds of public lectures to groups in Greece, Europe and the USA.
His book Fundamentals of Communication, PR and Leadership has been published by BookBoon - http://bookboon.com/en/fundamentals-of-communication-p-r-and-leadership-ebook
His daughter Dr Natasha (Anastasia) Piperopoulou lives with her son in Athens and is employed as psychologist in a Piraeus public school for training and educating adolescents with special needs. His son Dr Panagiotis (Panos) Piperopoulos is a lecturer at Leeds University Business School, UK.