Career Change 4 U. Three Steps to Success
Your C.V. a Selling Document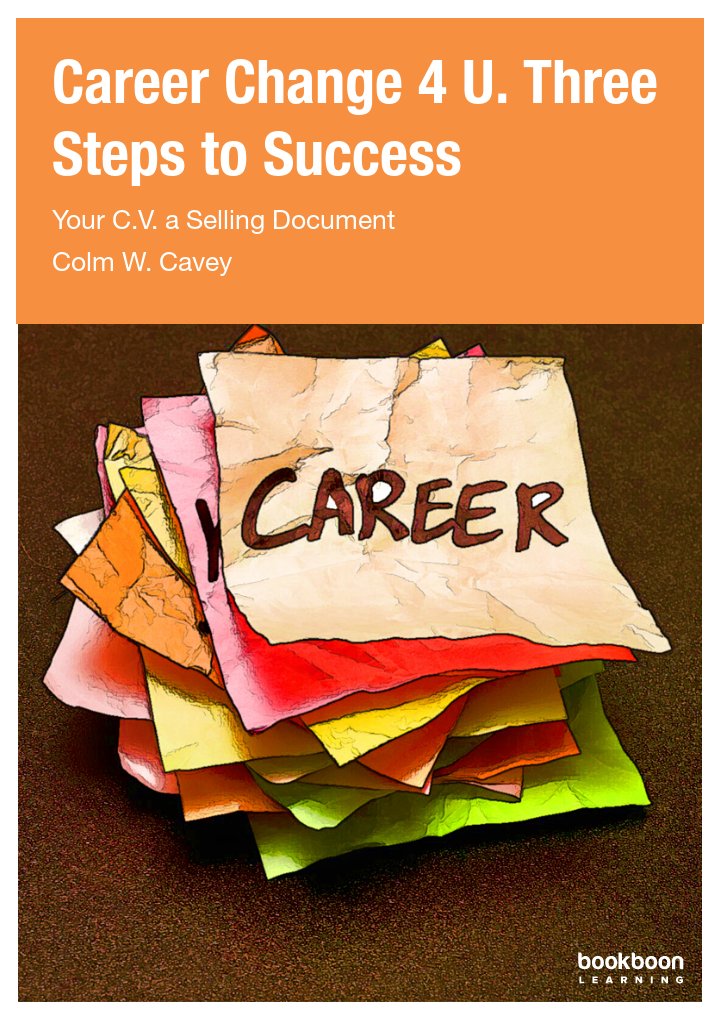 ISBN: 978-87-403-0414-5
1 edition
Pages : 61
Price: 75.50 kr
Price: €8.99
Price: £8.99
Price: ₹150
Price: $8.99
Price: 75.50 kr
Price: 75.50 kr
Download for FREE in 4 easy steps...
This is a Premium eBook
Bookboon Premium - Gain access to over 800 eBooks - without ads
You can get free access for a month to this - and 800 other books with the Premium Subscription. You can also buy the book below
Start a 30-day free trial. After trial: 39.99 kr p/m
Start a 30-day free trial. After trial: €5.99 p/m
Start a 30-day free trial. After trial: £4.99 p/m
Start a 30-day free trial. After trial: ₹299 p/m
Start a 30-day free trial. After trial: $3.99 p/m
Start a 30-day free trial. After trial: 39.99 kr p/m
Start a 30-day free trial. After trial: 39.99 kr p/m
Users who viewed this item also viewed
About the book
Reviews
Ahmmad Zaman Tariq
★★★★★
This is great for students who are taking their big step towards their career life.
Martella
★★★★★
I appreciate the advice and tips given in the book. One does not always think of everything before hand but to be able to be made aware of how to go about is of great help. Thank you
mohammad sahidul islam
★★★★★
This book is really helpful for my own university life.
Marie I. Salinas
★★★★★
This presents the explanation of each detail included in a CV. Now people will know how a CV can build an impression and even bridge their way to success.
Description
Create a professional marketing document; your C.V. Discover how to research and select the key information; your skills, your profile and other career topics.
Learn how to format and create points of interest and ensure all content is lively, clear, easy to read and most of all professional at every level.
See the graphic showing various formats to use. Build your C.V. with the step by step examples displayed in an easy to use layout all tried, trusted and commended by clients throughout the world.
Preface
No one ever sits down on a lazy Sunday afternoon and thinks 'Oh I must write up a good C.V., yes that will be fun'. No, that never, ever happens, C.V.'s only get written at short notice such as the day you were made redundant or fired or the day the Receiver arrived at your workplace. Then its 'quick I need a pencil and paper, got to do my C.V. quick. I saw an advert in the paper today, the pay's good, something about Quantum Physics, sure I'll give it a go anyway, didn't I do Physics in school.' and so the C.V. is completed during the tea break and is mailed off an hour later. Laugh not, it happens all the time.
C.V.'s only get written in a hurry with information dragged together in no order, all of which is akin to going on a pheasant shoot with a semi-automatic machine gun. You will hit everything in the sky except the pheasant. Most C.V.'s are written in about one hour on average. Anything done in such haste is suspect at the best of times.
There is no secret to a good C.V. is just requires careful thinking and systematic recall of what you have done in your career, what's of interest and then how well you document your achievements, your past experience and skills. Document that little lot, simply, concisely and professionally and you will have a good C.V.
This book takes you through the whole process. Every step, every topic is examined, recommendations given and examples are displayed in a step by step fashion, all in a well tried and tested sequence used by many PCC clients in the past, and mostly commended for their style and professionalism.
Line by line you will learn how to recall and identify the key information that you want to write but more what the employer wants to read. See how to format text in interesting ways, the layouts and make the C.V. a compelling read.
Follow the instructions, take your time and you will be the owner of a professional marketing document which will be your Curriculum Vitae. Don't rush it and get it right. Then you will have a C.V. for life. After that it will only need a small top-up now and again to keep it up to date.
Content
Introduction
About the Author
Your Curriculum Vitae

Your C.V. is your Brochure
You're the Product
Tempt the Employer
Your C.V. is a Selling Document
A C.V. or A Resume?
Should I put a Photograph on my C.V.?

What happens to a C.V.?

Consider the Reader First
How will your C.V. be viewed?

Will my CV be read?

Format
What Format?
Don't waste space
Making Sauce
Shorten Every Line

Give it Eye Appeal

Looking Good Helps
Break up your C.V.
A Well Spaced Document Example
View your Own C.V. First

What are the Key Headings?

Key Headings on your C.V.
A Tip!

The C.V. Example Used

My Imaginary Candidate
Meet Ger Thompson
Lastly and Most Importantly

A C.V. Template

Let's start building a C.V.
Your Name and Address
Education and Qualification
Further Training
Languages
Personal Details

A Personal Profile

A Profile, Skills and Career History
What is a Profile?
If You're Not Sure
Ger's C.V. so far

Your Career History

The Hardest Part
How do I find the Information for Career History
I Did What?
Your List of I's
Your P.A.R.'s

Your Skills

Why add Skills
Formatting Your Skills
Examples of Skills
Ger Thompsons C.V. so far

Back to Your Profile

Formulating Your Profile
Ger Thompson's front page complete

Your Career History

The Heart of Your C.V.
Qualify each Statement Made
Break up the Text
Add One-Worder's

Which Career Details First?

What if a previous job is more relevant than the current?

The Social Media

You will be referenced
Your QR Code

The Final C.V. Version

Your Two Page C.V.
The Final Version
Use Only as Examples
Second Layout
Ger's C.V.
Third Layout
Ger's C.V.

Caution

A word of caution

Conclusion
About the Author
Colm has over 25 years experience in the Outplacement, Career Transition and Private Client Consulting Business. Operating from the most senior positions through to those at entry level in organisations as well as private clients, he has worked in the areas of Selection, Development, Retention and Transition all being within the life-cycle of people within an organisations.
A keen advocate of innovation, his programmes and delivery methods have always kept one step ahead of the ever-changing trends. As a consequence he strongly supports new and different ideas in creative C.V.'s and presentation styles. It has always been his policy to get down in the 'trenches' with clients and work with them closely and in a tailored fashion through the whole change process the success of which is reflected by the consistently impressive redeployment times among his clients.
He specialises in providing personalised and supportive programmes focusing on client's main areas of concern and employing most the up-to-date methodologies driving today's fast moving jobs market. His services are delivered in a one-to-one or group format or on-line to International clients.
In the past he was Sales Director in Ireland for one of the world's largest Outplacement Consultancies, was founding director of an Irish Recruitment company, in addition to working within the Executive Search and Section sector.
His business, PCC is recognised as a successful and quality provider of career change services who guaranteed the highest standards of service, professionalism and confidentiality that you would only expect from a trusted partner.
PCC, Professional Career Consulting is sometimes better known as: the jobdoctor.ie details of which can beviewed at www.jobdoctor.ie