C# 1
Introduction to programming and the C# language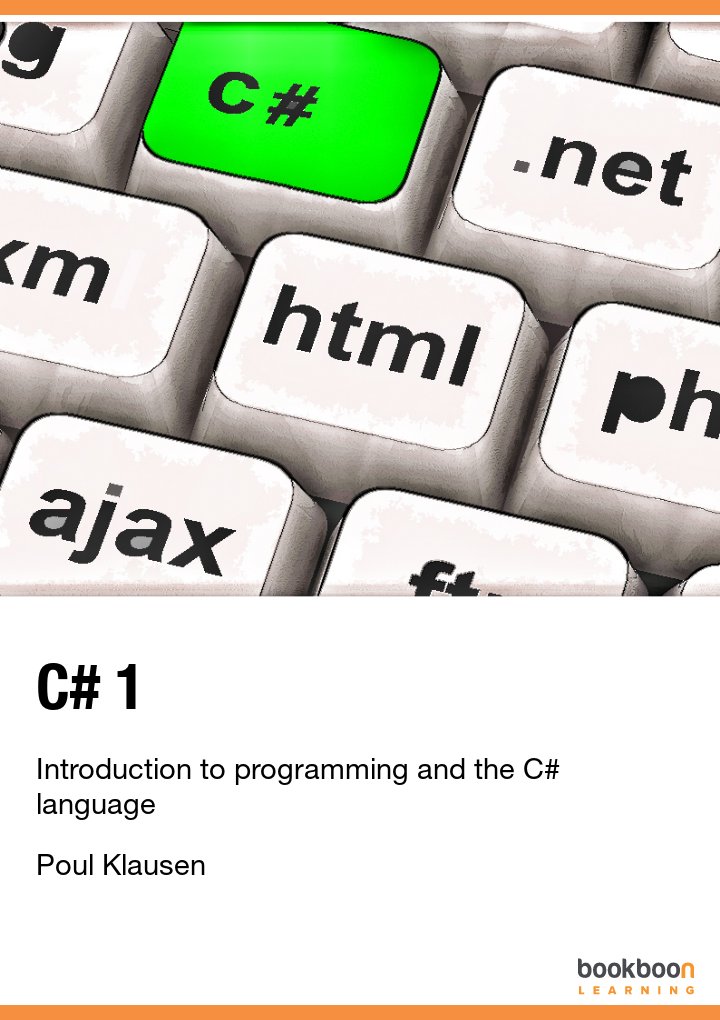 ISBN: 978-87-403-0250-9
1 edition
Pages : 289
Price: 129.00 kr
Price: €13.99
Price: £13.99
Price: ₹250
Price: $13.99
Price: 129.00 kr
Price: 129.00 kr
Download for FREE in 4 easy steps...
This is a Premium eBook
Bookboon Premium - Gain access to over 800 eBooks - without ads
You can get free access for a month to this - and 800 other books with the Premium Subscription. You can also buy the book below
Start a 30-day free trial. After trial: 39.99 kr p/m
Start a 30-day free trial. After trial: €5.99 p/m
Start a 30-day free trial. After trial: £4.99 p/m
Start a 30-day free trial. After trial: ₹299 p/m
Start a 30-day free trial. After trial: $3.99 p/m
Start a 30-day free trial. After trial: 39.99 kr p/m
Start a 30-day free trial. After trial: 39.99 kr p/m
Users who viewed this item also viewed
About the book
Reviews
Nemat
★★★★★
Compulsory for learning computer concepts.
Description
The book is a practical basic introduction to programming and C# that introduces basic principles of object-oriented programming and also deals with the C# programming language through a collection of simple examples. The goal is to provide the basic knowledge needed to develop complete applications and to move on to more specialized topics in programming. In addition to the basic concepts the book also deals with collection classes, and files with emphasis on object serializing. The book concludes with two slightly larger examples, which deal with the books many concepts in a larger context.
Content
Introduction

Hello World

Basic program architecture

Print a book

Variables

The sum of two numbers
Operators

Console programs

Perimeter and area of a circle
Product calculation
Date and time
Arguments on the command line

Program control

if
Sort two numbers
if-else
A quadratic equation
while
The sum of the positive number less than 100
for
Sum of positive integers
do
switch
Weekday
The cross-sum
The biggest and the smallest number

Strings

The class string
Palindrome

Arrays

Two arrays of the type int
Array of strings
Yatzy
Craps

Part 2 Object Oriented Programming
Classes

Coins

Design of classes

Dice

Methods

Methods names
Function overriding
Methods return values
Properties
A point
Parameters
Methods parameters

Inheritance

Points
Persons

The class Object
Abstract classes

Abstract points
Loan

Interfaces

Points again
Money

Static members

StringBuilder

More about arrays

Multi-dimensional arrays

Types
Enum
Struct
Generic types

Generic methods
Sorting an array
Parameterized types
The class Set

Exception handling
Comments
Extension methods
Part 3 Collection classes
List

A List of strings
Enter sale of products

Stack and Queue

Stack of integers
StackSort

LinkedList

LinkedList of names

Dictionary and SortedDictionary

Table of job titles
User defined key
A sorted dictionary
Comparable keys
Cue list

Part 4 IO
Text files

Write and read text
Write a comma separated file
Read a comma separated file

Binary files

Print 100 numbers in a fil
Read a binary file
Seek

Info about directories and files

FileInfo
DirectroryInfo

Object serialization

Datatypes
Binary serialization
Binary deserialization
XML serialization
SOAP serialization
Serialization of a collection

User defined serialization
Part 5 Final examples
Lottery
Expression
About the Author
Poul Klausen has a master degree in mathematics from Aarhus University, specializing in algebraic topology. After the university and a subsequent pedagogically education Poul Klausen has primarily worked as a teacher and especially in IT education and over the past several years as a lecturer in computer science education. He has especially trained in programming and in this context both worked with and taught a variety of programming languages including C#. Besides programming Poul Klausen deals with other issues in system developments which specifically include design, modeling and databases. He has also lectured in more technical subjects such as operating systems and computer networks.
Besides teaching, Poul Klausen worked in private businesses as a software developer both during periods as a full-time system developer and partly in parallel with the job as a teacher. The assignments have been many and specifically include the development of administrative solutions and a range of web related products. In recent years, Poul Klausen has as a system developer been primarily engaged in business intelligence, and in relation to this, he is primarily interested in data mining.