Java: Classes in Java Applications
An Introduction to Java Programming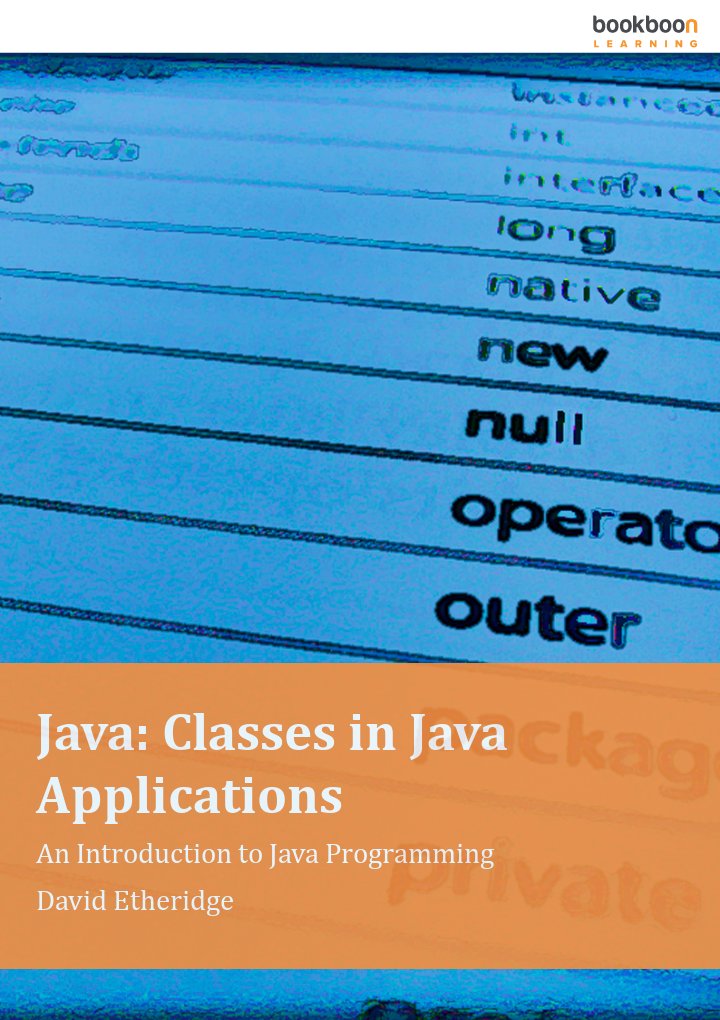 ISBN: 978-87-7681-495-3
1 edition
Pages : 118
Price: 129.00 kr
Price: €13.99
Price: £13.99
Price: ₹250
Price: $13.99
Price: 129.00 kr
Price: 129.00 kr
Download for FREE in 4 easy steps...
This is a Premium eBook
Bookboon Premium - Gain access to over 800 eBooks - without ads
You can get free access for a month to this - and 800 other books with the Premium Subscription. You can also buy the book below
Start a 30-day free trial. After trial: 39.99 kr p/m
Start a 30-day free trial. After trial: €5.99 p/m
Start a 30-day free trial. After trial: £4.99 p/m
Start a 30-day free trial. After trial: ₹299 p/m
Start a 30-day free trial. After trial: $3.99 p/m
Start a 30-day free trial. After trial: 39.99 kr p/m
Start a 30-day free trial. After trial: 39.99 kr p/m
Users who viewed this item also viewed
About the book
Reviews
GDhaduk
★★★★★
This is very good ACC (All Concept Clear) book!
Alish _program the world
★★★★★
If you want to understand Java then this is the best choice.
Description
The three books in the Java series aim to give the learner a deep understanding of the Standard Edition (SE) Application Programming Interface (API) of the Java programming language. The series begins with an introduction to the basic concepts of Java objects and concludes with an exploration of the development of Java programmes that employ a graphical user interface to the business logic of a Java application.
Content
Using the Java Application Programming Interface

Documentation in Developer-Written Java Classes
Documentation in the Java Application Programming Interface

Flow Control

Introduction to Flow Control
Sequential Flow
Conditional Flow
Making Decisions
Controlling the Repetition of Blocks of Code
Deciding Which Construct to Use
Branching Statements
Handling Exception Objects

Extending Classes by Means of Inheritance

What Does Inheritance Mean?
Overriding and Hiding Methods in a Subclass
Invoking a Parent Class Constructor from a Subclass Constructor
final and abstract Classes
What Does Type Compatibility Mean?
Virtual Method Invocation
Controlling Access to the Members of a Class
Summary of Inheritance

Errors in Java Programmes

Categories of Error
What are Unexpected Error Conditions?
Checked Exceptions
try ... catch ... finally Blocks
Throwing Exceptions
Exceptions in the Themed Application
Summary of Exceptions

Java Interfaces

What is a Java Interface?
Defining and Implementing a Java Interface
The Role of Interfaces as a Means to Introduce Behaviour to a Class
Interfaces as Types
Summary of Java Interfaces

Grouping Classes Together in a Java Application

An Introduction to Java Packages
Creating Packages
Naming Convention
Packages in the Java Language
Using and Accessing Package Members
Compiling and Running Package Members
About the Author
Academic
B.Sc. (Hons), Chemistry, 2i, Birmingham University, 1969
Ph.D. Physical Chemistry, Birmingham University, 1972
PGCE Mathematics, Worcester College of Education, 1973
Diploma in Computer Education, Westhill College, 1982
M.Phil., City of Birmingham Polytechnic, 1987
Professional
Cisco Certified Network Associate, 2001
Cisco Java Certified Instructor, 2002
School: Computing, Telecommunications and Networks
Job Title: Senior Lecturer
Summary Profile
I have spent the past few years since I joined (what is now known as) the Faculty of TEE from my previous faculty at BCU concentrating principally on teaching application development using Java. I have developed and delivered course modules that enable students to develop Java and Web applications using the BlueJ and NetBeans IDEs. In addition, I have developed and delivered a module that enables learners to develop Java-based, distributed applications.
Current Responsibilities/Areas of Specialisation
Current teaching responsibilities include Module Co-ordinator for a second year module that takes the student from an introduction to Java through to the development of Web applications using Java. I also teach, as a member of a team, aspects of distributed application development as part of a final year module. I also teach similar material on a masters programme.
My area of specialisation is that of desktop and Web application development in Java and distributed applications in Java.
Previous Work Experience
Academic
From 1982 to 2001, my principal domain of academic interest was that of computer networks. When I joined my current faculty in September 2001, I used my new post as an opportunity to change my specialist domain to that of Java application development, with a particular interest in Web applications and distributed applications.
Research/Publications
ETHERIDGE, D. M., (1987), Raising Your Productivity Rating, Business Computing and Communications, November.

ETHERIDGE, D. M. and MORETON, R., (1987), Strategic Planning for Information Communications Systems, Journal of Information Systems, December.

ETHERIDGE, D. M. and SIMON, E., (1992), Information Networks: Planning and Design, Prentice Hall.

CLARKE, J., WINFIELD, M. and ETHERIDGE, D. M., (2000), Schema-based Reasoning Harness for Ambiguity Resolution in Egyptian Hieroglyphs, Proceedings of the Fifth Joint Conference on Information Sciences, Volume 1., February 27 March 3, Atlantic City, pp. 859-861.

ETHERIDGE, D. M., (2009), three on-line books: Java: The Fundamentals of Objects and Classes; Java Classes in Java Applications; Java Graphical User Interfaces, bookboon.com.
Research/Consultancy
Research for Butler Cox and Partners Ltd., 1982-85.
This work included researching and writing reports published by Frost and Sullivan Incorporated (New York and London). Four reports were completed:

1. The European Market for Electronic Mail.
2. The European Market for Local Area Networks.
3. The European Market for Consumer Telephones.
4. The European Market for Communication Satellites.
Consultancy
A secondment of 6 months to Logica Consultancy Ltd., 1988-89.
Whilst working for Logica, I contributed to a number of projects for Logica's clients.