50 Ways to lead your sales team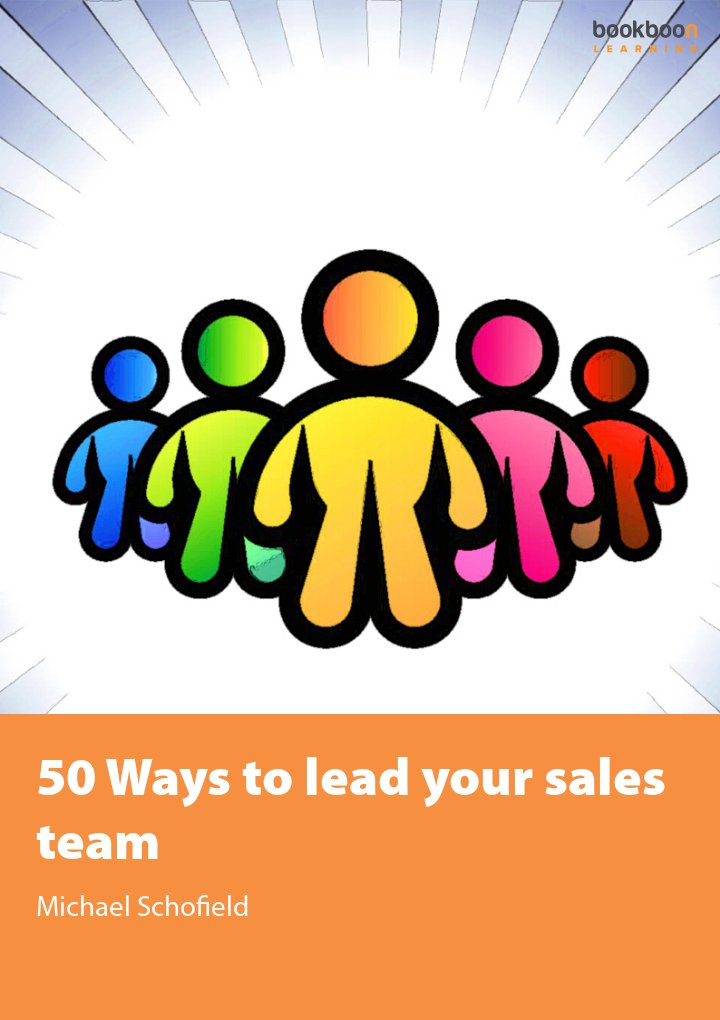 ISBN: 978-87-403-0623-1
1 edition
Pages : 117
Price: 75.50 kr
Price: €8.99
Price: £8.99
Price: ₹150
Price: $8.99
Price: 75.50 kr
Price: 75.50 kr
Download for FREE in 4 easy steps...
This is a Premium eBook
Bookboon Premium - Gain access to over 800 eBooks - without ads
You can get free access for a month to this - and 800 other books with the Premium Subscription. You can also buy the book below
Start a 30-day free trial. After trial: 39.99 kr p/m
Start a 30-day free trial. After trial: €5.99 p/m
Start a 30-day free trial. After trial: £4.99 p/m
Start a 30-day free trial. After trial: ₹299 p/m
Start a 30-day free trial. After trial: $3.99 p/m
Start a 30-day free trial. After trial: 39.99 kr p/m
Start a 30-day free trial. After trial: 39.99 kr p/m
Users who viewed this item also viewed
About the book
Reviews
Mark, Store Manager
★★★★★
Michael's book was clear, concise and easy to understand as soon as I started reading it I knew it was exactly what I was looking for. The book is full of knowledge and great learnings which I have used in both my own and my team's personal development .
Description
"Are you the Leader your people deserve?"
"50 Ways to lead your sales team" will give you the tools and opportunity to answer that question. In the book, we will share the values, techniques and skills that we believe are necessary to enjoy success in a sales management role. We will challenge you to test your beliefs on what a great sales leader looks like, how they behave and what they stand for.
Preface
We have all worked for different managers in the past, some good, some bad, but now it's your turn.
YOU are the Leader.
What will you do differently?
This is the question I asked myself with when I first became Manager of a Sales team. I knew what I didn't want to do.
I didn't want to focus purely on the task,
I didn't want to mislead people,
I didn't want to treat people as an extension of the task,
I didn't want to view others as the obstacles to achieving my goals,
I didn't want to be controlling,
I didn't want to hold people back
and most of all I didn't want to miss targets!
There were too many managers I had worked for in my sales career that had taken these approaches. Motivation and respect were in short supply, with their management careers tending to be short lived.
There had to be a better way to manage people to achieve results and maintain an enthusiastic and motivated sales force.
In a career spanning 20 years as a Sales Manager I have been awarded numerous National and Regional accolades and equally, if not more rewarding, my people have gone on to achieve great success for themselves in both Sales and Management. In this book I will share with you the beliefs, values and techniques that have been the foundation for a career that has not only been successful but hugely enjoyable.
The objective of "50 ways to lead your Sales Team" is not to discuss sales techniques or how to manage a sales campaign. Instead the objective is to challenge you to test your beliefs on what a great sales leader looks like, how they behave and what they stand for. Your values will shape the type of leader you are, and the key to providing inspiration for others lies in understanding the values and drivers of those you will lead. As a result of examining the qualities of what you believe great Leadership is, you will be able to create the action plan to help you become the Leader you have always wanted to be.
My Leadership style has also been shaped by the leaders I have worked for, with me taking the best elements of each of them and adapting them to my style and personality, and I invite you to do the same with the learning from this book. Hopefully you will find that you already use some of the techniques and strategies described.
What is important is that you use this book to start making conscious decisions regarding the approach you adopt when faced with the various challenging situations that confront you as a Sales Manager.
"If we all did the things we are capable of doing, we would literally astound ourselves." – Thomas Edison
Content
Are you the Leader your team deserves?
Which zone are you in?
Importance of self awareness
Presence and Credibility
The JoHari Window
The impact of Values on Leadership
Saying No!
Continuing Professional Development
Who motivates you?
Time Management
Email – friend or foe?
Are you listening?
Body Language
The Reticular Activating System
Questioning Skills
The Power of Silence
Narrative Intelligence
What are the qualities you look for in a new recruit?
Onboarding Process
Empathy
Building Trust
Roles and Responsibilities
Standards
The Consequences of your actions
The importance of empowerment
Taking Credit
High Performing teams
The Energy Investment Model
Managing difficult people
What does success look like?
Motivation
Catching People doing something right
Praise and Recognition
Appreciative Inquiry
What have the Romans ever done for us?
How do you manage failure?
Knowledge, skills or attitude?
Improving Performance
Are you conscious or unconscious?
Cause and effect
One to One Updates
Coaching and Training
The Support and Challenge Model
Prioritising your coaching and training time
Giving Feedback
SWOT Analysis
Delegation
Mentoring
Develop your successor
Make work fun!
About the Author
Michael Schofield is an associate lecturer and tutor on Leadership and Personal coaching courses and undertakes coaching projects for individuals and teams across the UK. He works with senior management teams in the Public and Private sectors and specialises in communication skills and developing emotional intelligence.
Michael has over 25 years' experience in sales and has held Senior Sales Roles in a Blue Chip environment, leading high performing teams to National recognition. As a result of his experience he understands what it takes to achieve success in a competitive environment. This provides him with a wealth of experience and a platform from which to understand and relate to the challenges of today's business environment.
His passion for leadership and coaching combined with superior communication skills are the corner stones of his own success and have led him to a career developing others at all levels from Executive and Senior Managers to teams and their leaders. His commercial and financial experience leaves him well placed to translate coaching input into results on the bottom line for a business.
If you would like more information on Michael and his work please visit:
email: support@thecoachbusiness.com